Are you looking for a latte machine that will provide you with a delicious cold brew?
Then an iced latte machine is just what you need!
Listed below, you can find my reviews of the six best models that are currently available on the market. Check them out, learn more about the beneficial features they have to offer, and choose the best one.
The Rundown
Top 6 Iced Latte Machines
Best Of Best Iced Latte Maker
Ninja Specialty Coffee Maker
Programmable Performance
This latte machine provides a fully programmable brewing performance. Thanks to this feature you will be able to control its brewing process and the results it provides with a simple push of a button. The small display at the top of the control panel ensures you can program the exact time you want to enjoy your next brew.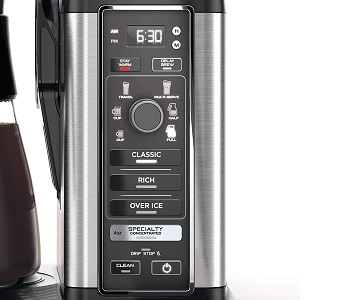 Delicious Results
Because of its powerful performance, this coffee maker with a timer will provide you with delicious brewing results in no time. You can use it to make versatile coffee-based beverages. These include a latte, macchiato, cappuccino, etc.
Brew Size
Another thing worth mentioning is that this programmable coffee maker provides versatile brew size options. You can choose whether you want to brew a small or a large cup, one or multiple travel mugs, and a half or a full carafe.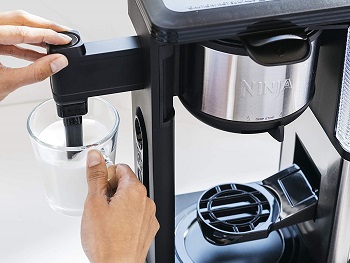 Fold-Away Frother
Included with this iced latte maker, there is a highly practical fold-away frother. Because of its design, it won't take up any additional space. The best thing is that it provides a very powerful frothing performance. Asa result, you will get a rich and texturized milk foam.
Short Description:
features a user-friendly design
a fully programmable performance
comes with a delay brew timer
provides you with a stay warm option
ensures delicious results with every use
six different brew sizes to choose from
a highly-practical fold-away milk frother
Best Espresso Iced Latte Machine
De'Longhi Coffee & Espresso Machine
User-Friendly Control Panel
This is another espresso coffee maker that features a user-friendly control panel. It allows you to adjust the size of the brew you want to make, choose whether you want to make a hot or a cold brew, etc. This means that you will be able to get the perfect results that meet your needs in no time.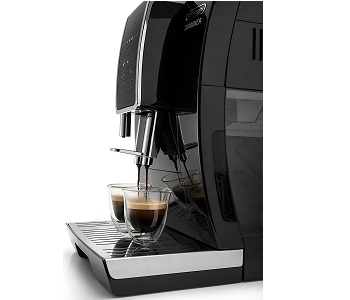 Great Performance
You can be sure that this iced latte machine provides amazing performance. It starts by slowly saturating the ground coffee inside the filter to ensure the optimal flavor extraction. Most importantly, if you choose to make an iced brew, its taste won't be watered down.
Built-In Grinder
Another thing that separates this model, from the other ones in this post is its built-in coffee grinder. Thanks to this feature you will be able to freshly grind your favorite coffee beans right before you start the brewing process.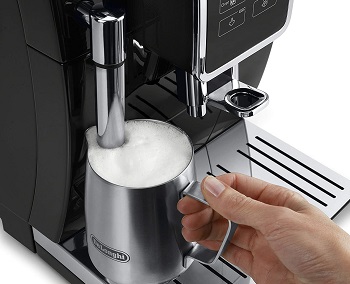 Adjustable Frother
Included with this grind and brew coffee maker comes an adjustable manual milk frother. This means that you will be able to choose whether you want to make a thick texturized foam for cappuccinos or a creamy froth that will help you improve your latte art skills.
Short Description:
features a user-friendly design
time-efficient 40-second heat up
ensures great brewing results
a powerful built-in burr grinder
a completely adjustable milk frother
requires very little maintenance
Best Pod Iced Latte Maker
NESCAFÉ Cappuccino & Latte Machine
Small Footprint
As opposed to the rest of the listed models, this one comes in a somewhat smaller size. Thanks to this feature you won't have any trouble fitting it even in the smallest kitchens. The best thing is that you can easily store it away in your kitchen cabinet.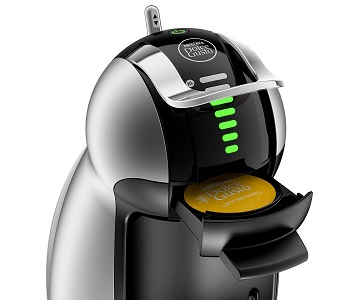 Pod Compatibility
Note that this iced latte maker is specially designed for use only with coffee pods. However, I wouldn't say that this is a downside. It is compatible with versatile Nespresso coffee pods that ensure you can brew versatile coffee cups.
Simple Interface
This cool-looking coffee maker also features a very simple interface that allows you to set the brewing parameters between the hot and cold options. Simply move the top toggle in the desired direction and let the machine do the rest of the job for you.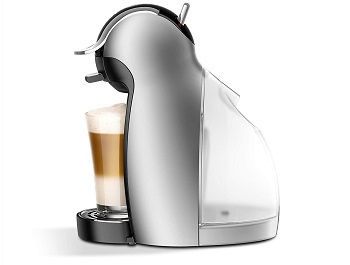 Transparent Water Tank
The water tank that comes with this small one-cup coffee maker features a fully transparent design. This means that you will be able to easily check the amount of water inside the reservoir before the next brew. Also, it is completely removable, meaning, it is very easy to clean.
Short Description:
somewhat smaller space-saving design
features a simple user-friendly interface
compatible with Nescafe coffee pods
15 bar pressure-based brewing system
a completely transparent water reservoir
Best K Cup Iced Latte Machine
Keurig K-Cafe K-Cup Coffee Maker
Simple Controls
Compared to the previous models, this coffee machine features top-mounted user-friendly controls. This is a great feature because it ensures that you can easily access the controls no matter where you place the machine.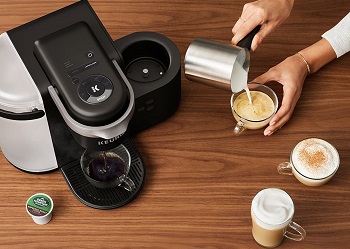 Smart Start
Another thing you should keep in mind is that this programmable single-serve coffee maker provides a smart start. This means that the machine heats the water and then starts brewing your cup in one simple process. You won't have to wait before you choose your cup size.
Auto Shut-Off
This iced latte machine is the perfect choice if you are looking for an energy-efficient model. It features a highly practical automatic shut-off feature that turns the machine down after about two hours from the last brew you made.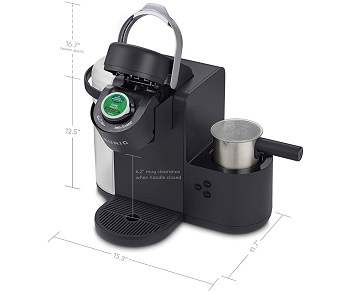 Large Reservoir
The included water reservoir features a large water capacity. Thanks to this feature this coffee maker with auto shut off will be able to brew multiple servings before you have to refill it. It is placed on the side of the unit to ensure that you can easily access it.
Short Description:
simple top-mounted controls
smart start for an efficient heat-up
an energy-efficient auto shut-off
features a travel mug friendly design
a removable large 60 oz water reservoir
Best Single Serve Iced Latte Maker
Nespresso Vertuo Espresso Machine
Easy To Use
Just like the rest of these models, this model is very easy to use. Everything you need to do is fill up its pod storage with the coffee pods you want to use. The machine will automatically inject the pod and provide quick brewing performance.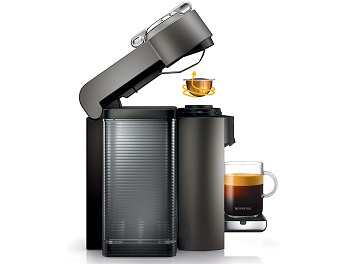 Single Serve Capacity
This coffee maker with a removable water reservoir is also made to make a single-serve at a time. This makes it a great choice for everyone who lives alone or doesn't drink too much coffee during the day.
Auto-Adjustable Parameters
The best thing about this electric coffee maker is that it automatically adjusts all the brewing parameters according to the coffee pod you use. This includes the size of the coffee, brewing temperature, extraction pressure, and the brewing time.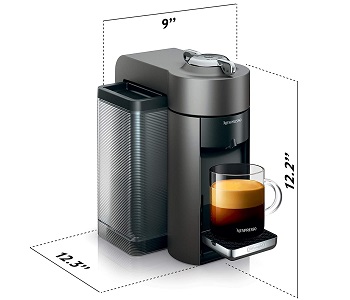 Extraction Technology
Note that this iced latte maker uses a specially designed patented extraction technology usually known as Centrifusion. To achieve the best results, everything you need to do is insert a capsule and close the lever. The machine will take care of the rest.
Short Description:
provides very simple performance
single-serve brewing capacity
auto adjustable brewing parameters
very powerful extraction technology
Best Home Iced Latte Machine
Bonsenkitchen 15 Bar Coffee Machine
Simple Design
This home latte machine features a very simple design. It will easily fit into versatile surroundings. The best thing is that you can place it inside your kitchen, office, dorm room, etc. The best thing is that it doesn't require too much maintenance.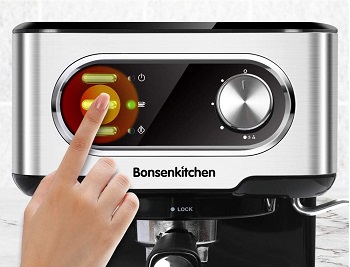 15 Bar Pressure
Another thing you should keep in mind is that this iced latte machine also uses a powerful 15 bar extraction pressure. This means that it will extract all the delicious flavors from the coffee ground you use. You will be able to enjoy a much more flavorful cup of coffee.
Powerful Steam Wand
The powerful steam wand comes included with this 15 bar espresso machine. It is made out of durable stainless steel material that makes it perfectly safe to use for frothing the milk. Make sure that you clean it after every use to ensure that there is no bacteria build-up inside the frother.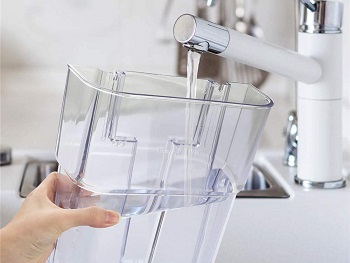 Easy To Clean
You won't have any trouble keeping this coffee machine with a milk frother clean. The bottom drip tray, bubbler, water collecting tray, water tank, and funnel are completely removable. You can easily clean them under tap water. Give them a thorough dry before you place them back in their position.
Short Description:
simple design with a user-friendly interface
powerful 15 bar extraction pressure
features a powerful steam wand
over-temperature protection system
a completely removable 1.5-liter water tank
What To Consider About The Best Iced Latte Makers?
The iced latte machines I reviewed in this post provide great performance while making both hot and cold brews. They also come with versatile user-friendly features. However, there are some features you should consider when deciding which one you want to buy.
Machine's Size – The first thing you need to think about is how big of a latte machine you want to have. Larger modes can be a great choice if you have enough room to accommodate them. However, smaller models are an amazing choice if you want a latte machine you can take on your camping trips.
Brewing Capacity – Another thing you need to keep in mind is the brewing capacity. Models I reviewed in this post can brew both a single and a full carafe. You can choose between the two options based on the amount of coffee you usually drink during the day.
Simple Controls – Whether you are looking for a latte machine for beginners or you're already a pro, make sure that the model you buy comes with simple controls. That way you won't have any trouble adjusting its performance according to your likings.
User-Friendly Features – Always go for a model that provides versatile user-friendly features. That way your experience will be much more enjoyable. For instance, coffee makers with a thermal carafe provide amazing thermal efficiency, the ones with an automatic shut-off ensure a much more energy-efficient performance, etc.
Powerful Frother – To ensure that your iced latte maker provides you with the best performance, find the one that comes with a powerful milk frother. That way you will be able to make a delicious latte and control the richness and the thickness of the froth it creates.