Have you been trying to find a beautiful coffee maker that comes with versatile user-friendly features?
Then my post might help you find the perfect one!
All models I reviewed below are specially designed to provide amazing brewing results with every single use. Check them out, find out how they work, and choose the one that meets your needs perfectly.
The Rundown
Top 6 Beautiful, Cool & Nice Looking Coffee Makers/Machines
Best Of Best Looking Coffee Maker
Ninja Specialty Coffee Maker
Programmable Perforamnce
This coffee machine provides a completely programmable performance. It comes with a simple control panel that allows you to adjust its performance according to your likings. In just a few simple steps you can have a delicious brew ready to serve.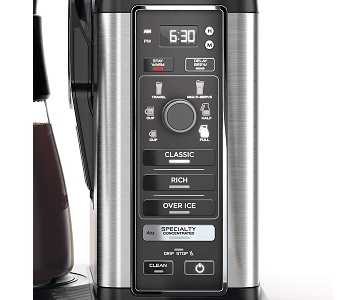 Rich Taste
You can be sure that this beautiful coffee maker will provide a delicious and rich taste with every single use. Thanks to this feature you will be able to use it to make a latte, macchiato, cappuccino, and other coffee-based drinks.
Milk Frother
Included with this programmable coffee maker comes a fold-away frother. It can easily turn both hot and cold milk into a delicious foam. Since it is foldable, you don't have to worry that it might stick out from the unit.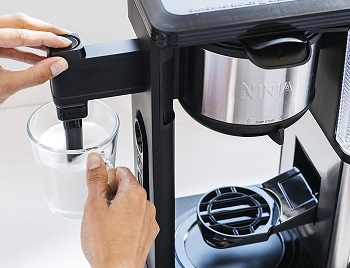 Brew Size Control
This coffee machine with a milk frother allows you to choose the size of the brew you want to make. You can choose between a single cup, a travel-size mug, a half carafe, or a full carafe. The best thing is that it allows you to make both hot coffee and an iced coffee without watering it down.
Short Description:
completely programmable performance
completely adjustable brew size controls
comes with an integrated measuring spoon
ensures a rich taste of every brew
comes with a fold aways milk frother
removable water reservoir for an easy fill
dishwasher-safe removable parts
Best Drip Cool Looking Coffee Maker
Russell Hobbs 8-Cup Coffee Maker
Adjustable Timer
The great thing about this drip coffee maker is that it comes with a programmable timer. It allows you to adjust the exact time you want to brew your coffee up to several hours in advance. Additionally, the brew freshness timer informs you how much time has passed since the last brew.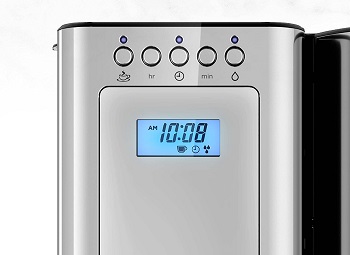 Advanced Brewing Technology
Another thing worth mentioning is that this coffee maker with a timer features advanced Showerhead technology. It is specially designed to saturate your coffee grounds evenly and extract the maximum flavor during the brewing process.
Permanent Coffee Filter
Because of the included gold-tone filter, you won't have to purchase additional paper filters. The best thing is that the filter is dishwasher safe so you won't have to clean it manually. Make sure that you clean it after every use to ensure that you always achieve the best results.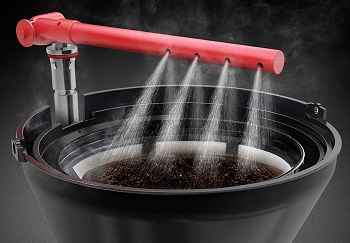 Warming Plate
Another amazing feature that this cool-looking coffee maker provides is the bottom warming tray. Thanks to this feature your brew will remain at its optimal temperature for up to 40 minutes since the brew. Once the time runs out, the machine will automatically shut down.
Short Description:
built-in LCD with adjustable timer
comes with a brew freshness timer
permanent gold-tone coffee filter
features a bottom warming plate
Best Espresso Beautiful Coffee Maker
Nespresso Vertuo Espresso Machine
Slim Design
This espresso coffee maker features a bit slimmer design. Thanks to this feature you will easily find the perfect place for it. The best thing is that you will be able to easily store it away when not needed. It will even leave enough space for other kitchen appliances.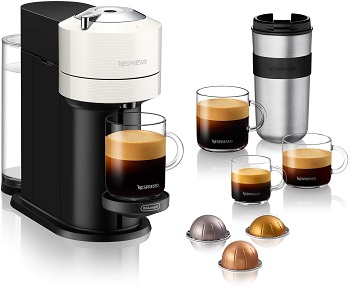 Simple Performance
Note that this espresso machine under $300 provides a very simple performance. It has a one-touch brewing system and a completely removable water tank that is much easier to fill. It also has an automatic capsule ejection and capsule storage space.
Brewing Parameters
The best thing about this nice espresso machine is that it automatically adapts brewing parameters according to the capsule you place inside it. This includes the size of the brew, brewing time, temperature, and pressure. As a result, you will get a delicious brew no matter what kind of pod you use.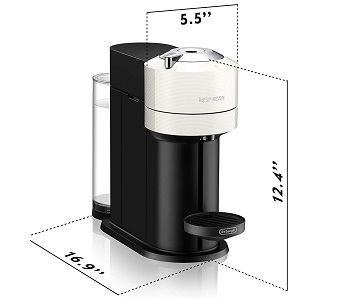 Coffee Compatibility
As opposed to the rest of the listed models, this nice coffee machine is compatible only with Nespresso coffee capsules. However, based on the versatility they offer, I wouldn't say that this is a downside. The best thing is that the package includes a "welcome set" that consists of both coffee and espresso pods.
Short Description:
features a slimmer design
provides a simple performance
automatically adjusts brewing parameters
compatible with versatile Nespresso capsules
a completely removable water reservoir
Best French Press Nice Coffee Machine
Mueller Stainless Steel Coffee Maker
Versatile Use
Apart from its exceptional coffee brewing performance, this model can brew other beverages too. For instance, you can use it to make a delicious tea with dry herbs, fruit infusions, hot chocolate, etc. The best thing is that you can even use it to make a cold brew.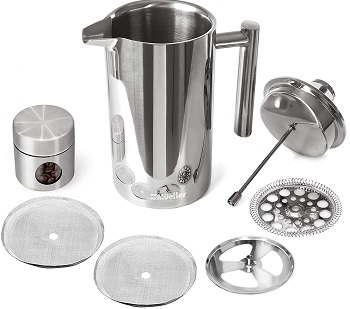 Durable Construction
This french press coffee maker is another model that is entirely made out of high-quality stainless steel. It features an interior polished layer, a middle heat-insulating layer, and the exterior 310 stainless steel layer. This means that it provides exceptional durability and a lasting design.
Insulating Layer
Because of its heat-insulating layer, this nice coffee maker will be able to maintain the temperature of your brew for a much longer time. Thanks to this feature you will be able to enjoy a perfect cup of your favorite beverage long after the initial brewing process is done.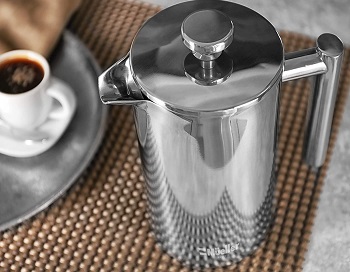 Coffee Canister
Alongside this stainless steel coffee maker, you will also get a stainless steel coffee canister. It allows you to carry your favorite coffee grounds along with the machine anywhere you go. The best thing is that it will preserve their freshness.
Short Description:
can be sued for versatile beverages
durable stainless steel construction
provides high heat insulation
stainless steel filter construction
cool-touch handle for an easy pour
an additional stainless steel canister
Best Pour Over Beautiful Coffee Maker
Bodum Pour Over Coffee Maker
Easy To Use
This pour-over coffee maker is very easy to use. Everything you need to do is add your favorite coffee grounds to the filter and pour hot water evenly over the grounds. Once you do that, allow water to pass through the grounds into the carafe. Remove the filter from the carafe and enjoy a delicious cup.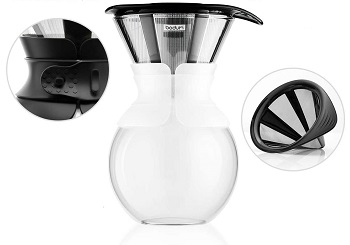 Borosilicate Glass Design
Even though this beautiful coffee maker is a glass model, you don't have to worry that it might be too fragile. It is made out of much more durable borosilicate glass that is completely tasteless, odorless, and doesn't contain any harmful chemicals.
Permanent Filter
Keep in mind that the included filter is reusable and made for long-term use. It features a stainless steel mesh design that will help extract all the delicious flavors that usually stay trapped inside the paper filters. The best thing is that it is completely dishwasher safe.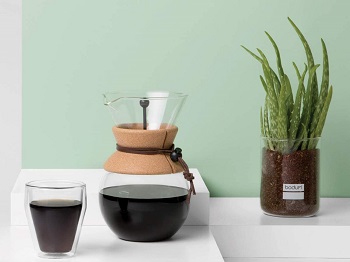 Affordable Price
This is the most affordable coffee maker out of all models I reviewed in this post. It costs less than thirty dollars, meaning, it is the perfect choice for everyone who is looking for a more budget-friendly option.
Short Description:
very easy to use and clean
durable borosilicate glass design
permanent stainless steel mesh filter
removable cuff prevents heat-burns
comes at the most affordable price
Best Single Cup Nice Coffee Maker
Keurig Single Serve Coffee Brewer
Small Size
This is another coffee maker that comes in a somewhat smaller size. It features a slim profile and has a space-saving footprint. Thanks to these features you will easily find the perfect place for it on your kitchen countertops.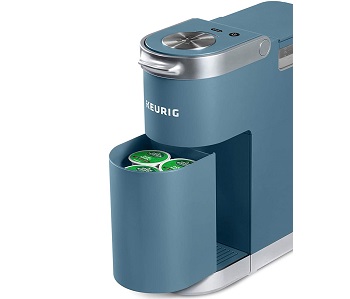 Pod Storage System
Another practical feature of this 1 cup k cup coffee maker is its simple pod storage system. It can hold up to nine pods at the same time. Thanks to this feature you can always have your favorite pods at arm's length.
Auto Shut-Off
Due to its automatic shut-off feature, this nice coffee maker will automatically shut down ninety seconds after the last brew. This makes it a highly energy-efficient model because it won't waste unnecessary electricity. The best thing is, you won't have to worry whether you turned it off or not.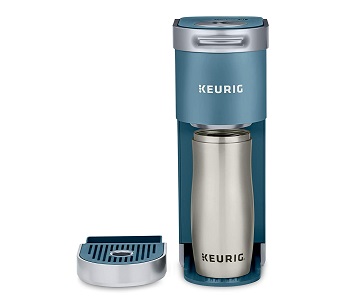 Removable Drip Tray
The bottom drip tray is completely removable from the unit. By removing it, you can create additional space for taller cups and even travel mugs. This feature also makes this coffee maker with auto shut-off very easy to clean. Once you clean it, you can place the drip tray back into its place.
Short Description:
comes in a somewhat smaller size
a specially designed pod storage system
time-efficient brewing performance
ninety-second automatic shut-off
a completely removable bottom drip tray
compatible with k cup universal reusable filter
What To Consider About The Best Looking Coffee Makers?
Even though this post mainly contains models that have the most attractive appearance, they all come with many user-friendly features. Here is a short guide to the ones you should keep in mind when deciding which model you want to buy.
Manual Vs. Electric Models – Manual models are usually cheaper, but you do need to put some effort in if you want to achieve the best results. Electric coffee makers, on the other hand, are pricier, but you can program them and they will do all the work for you.
User-Friendly Features – No matter which option you choose, always make sure that the model you like comes with versatile user-friendly features. For instance, electric models come with warming plates, programmable timer, and auto shut-off, etc. Manual ones have a durable design, provide amazing heat retention, have cool-touch handles that prevent heat-burns, etc.
Programmable Performance – Make sure that the coffee maker you like comes with versatile programmable features. That way you will be able to adjust its performance according to your likings. Models I reviewed in this post allow you to choose the perfect brew size, control the strength of the brew, choose between a hot and cold brew, etc.
Brewing Capacity – Models that come with a carafe can brew a larger amount of coffee at once and are a great choice if you love to drink a lot of coffee. Single-serve models are a better option if you need a small unit that will make you a cup when needed.
Unit's Portability – If you want a beautiful coffee maker that has a portable design you might want to look for somewhat smaller models. However, if you are serious about bringing your coffee maker on your trips, a battery-operated coffee maker for camping might be a great choice for you.