Are you in a need of a cold brew drip coffee maker that provides a delicious brew in the shortest time possible?
Then you are in the right place!
In the next few segments, you can find my reviews of the 6 best models that are currently available for you to buy. Compare their designs, features, and prices, and find out which one works the best for you.
The Rundown
Top 6 Cold Brew Drip Coffee Makers
Best Of Best Cold Brew Drip Coffee Maker
CoastLine Clever Coffee Dripper
Convenient Design
This brewer features a very simple, convenient design. It features a cone design and comes with a simple side handle. It makes the brewer much easier to use. You can easily place it atop your cup or remove it once the brewing process is completed.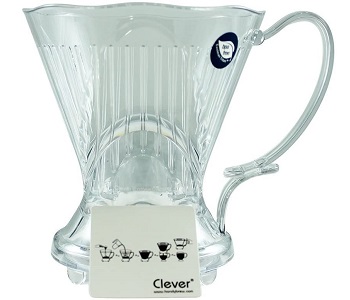 Easy To Use
There are a few simple steps you should follow to use this cold brew drip coffee maker properly. Place a paper filter into the cone, add fresh coffee grounds to it, pour cold water over them, and let the mixture saturate for a while. Place it atop your cup and let the coffee drip out.
For Home & Travel
Because of its design and size, this backpacking coffee maker is a great choice both for home and on-the-road use. It will fit perfectly into your bag or a backpack. Since it doesn't require any electricity, you can even use it in remote locations. The only thing you need to have is coffee and water.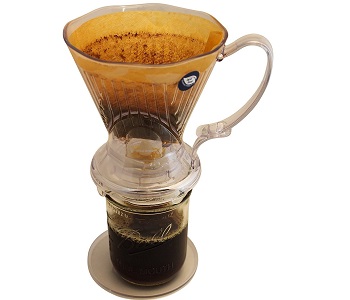 Completely BPA-Free
It is worth mentioning that this brewer is completely BPA-free. This means that it contains no harmful chemicals that are often found in plastic. Thanks to this feature you never have to worry that something might affect the quality or taste of your brew.
Short Description:
features a 6 x 5 x 6 inch size
simple design with a carrying handle
constructed out of BPA-free plastic
suitable for both home and on-the-road use
provides very simple brewing performance
offers a large 18-ounce brewing capacity
requires additional paper filters
Best Slow Cold Drip Coffee Maker
Bruer Cold Drip Coffee System
Easy To Use
This is another model that is very easy to use and provides simple brewing performance. Everything you need to do is set it up and let it do its job without worrying about over-extraction. The whole process takes only about 4 hours to complete.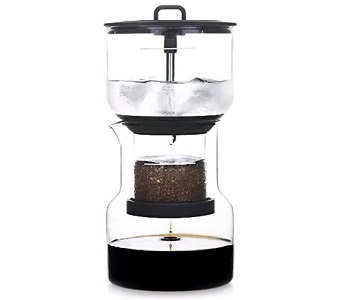 Adjustable Valve
Another convenient feature of this brewer is its adjustable valve. It allows you to tamper with the brewing system to ensure that you find the best way that provides you with the results that meet your likings.
Storing System
Once you are done using this cold drip brewer and have a freshly made brew, you can either serve it immediately or store it inside a refrigerator for later use. If stored properly, the brew can be stored for up to two weeks.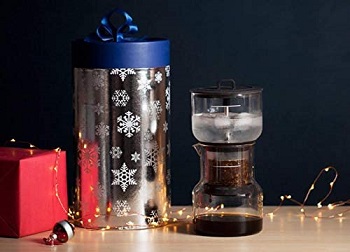 Paper Filters
Note that this 4-cup drip coffee maker comes with a complete package of 100 paper filters. Thanks to this feature you will have everything you need to ensure that you can carelessly start using the brewer and enjoy its performance.
Short Description:
stainless steel, silicone, and glass design
very easy to use and clean
comes with an adjustable valve
provides a 20 fl oz brewing capacity
100 paper filters come included
Best Tower Cold Drip Brewer
Yama Glass Cold Brew Maker
Boldness Control
This slow drip cold brew coffee maker provides you with complete control over its taste. To adjust and control its boldness, everything you need to do is set the desired drip frequency from 1 to 1.5 seconds.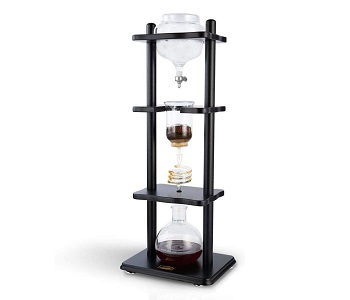 Brewing Capacity
Due to its size and design, this coffee maker can deliver about 6 to 8 cups of delicious coffee. Most importantly, it will extract all the delicious flavors from the coffee grounds you use much more efficiently than the old-fashioned brewers would.
Premium Performance
With its premium brewing performance, this brewing system provides results in only about 3 to 4 hours. You will get to enjoy a full-bodied cold brew with a rich flavor. The best thing is that you won't feel any acidity.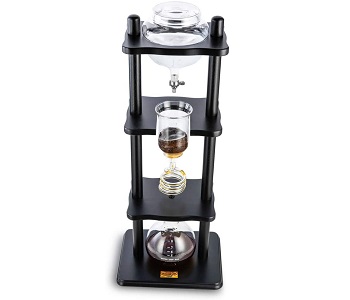 Glass Decanter
Included with this machine comes a glass decanter. It is made out of borosilicate glass that provides it with the needed quality and durability and ensures that it can easily withstand low temperatures. It comes equipped with a lid thanks to which you can keep the brewed coffee in the refrigerator for up to 2 weeks.
Short Description:
drip frequency control from 1 to 1.5 seconds
provides a 6 to 8 cup brewing capacity
brews coffee in about 3 to 4 hours
borosilicate glass decanter included
Best Commercial Cold Brew Drip Coffee Maker
De'Longhi 3IIn1 Coffee Brewer
Brewing Options
Due to its design, this brewer provides you with 3 different brewing options. You can choose whether you want to make a bold brew over ice, a gourmet pour-over cup, or make premium drip-style coffee. No matter which option you choose, you can count on great results.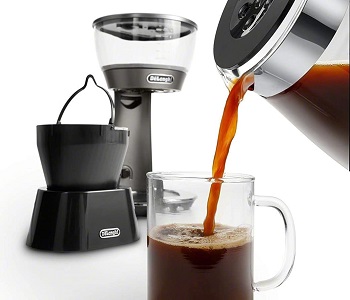 Automatic Shut-Off
Out of all listed models, this is the only commercial cold drip coffee maker that comes with an automatic shut-off program. It is specially designed to turn off the brewer one hour after the last brew you made. This feature makes it highly energy efficient.
Warming Plate
Although this commercial cold brew coffee maker is designed to provide a delicious cold brew, it does come with a warming plate. It can come in very handy especially if you decide you want to try out different brewing options.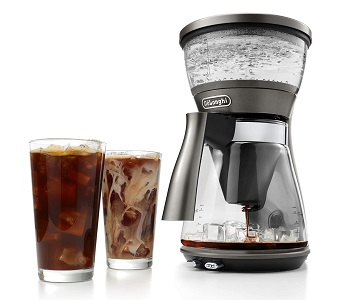 SCA Certified
The best thing about this brewer is that it is SCA certified. This means that it meets rigorous technical requirements. This includes specific brewing time, proper water temperature, and the machine's ability to brew within the recommendations set by SCA Golden Cup.
Short Description:
a durable borosilicate glass carafe
provides an over-ice full-bodied brew
3 different brewing options
1hour automatic shut off system
features a bottom warming plate
comes with an SCA certificate
Best Glass Cold Drip Brewer
Mueller QuickBrew Coffee Dripper
User-Friendly Design
This brewer features a simple, user-friendly design. Its carafe is made out of durable borosilicate glass, comes with a convenient side carrying handle, and can fit up to 6 cups of coffee. Its filter, on the other hand, is laser cut, made out of stainless steel, and can fit up to 10 tablespoons of coffee grounds.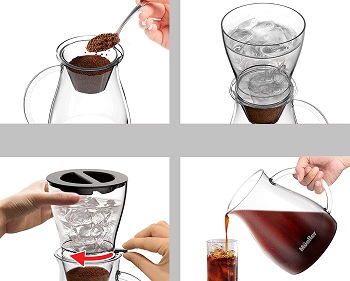 Simple Performance
Like all listed models, this cold drip coffee maker also provides a very simple brewing performance. Simply add your favorite coffee grounds, add cold water or ice, and adjust and set the preferred drip-rate. Once brewed you can immediately serve the coffee or store it for later use.
Drip Control System
As mentioned, you can adjust the brewer's drip rate according to your likings. It is recommended that you set it on 1 drop per 2 seconds to achieve the best brewing results. Keep in mind that the drip rate also affects the brewing time.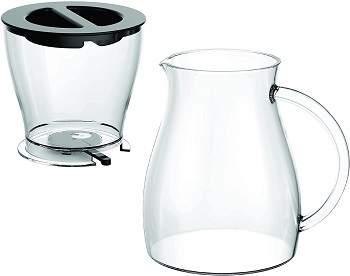 Affordable Price
When compared to the rest of the models, I reviewed in this post, this cold press coffee maker comes at the most affordable price. It costs around 20 dollars, meaning, it is a great fit for those looking for a more budget-friendly option.
Short Description:
features a simple user-friendly design
a durable borosilicate glass carafe
laser cut stainless steel filter
provides very simple brewing performance
adjustable drip control system
comes at the most affordable price
Best Home Cold Drip Coffee Maker
Soulhand Cold Brew Coffee Maker
Simple Design
This at-home cold brew coffee maker features a very simple design. It consists of a borosilicate glass carafe, a fixed bamboo ring, a stainless steel and silicone filter, a PC plastic and silicone water valve, a borosilicate glass water chamber, and a top bamboo lid.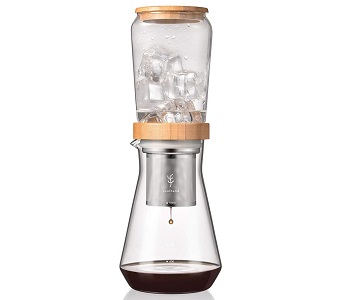 Dripper Valve Control
Just like the previously reviewed models, this brewer also provides you with dripper valve control. This ensures that you can create consistency throughout the brewing process. Keep in mind that the slow process ensures a full-bodied extraction.
Super Fine Filter
This brewer comes equipped with a super fine stainless steel filter. Its tall vertical design slows down the machine's flow rate. Thanks to this feature you can count on much better extraction results. Make sure that you thoroughly clean the filter after every use to ensure its lasting performance.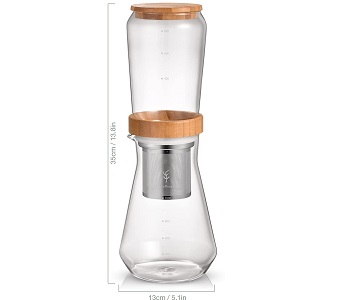 Brewing Tips
Here are some tips to ensure that you achieve the best brewing results using this home cold drip coffee maker. Add about 50 grams of coffee grounds to its filter, add about 800 ml of ice and cold water to the water chamber, adjust its dripping to 1 drip per 2 seconds, and leave it to brew for about 4 to 5 hours.
Short Description:
dimple design with a small footprint
dripper valve control system
super-fine stainless steel filter
completely BPA-free design
What To Consider About The Best Cold Brew Drip Coffee Makers?
Do you have all the information you need to choose the best cold brew drip machine? If not, here are some things you should keep in mind when deciding which model you want to buy.
Food-Safe Design –  Whether you opt for an expensive cold drip coffee machine or an affordable coffee maker, make sure that it is entirely made out of food-safe materials. To ensure that, check that its description box says BPA-free.
Filtering System – The second most important thing, when choosing the best brewer, is its filtering system. Most models come with a stainless steel mesh filter. As long as you clean it after every use, you will be able to use it continuously for several years to come.
Durable Carafe – Since you are buying a cold drip brewer, you need to make sure that its carafe is durable enough and can withstand low temperatures. For that reason, borosilicate glass models are the best way to go.
Brewing Process – To ensure that you buy the best model on the market you need to think about its brewing process. By that, I mean its brewing system and time. Most listed models need about 4 to 5 hours to provide you with a perfect brew.
Where To Buy? – Finally, you need to know where you can buy a cold drip coffee machine. Although you can find them in your nearby stores, I recommend purchasing them from online retailers such as Amazon simply because you can compare multiple models at once and decide on the best one in a much shorter time.
To Wrap It Up
The best cold drip coffee maker is the CoastLine Clever Coffee Dripper. It comes in a convenient size thanks to which you can easily carry it around on your trips and use it wherever you are. Even though it is made out of plastic, it is completely BPA-free and safe for use. If you want to know more about how similar models work, read my reviews of the best cold brew coffee press machines and the best commercial cold brew coffee makers and find out more about the difference between these two.