Are you running on a bit tighter budget but would still like to have a coffee maker that comes in a compact size and provides great performance?
Then a compact single serve coffee maker is just what you need!
In the next few segments, you can find all the important information about the six best models on the market. They all come at an affordable price and offer efficient brewing performance. Check them out and choose the best one.
The Rundown
Best 6 Compact Single Serve Coffee Maker
Best Of Best Compact Single Serve Coffee Maker
Mixpresso Grind & Brew Coffee Maker
Built-In Grinder
This is the only 2 in 1 coffee maker I reviewed in its post that comes with a built-in coffee grinder. Thanks to this feature you will be able to use your favorite kind of coffee. Most importantly, you can grind the beans right before use to ensure that you get the best brewing results.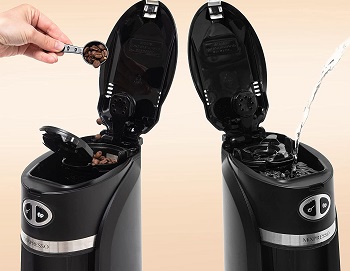 Auto Shut-Off
Another highly practical feature of this compact single serve coffee maker is its automatic shut-off program. Due to this feature, you will never have to worry about whether you left the machine on or not. Additionally, this feature makes it much more energy-efficient.
14Oz Water Tank
Its water reservoir can hold up to 14 oz of water at once. It is not removable from the unit but you can easily fill it up by removing its top lid. Most importantly, the brewer is designed to ensure that you can brew coffee directly in the travel mug that comes included with the brewer.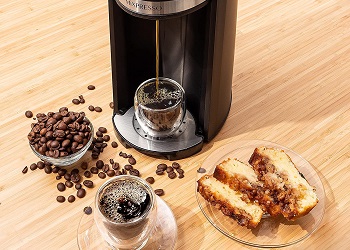 Additional Accessories
Included with this grind and brew coffee maker come additional accessories that include a removable mesh filter basket and a coffee measuring scoop. The included scoop will help you add just the right amount of coffee to the brewer so you always achieve the best results.
Short Description:
dual brewing options ensure the best performance
built-in coffee grinder for your favorite beans
a highly practical auto shut-off program
comes with a 14 oz easy-fill water reservoir
stainless steel travel mug with a cool grip
comes with versatile accessories
requires very little maintenance
Best Espresso Compact Single Serve Coffee Maker
Imusa Aluminum Espresso Coffeemaker
Durable Construction
The great thing about this espresso coffee maker is that it features highly durable construction. It is made out of high-quality aluminum material that retains heat very well. As a result, your brew will remain at its perfect temperature for a much longer time.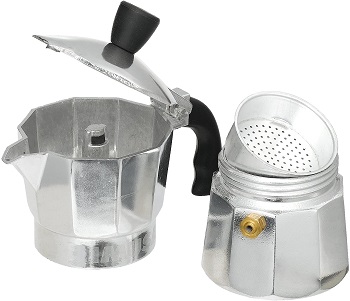 Stovetop Model
This is the only stovetop model I reviewed in this post. This makes it highly convenient for use at home or on your gaming trips. Its small portable design makes it very easy to carry around. It requires very little storage space, meaning, it will perfectly fit into your backpack.
Pouring Spout
Note that this beginner espresso machine comes with a perfectly shaped pouring spout. Thanks to this feature you will be able to pour yourself a cup of coffee without creating any mess. This makes the brewer coffee much easier to serve.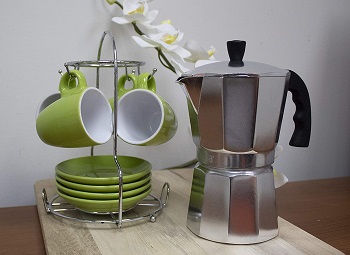 Cool-Touch Handle
Even though this compact single serve coffee maker is a stovetop model, you don't have to worry that you might suffer a heat burn while handling it. Its handle remains completely cool-to-touch throughout the brewing process.
Short Description:
features a small and portable design
highly durable aluminum construction
specially designed for stovetop use
a simple pouring spout for an easy pour
heat-resistant cool-touch handle
Best K Cup Compact Single Serve Coffee Maker
Suripow Coffee Tea Maker
Versatile Brewing Options
The best thing about this 1 cup k cup coffee maker is that it provides you with versatile brewing options. While using a coffee filter, you can brew both coffee and tea. On the other hand, while using the k cup holder, you can brew both using the k cup and tea pods.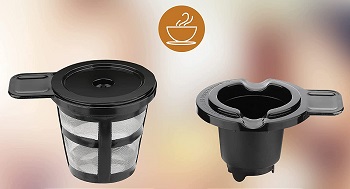 Quick Performance
Another thing with knowing is that this cheap k cup coffee maker provides a very quick performance. It uses a very high water temperature thanks to which you will be able to get the best results in about 3 minutes.
Simple Strength Control
Even though this compact single serve coffee maker doesn't come with a "strong brew" program, you can still control the strength of each brew you make. For a bolder taste, simply add a bit smaller amount of water to the reservoir. For a milder taste, fill up the water tank and brew a bit larger cup size with the same amount of coffee.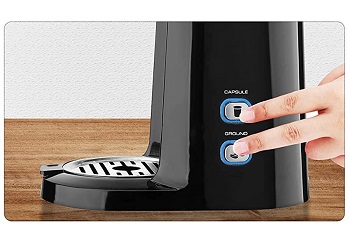 Self-Cleaning Program
You won't have to spend any time cleaning this brewer up. It comes with a specially designed self-cleaning program you can activate by simply pressing the two buttons on the side of the unit.
Short Description:
provides up to 4 different brewing options
quick and efficient 3-minute performance
water reservoir with visible level markings
specially designed self-cleaning technology
automatic shut-off for additional safety
a completely removable bottom drip tray
Best French Press Compact Single Serve Coffee Maker
Veken French Press Coffee Maker
Easy To Use
This brewer is very easy to use. Firstly, add a scoop of your favorite coarse coffee grounds. Secondly, fill the press with boiling water and make sure that all grounds are saturated well. Thirdly, place the plunger back on the press, let the coffee brew for about 4 minutes, and then slowly push the plunger down.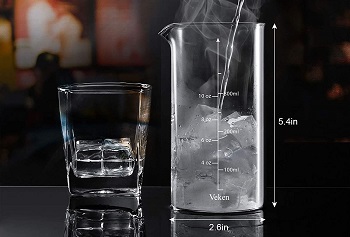 4-Level Filtration System
Even though this is a manually used compact single serve coffee maker, you can be sure that it will provide you with amazing performance. It features a 4-level filtration system thanks to which you don't have to worry that some coffee grounds might get through into your brew.
Borosilicate Glass
Apart from its metal frame and a cool-touch handle, this french press brewer is made out of highly durable thickened borosilicate glass. Thanks to this feature it will be able to withstand extreme temperature changes between -50°C and 150°C.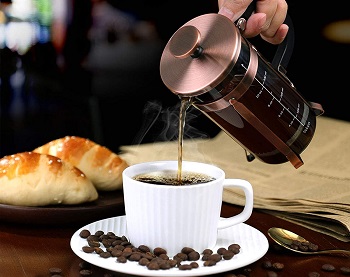 BPA-Free Design
Note that this french press coffee maker is completely BPA-free. This is a very important feature because it ensures that the brewer is perfectly safe for use. Nothing will affect the quality of the brew that this french press provides.
Short Description:
very easy to use following 3 simple steps
an efficient 4-level filtration system
highly durable borosilicate glass construction
withstand temperatures between -50°C and 150°C
made without the use of harmful BPA-s
Best Pour Over Compact Single Serve Coffee Maker
LHS Pour Over Coffee Dripper
Pour Over Design
This coffee dripper also provides a very simple performance. Everything you need to do is place it directly over your cup, add your favorite coffee grounds, and slowly saturate them with hot water. Once they are fully soaked, add the remaining amount of water and wait for the coffee to drip out of the filter.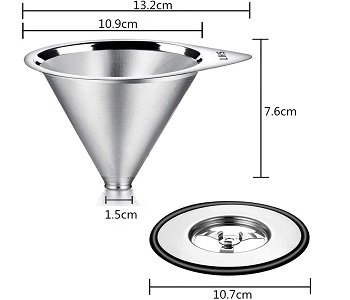 Paperless Use
The best thing about this 1 cup pour-over coffee maker is that it doesn't require the use of additional paper filters. This means that you won't have to spend any additional money. Most importantly, you will be able to enjoy all the delicious coffee flavors that would otherwise remain inside the paper filters.
Anti-Skid Bottom Ring
Due to its anti-skid silicone ring base, this compact single serve coffee maker will be able to stand on your favorite coffee mug, a coffee pitcher, or a carafe. Additionally, its base is completely removable from the filter. This makes it much easier to clean.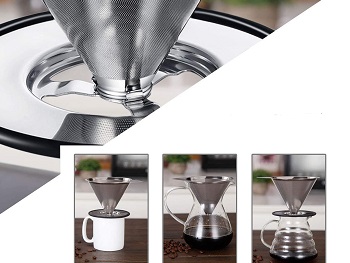 Cleaning Brush
To clean this stainless steel coffee maker properly, simply rinse it out under the tap water and dry it up. It is also dishwasher-safe so you don't have to clean it manually. Included in the package you will get a small cleaning brush that will help you remove coffee grounds from the filter if there are any left.
Short Description:
features a simple pour-over design
doesn't require the use of paper filters
a durable fine stainless steel mesh
anti-skid rubber bottom ring
requires very little maintenance
cleaning brush comes included
Best For Travel Compact Single Serve Coffee Maker
Elite Gourmet Coffee Brewer
Coffee Compatibility
This coffee maker for a car is compatible for use with both coffee grounds and coffee pods. However, it is not compatible for use with k cups or coffee capsules. No matter how you decide to use it, you can be sure that it will provide amazing performance.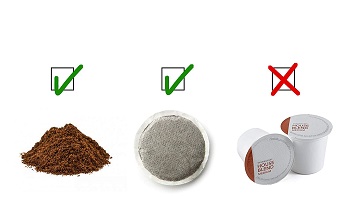 Thermal Mug
Its stainless steel thermal mug is what makes this brewer such a great choice for travel. Because of its high thermal efficiency, it will keep your brew at its optimal temperature level for a much longer time.
Pour-In Reservoir
Just like the rest of the listed electric models, this coffee maker with auto shut-off also features a simple pour-in water reservoir. It has visible level markings that will help you add the right amount of water. To fill it up simply remove its top lid and pour in freshwater.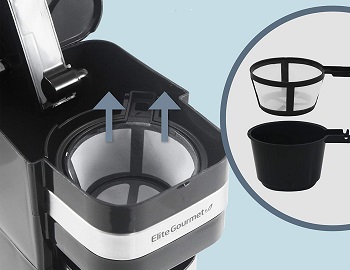 Safety Features
Note that this compact single serve coffee maker offers versatile safety features. It comes with an automatic shut-off feature and has a thermal reset switch that will prevent the machine from overheating. Due to the combination of these features, this brewer is perfectly safe to use.
Short Description:
for use with coffee grounds and pods
not compatible with k cups or capsules
stainless steel thermal travel mug
a simple pour-in water reservoir
automatic shut-off program
built-in thermal reset switch
What To Consider About The Best Compact Single Serve Coffee Maker?
All listed compact single serve coffee makers feature amazing quality and provide exceptional performance. Here are some things you might want to consider when choosing the best one.
Versatile Models – In my reviews, above this guide, you can find "regular" electric coffee makers, french press brewers, pour-over drippers, portable espresso makers, k cup brewers, etc. Because of their versatility, you will easily find your perfect match and enjoy its performance.
User-Friendly Features – Even though these models come at a low price, they still offer versatile user-friendly features that make your user experience much more enjoyable. For instance, some of these models can be used to brew versatile beverages, provide very simple performance, come with additional accessories, are very easy to clean, etc.
Brewing Capacity – Since all listed models are made to provide a single cup of coffee at a time, they are the perfect choice for everyone who lives alone or simply doesn't consume too much coffee. Due to their capacity, they come in a much smaller size, meaning, they fit perfectly in smaller spaces.
Brewer's Portability – Due to their compact size, all listed models can be used for travels, camping trips, etc. However, if you want a brewer you can use in remote locations, a battery-operated coffee maker for camping might be a bit better choice for you.
Price Range – All these compact single serve coffee makers are a great choice for everyone who is looking for an inexpensive coffee maker. They cost less than 50 dollars. Although they come at a lower price, they still offer versatile beneficial features and amazing brewing performance.