Are you having trouble brewing a delicious cup of espresso?
Then a beginner espresso machine is just what you need!
In the next few segments, you can learn all about the top six models that are currently up for sale. Find out how they work, learn more about the features they offer, and choose the best one.
The Rundown
Top 6 Beginner (Starter) Espresso Machines
Best Of Best Beginner Espresso Machine
Mr. Coffee Espresso Maker
Semi-Automatic Model
This programmable single-serve coffee maker provides you with a semi-automatic performance. This means that you will only need to add fresh coffee, refill the water tank and the milk reservoir. Set the desired brewing program and let the machine do the rest of the job for you.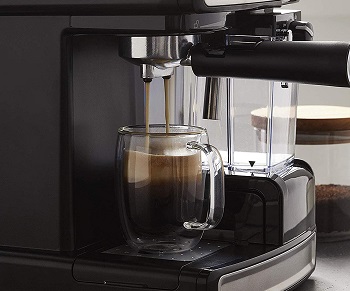 Simple Control Panel
You don't have to worry that this espresso machine for beginners might be too complicated to adjust. It features a simple control panel that allows you to choose whether you want to brew an espresso, a latte, or a cappuccino. After that, you can choose the size of the brew you want to make.
Removable Water Reservoir
The included water reservoir features a completely removable design. This makes it much easier to clean and refill when required. Since it is completely transparent, you will be able to easily check the amount of water that is left inside the reservoir before the next brew.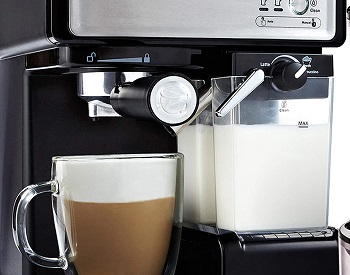 Powerful Pump
Note that this coffee maker with a removable water reservoir also has a powerful 15 bar pressure extraction pump. It is specially designed to extract all the delicious flavors from your grounds for every brew you make.
Short Description:
a highly practical 3in1 design
provides a semi-automatic performance
simple user-friendly control panel
powerful 15 bar pressure pump
automatic milk frothing mechanism
a pre-installed self-cleaning cycle
a completely removable water reservoir
Best Pod Espresso Machine For Beginners
Nespresso Vertuo Espresso Machine
Slim Design
Compared to the previous model, this espresso machine features a much slimmer design. This makes it a highly practical choice for everyone who has a more space-challenging kitchen and can't accommodate a larger appliance. It also makes it much easier to store away when not needed.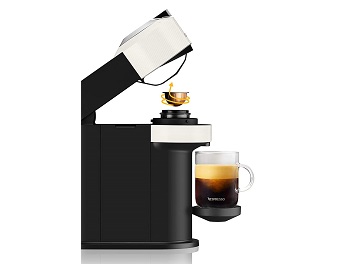 Brew Sizes
Even though this espresso machine under 300 dollars can brew a single cup at a time, it still provides you with different brew sizes. For example, you can choose whether you want to make a 5, 8, or 14-ounce cup of coffee and a single or a double shot of espresso.
Automatic Parameters
The best thing about this electric coffee maker is that it automatically adjusts the brewing parameters according to the pods you use. This includes the brew size, temperature, pressure, and even brewing time. As a result, it provides exceptional results with every single use.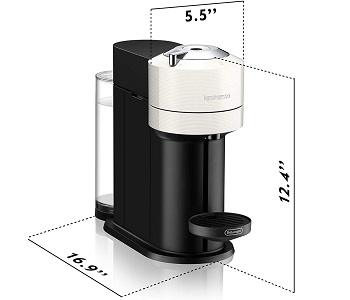 Welcome Set
Alongside this starter espresso machine comes a welcoming set. It includes 12 different capsules that are made to brew coffee or espresso. o matter which option you choose, you can be sure that you will get perfect results with every single use.
Short Description:
features a bit slimmer design
provides different brew size options
automatically adjusts brewing parameters
includes a welcoming set with 12 capsules
Best With Grinder Starter Espresso Machine
Breville Barista Touch Espresso Machine
High-Quality Design
If you want a beginner espresso machine that features a professional-grade design, this stainless steel coffee maker might be the best choice. It provides exceptional quality and durability and ensures the lasting performance of the appliance.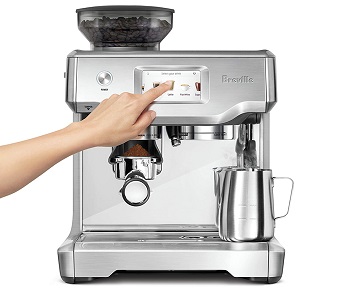 Simple Touch Screen
As most of these models, this grind and brew coffee maker also features a simple touch control screen. The only difference is that it allows you to make up to eight personalized brewing options to ensure that you can always make the most delicious brew.
Built-In Grinder
This is the only espresso machine that comes with a built-in coffee grinder. Due to this feature, you will always be able to brew yourself a cup with freshly ground beans. It has a specially designed dose control system that delivers the perfect amount of grounds per brew.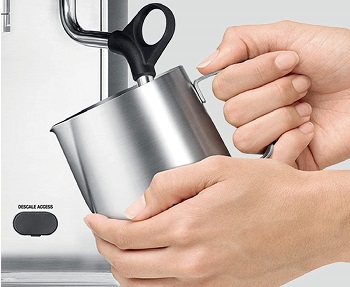 Optimal Pressure
Another thing worth mentioning is that this machine provides optimal water pressure. It starts with a low pre-infusion pressure that gradually increases over the brewing process. Thanks to this feature all flavors will be evenly extracted and you will be able to enjoy a perfectly balanced cup of your favorite espresso.
Short Description:
a high-quality stainless steel design
simple touch screen control panel
provides eight personalized profiles
comes with a built-in coffee grinder
optimal water pressure extraction
innovative ThermoJet heating system
Best With Frother Beginner Espresso Machine
DeLonghi 15 Bar Espresso Machine
15 Bar Pressure
This is another model that provides an extremely powerful 15 bar extraction pressure. Thanks to this feature you will be able to enjoy the most delicious brewing results with every single use. It will provide you with an authentic taste of the professional Italian espresso.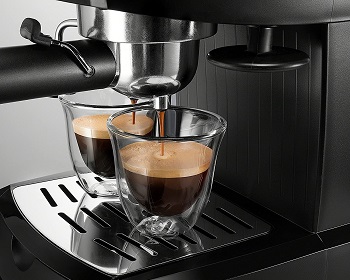 Advanced Temperature System
The amazing thing about this espresso machine for beginners is that it features an advanced temperature system. It is specially designed to ensure that you can brew one cup of coffee after the other. No need to wait for the water to heat up.
Water Level Indicator
Due to its completely removable water tank, this 15 bar espresso machine will be much easier to clean. Additionally, the water reservoir has a transparent water level indicator that will let you check the amount of water that is left inside the tank.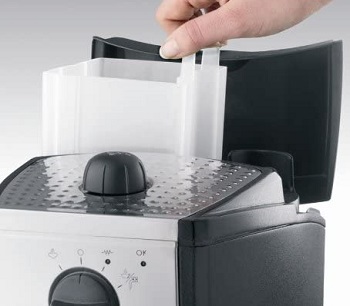 Simple Cleanup
To ensure that this 2 cup espresso coffee maker is always perfectly clean, you need to give the unit a thorough clean after every use. The best thing is that all of its removable parts are completely dishwasher-safe, meaning, you won't have to clean them manually.
Short Description:
powerful 15 bar pressure extraction
provides an advanced temperature system
water tank with a visible level indicator
very easy to clean and maintain
all removable parts are dishwasher-safe
Best Home Espresso Machine For Beginners
Staresso Portable Espresso Machine
Small Size
This espresso machine comes in a somewhat smaller size and it provides a single-cup brewing capacity. It is a perfect choice for everyone who doesn't consume too much coffee over the day. Most importantly, it provides a very simple performance.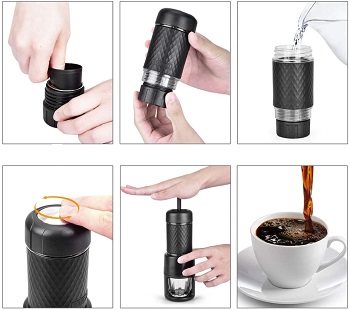 All-In-One Design
Note that this model is the perfect all-in-one espresso machine. It features a convenient water chamber that can hold up to 80 milliliters, a powerful 20 bar pressure pump, and a serving cup. The entire machine features an ergonomic design thanks to which you will be able to have a much firmer grip on it.
Easy To Use
Because of its simple design, this beginner espresso machine is very easy to use. Simply add coffee to the coffee basket, close its bottom cap, and fill up the water tank. Turn the top button, pull it up, and press it back down. In a moment you'll be able to enjoy a delicious espresso shot.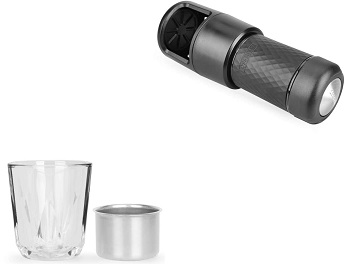 FDA Approved Design
The best thing about this small one-cup coffee maker is that it is approved to meet specific FDA safety standards. This means that it is entirely made out of food-grade raw materials that contain no harmful chemicals that might damage the quality of your brew.
Short Description:
comes in a somewhat smaller size
a highly practical all-in-once design
provides a very simple brewing performance
compatible with coffee pods and ground coffee
features an 80-milliliter water tank capacity
approved to meet specific FDA safety standards
Best For Travel Starter Espresso Machine
Wacaco Nanopresso Espresso Maker
Convenient Size
Since this is a portable model, its small size makes it a highly convenient choice if you are looking for an espresso machine you can take on your trips. It will easily brew a single cup of delicious espresso in a very short time.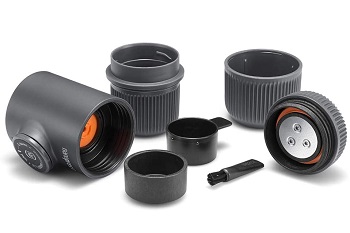 Manual Operation
Keep in mind that this small one-cup coffee maker is made only for manual use. It does not require any batteries or electrical power to provide amazing brewing performance. It provides an extraction pressure of around 18 bars, meaning, you will get a flavorful cup with every single use.
80 ml Capacity
This coffee maker for camping provides you with a brewing capacity of up to 80 milliliters. To be more precise, it makes a small shot of rich and flavorful espresso. The best thing is that a serving cup comes integrated with the machine.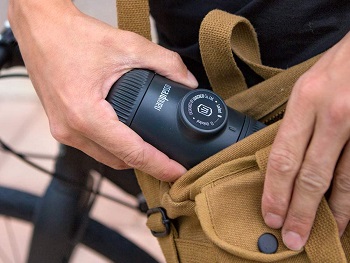 Additional Accessories
Some additional accessories can make the performance of this starter espresso machine even more enjoyable. These may include a Nanopresso NS adapter, Nanopresso Barista kit accessories, etc. Keep in mind that they do not come included in the package. You will need to purchase them separately.
Short Description:
comes in a highly convenient portable size
designed for manual operation
provides 80-milliliter brewing capacity
additional accessories available (sold separately)
What To Consider About The Best Espresso Machines For Beginners?
All beginner espresso machines I reviewed in this post are specially designed to provide a very simple and yet powerful brewing performance. Here are some things you should keep in mind when choosing the best model.
Simple Performance – When buying your first espresso machine, you want it to provide a very simple performance. That way you won't have to waste your time figuring out the features they provide. Later on, you can upgrade to a more versatile model.
One-Touch Controls – Keep in mind that programmable espresso machines don't have to be too complicated either. Go for the ones that come with simple touch controls that allow you to adjust all the brewing parameters that the machine provides according to your likings.
User-Friendly Features – Models with versatile user-friendly features are specially designed to make your brewing experience much simpler and more enjoyable. For instance, coffee machines with a milk frother will allow you to brew versatile beverages including lattes, cappuccinos, etc.
Powerful Performance – Even though you are getting a model ideal for beginners, it should still provide a powerful brewing performance. When possible, go for models that come with 15 bar pressure pumps or even more powerful ones. They will be able to extract all delicious flavors from the grounds you use.
Price Range – As a beginner, you probably don't want to spend too much money on a beginner espresso machine. You can easily find an inexpensive coffee maker that will provide both an amazing performance and fit into your set budget perfectly.