Have you been looking for the best 30 x 60 dining table?
Then you are in the right place!
In the next few segments, you can find out more about the construction and the design of the four best models that are currently available for sale. Check them out and choose the best one.
The Rundown
4 Best 30 x 60 Dining Tables For All Sizes Of Rooms
Best Of Best 30 x 60 Dining Table
Joss & Main Neil Trestle Dining Table
Blended Construction
This dining table is made out of a combination of manufactured and solid wood. It features a trestle base with angled supports that ensure its sturdiness. The beautiful wood knots and grain color variation ensure its natural look.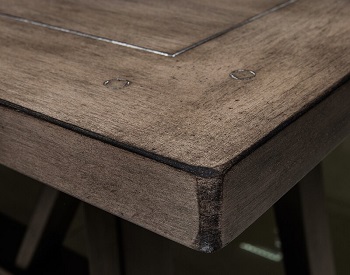 Modern Design
Even though this dining table is made out of wood material and has a bit more rustic appeal, it still features a very modern design. Thanks to this feature you can be sure that it will perfectly fit into your dining room and give it a modern farmhouse look.
Seating Capacity
Because of its size, this table provides a seating capacity for up to six people at once. Most importantly, everyone can sit comfortably and enjoy the space they have. Note that the table does not come with the chairs. You will need to purchase them separately.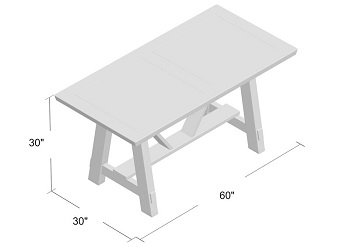 Dimensions & Weight
The last thing you need to keep in mind is the dimension of the table you want to buy. This 30 x 60 dining table features a tabletop thickness of three inches and weighs 95.87 lbs. The distance between the legs at the end of the table is 21 inches while their distance on the long side of the table is 42.56 inches.
Short Description:
specially made for residential use
up to six-person seating capacity
solid and manufactured wood construction
brow color with distressed carbon finish
modern farmhouse-inspired style
trestle base with two angled supports
all required tools come included in the package
Best Counter Height 30 x 60 Dining Table
Homelegance Counter Height Table
Simple Design
This is another model that features a very simple design. It is made out of wire-brushed Acacia veneers finished with a weathered gray color that ensures both a modern and at the same time rustic feel to your dining room.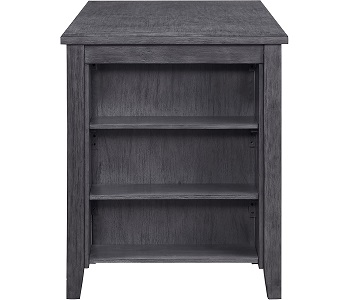 Counter Height
Due to its counter height, this model is the perfect choice for dining rooms. It is specially designed to ensure that it can accommodate up to four seatings comfortably. Once assembled, this rectangular table will provide you with enough room for your tableware.
Built-In Shelves
The amazing thing about this 30 x 60 dining table is that it comes with built-in shelves on its exterior side. You can use them to display your favorite book and versitile decorations. However, they can also be very practical for holding different spices you may need during lunch.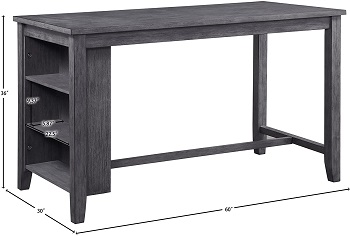 Additional Seatings
If you want modern stools that highlight the design of this table you can easily find models with vinyl seat tops with decorative nailhead accents. Note that the seats are not included in the package. If you want them, you will need to purchase them separately.
Short Description:
a simple and modern design
counter height construction
highly practical rectangular shape
comes with built-in storage shelves
stools are not included in the package
Best Rectangular 30 x 60 Dining Table
Flash Furniture Natural Table
Reversible Top
As opposed to the rest of the models, I reviewed in this post, this table features a reversible top. One side features a natural wood color while the other one features a bit darker walnut color. Choose whichever one you believe fits into your dining room better. You can change your opinion any time and reverse the top.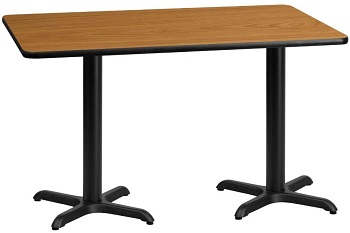 Durable Surface
The important thing worth mentioning is that the surface of this table is highly durable. It is resistant to all kinds of exterior damages such as heat, moisture, and scratches. Thanks to this feature the table will have a much longer lifespan.
Simple Maintenance
To clean this 30 x 60 dining table properly the only thing you need to use is water and a mild dish detergent. Once clean, make sure that you dry up the table's surface thoroughly with a soft cloth to ensure there is no moisture residue on its top.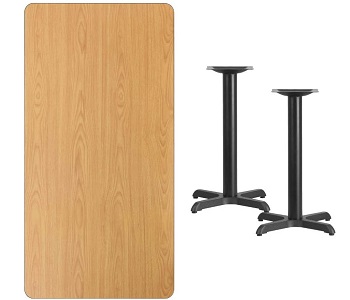 Quick Assembly
You won't have any trouble assembling this table. Everything you need to do is attach the included legs to the tabletop surface. Once you do that, the table will be firm enough to hold everything you place on top of it.
Short Description:
reversible tabletop surface
highly durable and wear-resistant top
requires very little maintenance
a simple two-step assembly process
Best Wooden 30 x 60 Dining Table
Bowery Hill Restaurant Dining Table
Durable Construction
This model features highly durable construction. Its feet are made out of cast iron material that will provide it with the support it needs to hold all things you place on it. You can easily attach its legs to the top using only a single bolt.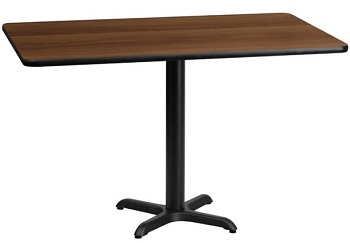 Professional & Domestic Use
Because of its durable construction, this 30 x 60 dining table will be able to withstand the rigorous demands of the hospitality industry. However, it is still a great choice for domestic use too. It will perfectly fit into every dining or recreation room.
Beautiful Finish
The laminate top with a black walnut finish gives the table a much more modern look. Since the tabletop surface is made out of wood you need to protect it from excess moisture. Simply dry the table after every meal with a soft cloth and that's it.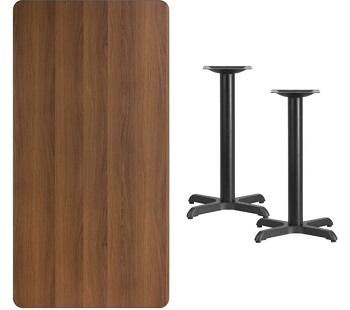 Round Edges
Similar to the previous model, I reviewed above, this table also features rounded edges. This feature provides it with a bit sleeker look. Additionally, its legs have four legs to ensure that the table stands firm on the floor without any wobble.
Short Description:
for professional and domestic use
a beautiful black walnut finish
thick top with melamine core
simple two-piece assembly
a durable cast iron construction
What To Consider About The Best 30 x 60 Dining Tables?
The 30 x 60 dining tables, I reviewed in this post, are designed to fit versitile dining rooms and provide them with an additional rustic feel. Here are some things you should keep in mind when deciding which model fits your needs the best.
Commercial Vs. Domestic Use – Before you choose the best dining table you need to know whether you want to use it in a commercial or domestic environment. The models I reviewed in this post are made out of wood, but a stainless steel table might be a better choice for commercial use.
Design's Durability – The model's durability is another thing you need to keep in mind when choosing the best one. Look for tables that have thick tabletop surfaces and strong legs that provide additional durability and sturdiness to the table itself.
Table's Height – You need to pay attention to the height of the dining table you are getting because it determines the height of the chairs that can fit beneath it. Apart from the second model I reviewed, these tables are made to comfortably accommodate up to six seatings.
Required Assembly – Even though all these 30 x 60 dining tables need to be assembled by hand, the process isn't too demanding. Everything you need to do is attach the table's legs to its top surface and that is it. You will have a completed table in no time.
Price Range – The last thing you need to keep in mind is how much money can you afford to spend on the 30 x 60 dining room table you like. The models I reviewed above are listed between two and four hundred dollars to ensure that you can find the one that fits your budget.