Are you a lover of farmhouse and modern styles and looking to get a 10 ft dining room table?
If yes, we are here to help!
Continue reading this article where you can find all the information about 10 ft long dining tables. Firstly, you can check out reviews of farmhouse, modern, and round models of dining tables to see what the market has to offer. Secondly, you can read about the specifications that make the best dining room tables to help you in your hunt for one.
The Rundown
4 Best 10 Ft Dining Room Tables
Best Of Best 10 ft Dining Room Table
EuroLux Home Tuscan 10 Ft Table
Walnut Finish
To start this list of reviews, this 10 ft dining room table is not just 120 inches long, but also 48 inches wide, and 31 inches tall. Its rectangular shape has a walnut finish, featuring a distressed plank top and a base made from carved pillars in a trestle design. It comes as a 5-piece assembly.

Distressed & Antique
The solid wood dining room table with a dark finish has traces of classical and traditional styles with a touch of antique charm. Likewise, the walnut tabletop is distressed for an antique look. Also, the carved pillars give detail to the table to make a nice impression inside the dining room.
Seats 10 To 12 People
The long rectangular table should be able to seat between 10 and 12 people at once. Therefore, it is a great choice for large families or households that entertain and prepare holiday dinners for family and friends. With its dark color, it can go with both lighter or darker furniture in the room.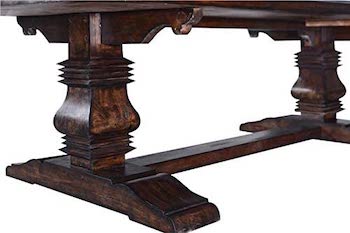 Fits A Crowd
Further, with the trestle base, the table can fit chairs around comfortably for when you get unexpected guests. Most importantly, the table is long so it will be able to fit a larger crowd around for family dinners and holidays.
Short Description:
120 inches long, 48 wide, 31 tall
features a distressed solid walnut top
carved pillars on the trestle base
antique charm with classic details
comes in a 5-piece assembly
Best Farmhouse 10ft Dining Table
Coaster Home Calandra 10 Ft Dining Table
121.5 Inches Long
For lovers of country style, this 10-foot farmhouse table is a great choice. Firstly, it is 121.5 inches long, 42 inches wide, and 30 inches high. Also, it features a tabletop supported by four legs. Lastly, the two legs on each side are connected by a bar for a trestle design. The square legs make the table stable and durable.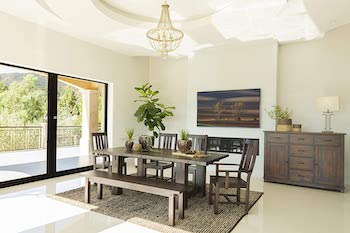 Solid & Manufactured Wood
Most importantly, this 10 ft farmhouse table is made from natural wood materials, including mahogany and Acacia wood, but also mahogany veneer and plywood. Upon receiving it, you will have to assemble it but it should be easy. It expands easily with the help of built-in extensions.
With Extension Leaves
With solid construction and natural materials, it is a great focal point of the dining area of your farmhouse kitchen. Moreover, farmhouse style is also known for large capacities and 10-foot rustic dining tables, and this table can seat at least 10 people at it, perfect if you have a large family. Subsequently, for immediate family use, you can even collapse the extension leaves of the 10-person farmhouse dining table.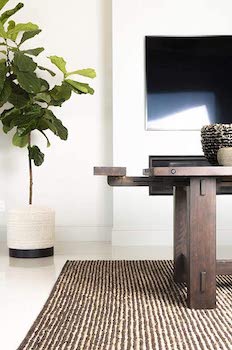 Durable & Stable
For a dramatic look, this 10ft farmhouse table has a bold silhouette. With the charm of vintage furniture, the 10 ft dining room table is a statement piece in any dining space. The solid mahogany wood makes it stable and durable for long-lasting use.
Short Description:
121.5 inches long, 42 wide, 30 tall
square legs with two bars for support
solid mahogany wood and Acacia wood
also plywood and mahogany veneer
built-in leaves for extending the table
vintage charm, country-style table
Best Modern 10 ft Dining Table
James+James Fulton 10ft Dining Table
Wood & Metal Materials
This 10-foot modern dining table is handcrafted from 100% solid hardwood and features raw steel legs. Moreover, the legs have a clear coating on them for durability and longevity. The jointed tabletop has naturally exposed knots that are filled. Also, the table is unique thanks to the distress marks, color variation, wood grain, and rustic welds.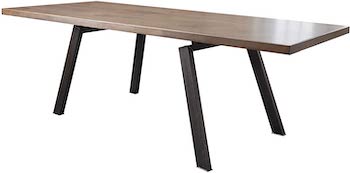 37 Inches Wide
The modern charm here comes from the combination of solid wood and metal materials. Likewise, the tabletop has a durable polyurethane finish that is also kid-friendly. In addition, the 120-inch long table is also 37 inches wide and 30 inches tall.
Available In 5 Finishes
Furthermore, this 10 ft dining table comes in 5 different shades, including charred ember, Tuscany, barn wood, tobacco, and driftwood. It comes disassembled, but assembling it is easy to do. It can be used in industrial-style kitchens and dining spaces and easily conforms to modern environments, too.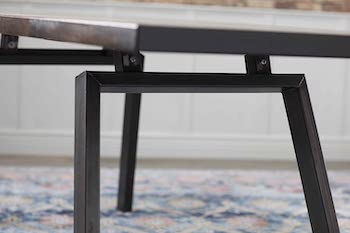 Large Capacity
The modern 10-seater dining table will look great in long rooms where it can seat more than just your immediate family for lunch, dinner, or other meals. Also, it can be used when hosting parties, game nights, and other kinds of events in your house.
Short Description:
100% solid hardwood handcrafted tabletop
raw steel legs with a clear coating
durable and long-lasting build
120 inches long, 30 inches high, 37 wide
available in 5 different finishes
industrial style for modern spaces
unique distress marks, wood grain, etc
Best Round 10ft Dining Table
Antique Purveyor 10 Ft Long Dining Table
From Round To Oval
This 10-foot round table is actually an extendable one that changes from round to oval shape once you extend it. In short, when collapsed, the table measures 60 inches in diameter and is round in shape. Also, the base of the table consists of a split pedestal that holds the table sturdy and durable for use both when open or closed.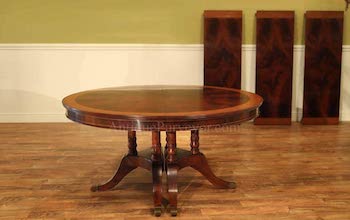 Mahogany & Satinwood Materials
With three large extension leaves, the table changes into an oval shape, measuring 10 feet in length. In other words, you can change this table from seating 6 to seating up to 12 people easily. Also, along with the split pedestal base, there is a pie-cut flame tabletop. It is constructed from mahogany wood that has a brown satinwood inlay as a border.
User-Friendly Design
By using the three extensions, you will be able to prepare enough seating space for family and friends. Furthermore, this makes it ideal for holiday dinners and entertainment nights. However, once the guests leave, the table can collapse back to the round shape to seat up to 6 people easily, which is mostly enough for a household every day.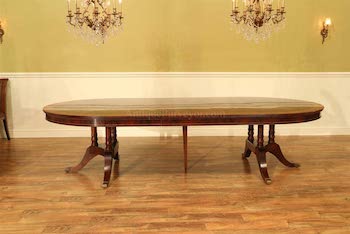 Traditional & Antique
Lastly, the heavy 10 ft dining table changes to oval easily and becomes the majestic focal point of the dining areas. Moreover, it combines traditional with antique style with turned columns on the pedestal and curved legs, bringing detail to the dining space.
Short Description:
round table changes to oval when extended
60-inch diameter, 10 feet long with extensions
it features three extension leaves
mahogany tabletop with a satinwood inlay border
it seats between 6 and 10 people
What To Consider In 10Ft Dining Tables?
Buying a large dining table for your house can be hard, but not if you follow the below-mentioned guidelines on how to choose the perfect model. Firstly, you should look out for the size and height, as well as choose the style you want. Secondly, you should consider the material of the furniture. Similarly, also pay attention to the shape of the table and keep in mind some other things the most appealing tables for any space have.
Size & Height – The market mostly offers 10-foot long dining tables that are 30 inches high. However, if you want counter-height models, you should look into the ones that are between 34 and 39 inches tall to match the height of your kitchen counter. When it comes to the size, pick a table that fits your space and offers a large enough seating capacity for your needs.
Pick A Style – The market offers something for every individual. In other words, there are many different styles to choose from when buying a dining table. Some of the more popular styles include modern, rustic, industrial, farmhouse, antique, and vintage styles.
Make It Durable – Most importantly, you should choose a table that is sturdy and durable for use. For instance, most tables are made from wood, glass, steel, veneer, but you can even find plastic, stone, and veneer models on the market. To clarify, no matter which material you end up choosing, make sure it has a durable build for long-lasting use.
Four  Renowned Shapes – Round, square, rectangular, and oval shapes are all available for you to choose from. The shape will depend on the layout of the room and the footprint you want to leave in it. For instance, rectangular shape is the most common one, along with smaller square models.
User-Friendly Qualities – Finally, here are some other things to have in mind to get a good 10ft dining table. Firstly, make sure it is easy to assemble to save you from losing your nerves. Secondly, look for models that are easy to clean to save you some time. Thirdly, make sure it is easy to put the chairs under the table. Likewise, ensure 22 to 24 inches of space for each place at the table.
To Wrap It Up
To sum everything up, we have picked the EuroLux Home 10ft dining table as our favorite choice. Firstly, it can seat a crowd of 10 to 12 people and has a durable build. The solid wood construction has a distressed finish giving it an antique vibe. It also gives off a classic charm with some details. In case you would like an even longer table for your dining space, read our article with reviews of 12-foot dining room tables. If you are looking for a big extendable table, check out our selection of 10-person extendable dining tables.