An office espresso machine a must-have if you want to keep your employees happy. They are needed to provide the caffeine pick-me-up that most people need to function throughout the day.
For that reason, we gathered all the important information about the 5 top-rated models on the market. Check them out and find out all about their performance and efficiency. Also, our buying guide will give you the information you may need to figure out which one suits both your needs and the needs of your employees the best.
The Rundown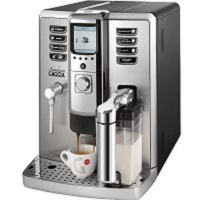 Gaggia Accademia Espresso Machine
OVERALL RATING: ★★★★★
Its super-automatic performance makes this espresso brewer suitable both for beginners and experienced brewers.
Jump To Review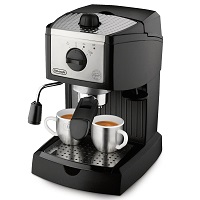 DeLonghi 15 Bar Espresso Machine
OVERALL RATING: ★★★★☆
With its powerful 15 bar extraction pressure, this espresso machine provides a barista-style brew with every use.
Jump To Review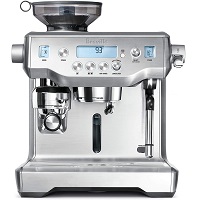 Breville Oracle Espresso Machine
OVERALL RATING: ★★★★☆
Since it comes equipped with a coffee bean grinder, this espresso maker allows you to enjoy the freshest brew possible.
Jump To Review
What Is An Office Espresso Machine?
It's an espresso brewer that meets high power, performance, and efficiency requirements. It is made to be used either as an individual or a collective brewer. With its versatile features and functions, it can easily meet the versatile needs of your employees and coworkers.
The Best Machine For Office Use
There is not one single answer that works for everyone so we explained the main categories you can choose from.
Manual Lever Espresso Machines
Manual lever models can be an eye-catching piece in any environment and will get you points on appearance. However, they require a lot of manual force to create the needed extraction pressure. Since this can be very time-consuming, especially if you are not as experienced in the brewing process, I would not recommend them for office use.
Automatic Espresso Brewers
Automatic brewers for office use require the user only to start the brewing cycle, the machine does the rest. It automatically stops the brewing process based on the machine's pre-programmed parameters. Simply set the desired dosing measurements and that is it.
Semi-Automatic Espresso Machines
Semi-automatic office espresso brewers do the brewing part for you. However, they provide you with complete control over all of their features, functions, and brewing parameters. They are a great choice only if you have some brewing experience that will allow you to easily handle all the functions.
Super Automatic Espresso Makers
Super-automatic models do all the job for you. They don't have programmable features but rather provide a variety of pre-programmed brewing settings. You only have to choose desired brewing mode. These brewers are the easiest to use and are suitable for everyone, from beginners to experienced brewers.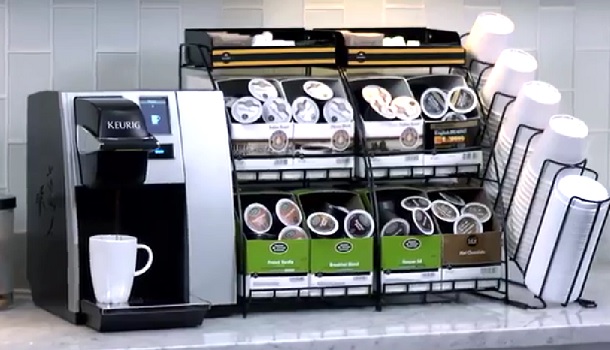 Pros And Cons Of Office Brewers
There are many pros to buying an office brewer for your employees, here are the main reasons:
It saves you a lot of time since your employees do not need to run out for their much-needed espresso shot.
Since it's simple to use and requires short time for preparing, you don't need to hire your secretary or assistant.
At meetings, you can save a lot of money preparing espresso in the office rather than bringing it from outside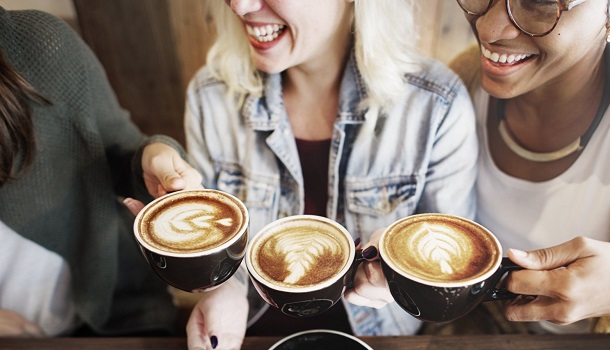 However, there are struggles you might come across while trying to find the best option:
If you buy an outdated brewer your employees might have trouble using it. This makes them counter-effective as you do not want to create more stress in the office.
It might not offer all the settings for everyone to be pleased.
If there is a lot of workers in the office, the water container may be not big enough so it may be anoying to refill it constantly.
Features To Consider
Once you decide which type of espresso machine is the best choice for your office, it is time to consider some additional features:
Size Of The Machine
Before you buy an espresso machine you need to consider where are you going to put it. If you have a spacious office with large countertops surfaces, a larger 17.5 x 11.6 x 16.5-inch model is a great choice as it provides a larger brewing capacity. However, if you have very little space to spare, consider buying a somewhat smaller model. For instance, a 12.99 x 5.9 x 12.99-inch brewer takes up much less space. Its only downside is that it doesn't offer as large a capacity.
Durable Design
If you are planning on using the espresso machine day in and day out, you need to make sure that it can withstand the intensive demands. You can never go wrong with a stainless steel model. However, since they are usually more expensive, you might opt for a more affordable plastic model. If you do, check the warranty duration of the brewer as it usually indicates how much confidence the manufacturer has in its quality.
Ground Coffee Or Pod Compatibility
In your search for the perfect office espresso brewer, you will come across machines that work either with ground coffee or coffee pods (some even work with both). Pod brewers can be a good choice for office use as they don't create any mess. You only have an empty pod to dispose of. However, ground coffee espresso machines provide you with much higher flexibility as you can choose from versatile coffee grounds based on their flavor, strength, aroma, etc.
Brewing Preferences
Since you want to be sure that your employees are happy, make sure to consider their drink preferences. For instance, a lot of people enjoy cappuccinos and lattes rather than clean espresso shots. Also, some people enjoy having a hot cup of tea. This is where the additional hot water spout can come in handy.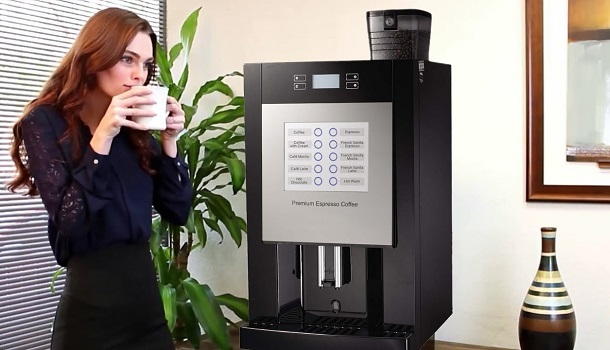 Frothing System
For the espresso machine to create lattes and cappuccinos, it needs to come with a milk frother or a frothing system. The difference between the two is that the former is a wand you can control manually while the latter is an automatic mechanism that froths and dispenses the frothed milk straight into your cup.
Additional User-Friendly Features
There are versatile additional user-friendly features you can look for in these models. These include:
an easy access removable water reservoir
built-in coffee bean grinders
additional bypass dosers for decaf coffee
a simple touch control panel
convenient light and sound indicators
multiple group heads for higher efficiency
top-mounted cup warmers
5 Best Office Espresso Machines
Here you can learn all about the best models you can buy. While the first one is a super-automatic model, the second one provides a simple automatic performance. Read on to learn more about their features and differences.
Gaggia Accademia Espresso Machine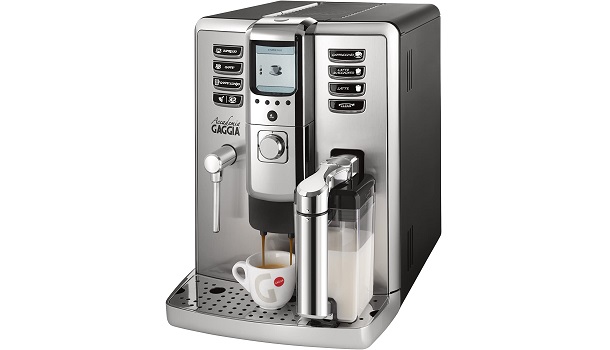 SPECIFICATION:
Dimensions: 11 x 16 x 14.6 In
Weight: 45 Pounds
Material: Stainless Steel, ABS

Wattage: 1400 Watts
Extraction Pressure: 15 Bar
Frothing System: Automatic
This super-automatic brewer features a simple control panel with a backlit display. It offers versatile pre-programmed settings so you can start the desired brewing process with a simple touch of a finger. Its coffee dispenser is height-adjustable so you can brew directly into a small espresso cup as well as in a large cappuccino cup.
It is worth knowing that it comes equipped both with a coffee bean hopper, a powerful grinder, and an additional bypass doser for pre-ground or decaf coffee. Its ceramic burr grinders will grind your beans freshly before the brewing process to ensure that you get to enjoy all the robust flavors and coffee oils from the beans.
Its frothing system provides a fully automatic performance. This means that it will automatically froth and dispense the perfect amount of frothed milk into your espresso cup, depending on which brewing program you set. The milk carafe is removable from the machine so you can easily remove it and store the leftover milk inside the refrigerator.
Overall:
Power:
Size:
Functionality:
Quality:
Safety:
PRICE RANGE
from $1500 to $2600
depending on eCommerce offer (Amazon, Walmart, eBay) and discounts
REASONS TO BUY:
It features a top-mounted cup warming tray.
Offers an automatic frothing system and an additional hot water spout.
Provides versatile settings and allows you to control the strength of your brew.
REASONS TO AVOID:
Both the bean hopper and the water reservoir are relatively small.
DeLonghi 15 Bar Espresso Machine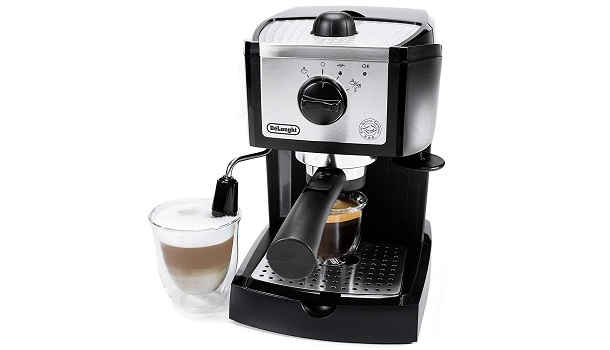 SPECIFICATION:
Dimensions: 12.2 x 19.3 x 15 In
Weight: 6.67 Pounds
Material: Stainless Steel

Wattage: 1100 Watts
Extraction Pressure: 15 Bars
Frothing System: Wand
Out of all espresso machines for the office in this post, this machine features the simplest, most basic design. It can brew an authentic Italian espresso cup, as well as cappuccinos and lattes. Its 3in1 filter holder allows you to brew both a single and a double serving and also ensures you can brew espresso using ESE pods.
Even though it looks very simple, this brewer provides a high 15 bar extraction pressure. Thanks to this feature you will get to enjoy a flavorful espresso with every brew you make. Its frothing wand is manually controlled to ensure you can adjust the thickness of the froth you make to your liking.
Although its water reservoir is located in the back of the machine it is completely removable. This means that you won't have any trouble refilling it when needed. It is also very easy to clean. All removable parts of the machine are dishwasher-safe so you don't have to clean them manually.
Overall:
Power:
Size:
Functionality:
Quality:
Safety:
PRICE RANGE
from $80 to $130
depending on eCommerce offer (Amazon, Walmart, eBay) and discounts
REASONS TO BUY:
Provides a dual temperature control.
Requires very little maintenance and is easy to clean.
REASONS TO AVOID:
You might need some time to get the hang of its performance.
Breville Oracle Espresso Machine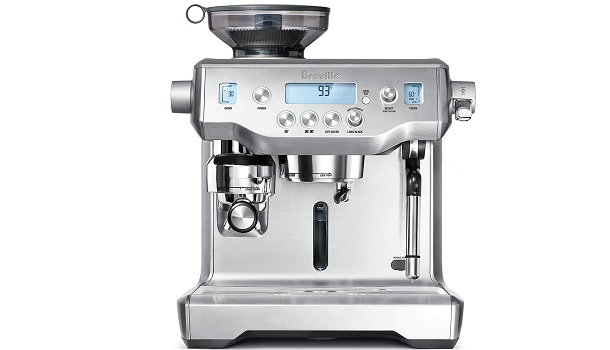 SPECIFICATION:
Dimensions: 14.5 x 14.7 x 17.6 In
Weight: 34.5 Pounds
Material: Stainless Steel

Wattage: 1800 Watts
Extraction Pressure: 9 Bars
Frothing System: Wand
Since it comes equipped with a dual boiler system, this automatic brewer provides you with unparalleled temperature control. As a result, you get the opportunity to brew espresso and froth milk simultaneously without compromising the results of either process.
Another thing worth mentioning is that this brewer comes equipped with a powerful coffee bean grinder and a dose control system. It is designed to grind the perfect amount of coffee beans and dispense them straight into the portafilter to ensure that you get the optimal results with every use.
Note that this machine uses the optimal water pressure to extract the optimal amount of flavors from your grounds. It starts with a low-pressure pre-infusion process that evenly saturates the grounds inside the portafilter and then applies the needed pressure to pull the perfect shot.
Overall:
Power:
Size:
Functionality:
Quality:
Safety:
PRICE RANGE
from $1800 to $2400
depending on eCommerce offer (Amazon, Walmart, eBay) and discounts
REASONS TO BUY:
Comes with an automatic grinder with a digital dose control system.
Provides you with a flexible espresso shot control.
REASONS TO AVOID:
There are some reports of leaking issues from customers.
De'Longhi Espresso Machine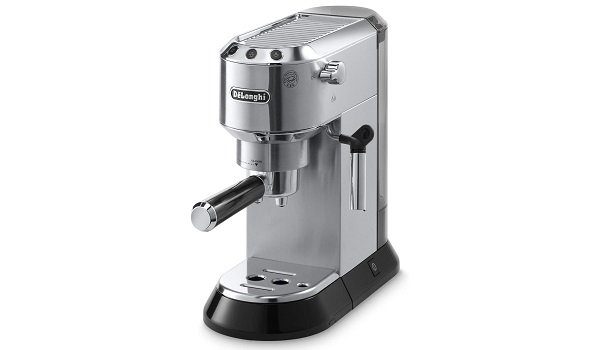 SPECIFICATION:
Dimensions: 12.99 x 5.9 x 12.99 In
Weight: 9.3 Pounds
Material: Stainless Steel

Wattage: 1300 Watts
Extraction Pressure: 15 Bars
Frothing System: Wand
This is another model from Italian brand, one of the most popular – De'Longhi. As opposed to the previously reviewed model, this one features a somewhat smaller, sleek, space-saving design that makes it the perfect choice for small offices and desk use. This makes it much easier to move around and store away when needed.
Whether you want to brew a single or a double espresso shot, this brewer will provide you with amazing results. Its high 15 bar extraction pressure easily captures all the delicious flavors and aromas from your grounds.
Its automatic flow stop function ensures that the machine maintains the perfect brewing temperature and dispenses just the right amount of espresso into your cup. Thanks to this feature you never have to worry that your brew will have a watered taste.
Overall:
Power:
Size:
Functionality:
Quality:
Safety:
PRICE RANGE
from $200 to $450
depending on eCommerce offer (Amazon, Walmart, eBay) and discounts
REASONS TO BUY:
Provides very simple brewing performance.
Offers push-button controls and an additional seam pressure control knob.
REASONS TO AVOID:
You might notice some issues with leakages.
Jura Automatic Coffee Machine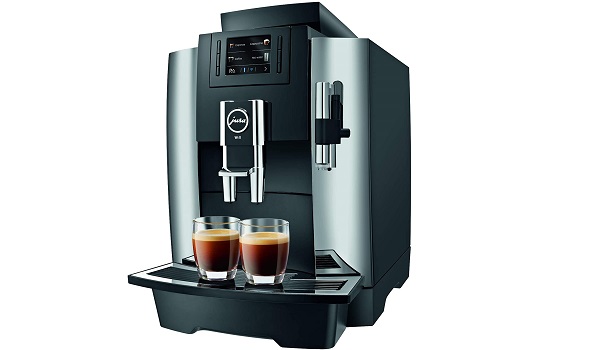 SPECIFICATION:
Dimensions: 17.5 x 11.6 x 16.5 In
Weight: 22 Pounds
Material: Plastic

Wattage: 1450 Watts
Extraction Pressure: 15 Bars
Frothing System: Wand
This is another super automatic brewer with a convenient touch control display. It provides you with up to 12 different barista-quality specialties. Thanks to this feature you get to enjoy not only espresso but cappuccino, latte, americano, tea, and other beverages too.
Since this brewer also comes with a coffee bean grinder, it allows you to brew espresso with the freshest grounds possible. Its steaming system is designed to provide you with perfectly frothed milk to ensure that you can top-off any beverage you make with a thick milk froth.
The best thing about this model is that it requires very little maintenance. It comes with integrated rinsing and cleaning systems that ensure that both the brewing and the frothing systems remain perfectly clean and safe for the next use.
Overall:
Power:
Size:
Functionality:
Quality:
Safety:
PRICE RANGE
from $2700 to $4900
depending on eCommerce offer (Amazon, Walmart, eBay) and discounts
REASONS TO BUY:
Comes with a 500-gram coffee bean hopper.
Features a rinse, clean, and descaling program.
REASONS TO AVOID:
It can not be connected to a direct water line.
It is made to brew up to 30 cups of coffee per day.
The Importance Of An Espresso Machine In The Workplace
It has been proven many times that a cup of coffee improves productivity and keeps you alert throughout the day. For that reason, having an espresso brewer is truly a must-have especially if you are working with espresso lovers.
Research has proven that coffee improves both short-term and long-term memory. This means that you will be able to recall the details from the project you are working on and easily meet the deadlines. Another study determined that consuming coffee has an immense effect on stress levels.
Finally, having an espresso brewer will help you socialize your employees much better. Even the introverts might start up a conversation with colleagues over an espresso. Even if you are not a regular espresso consumer, there are 8 reasons why you might reconsider your decision.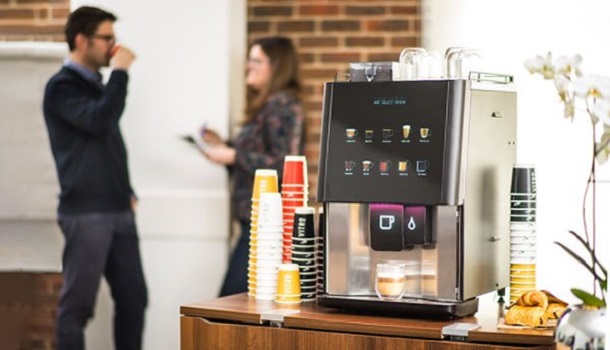 Do You Need A Commercial-Grade Machine For Office?
If you have a small office with 30 employees, there is no sense in buying a robust commercial brewer as you probably won't even get the chance to enjoy its benefits but you will pay a high cost for its maintenance.
However, If you are running an office with multiple departments you might consider investing in a commercial brewer. This is simply because they usually come with multiple brew heads and allow you to make several servings at once. That way you won't have a large line of people waiting for their caffeine shot.
Buying Vs. Renting – Which Option Is Better?
If you opt for a bit more expensive commercial-grade model, the great thing is that your only option is not to buy it – you can also rent it out. This means that you only pay a partial price of the machine and have predictable monthly payments to follow after the purchase. The great thing about renting is that the rental company contracts include service so your liability is eliminated. Additionally, if the rented model does not meet your needs, you can easily swap it up for another model. This is something you can not do if you buy a machine.
Let Us Talk About Maintenance
Since you are buying an espresso brewer for office use, you don't want a machine you will need to clean for more than 30 minutes. The great thing is that automatic models are generally very easy to clean. Some even come equipped with automatic cleaning modes that take care of the brewing system.
How Often Should You Service An Espresso Brewer?
If you want to be sure that your brewer will have a lasting lifespan, you need to ensure that you service it regularly.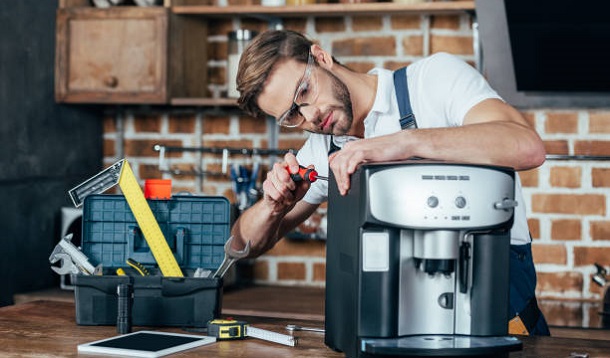 Here are some guidelines that might help:
every 3 months you need to make a minor service. This means that you need to replace the group gaskets and shower screens, test the group flow and the temperature, test all the machine's switches and repair ones that no longer work, and check both the group head and boiler water quality.
every 6 months you need to make a major service. This includes checking everything from the minor service and additionally rebuilding the steam assembly and the water tap, replacing the anti-suction valve, cleaning the boiler level probe, and removing the body panels to ensure that there is no dust build-up inside.
annually you need to do everything from the major service and replace the pressure safety valve, portafilter baskets, and the waste pipe (if needed), replace the capacitor on the pump motor, sight glass, and non-return valve, and check for possible water and steam leaks.
Is There Anything Else You Need To Think About?
By now I am sure you have an idea about which espresso machine is the best choice for your office. The last, but not least thing you need to consider is your budget.
Cost Of An Espresso Machine
Every office has its budget and it needs to be considered when making any major purchase. If a 2000 dollar investment seems like a bit too much, you can find plenty of brewers that cost less than 500 dollars.
Price To Value Ratio
Keep in mind that the price does not determine the quality of an appliance. Cheaper espresso machines for office use are still an amazing choice. The only difference is that they have slightly lower extraction pressure and fewer features than more expensive models do.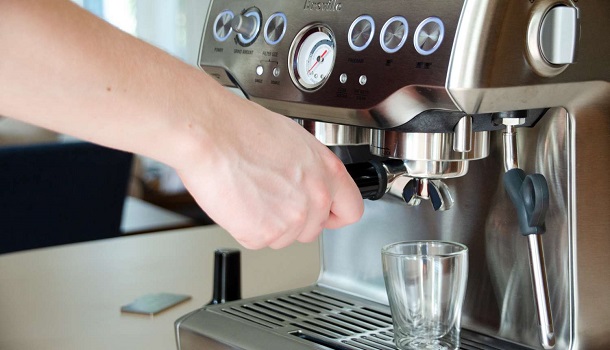 You Are New In The Office And Wonder How To Use It?
You might find yourself in a new workplace where everybody uses your common espresso machine but you are not an experienced brewer, so feel a little embarrassed. Here are step by step instructions that will help you make your first brew at a new job:
The first thing you need to do is turn on the machine and let it preheat. You will know it's ready to use when you see the green indicator light most machines include.
The next step is to grind coffee beans inside the grinder if it's included. Simply fill it up, choose the coarseness level you prefer (if the grinder offers adjustable levels), and turn it on. For optimal brewing results, you need a fine coffee powder. If the machine does not have a grinder, choose your favorite pre-ground blend.
Then put the coffee ground into the portafilter. A 22-gram serving is a perfect amount for a full-bodied espresso flavor. It's best to use the spoon included with the espresso maker because it's the optimal measure for one cup of espresso. If you can't find the spoon, fill the portafilter until it's full.
Tamp the grounds inside the portafilter to ensure that the bed is flat even. It's necessary to press it before brewing. Espresso won't be good if you miss this step.
Lock the portafilter into its position and start the brewing process.
That is it. Once the brewing process is completed you can additionally steam milk if you want to drink a cappuccino or a latte. To use the steamer simply place the wand into the milk and turn the steam knob to get the perfect froth. If the brewer has an automatic frother, you only need to add milk into the carafe, the machine will do the rest.
To Wrap It Up
Out of all reviewed models, I recommend buying the Gaggia Accademia Espresso Machine. It provides a super-automatic performance, offers versatile pre-programmed functions, and uses a powerful 15 bar extraction pressure. Its simple use makes it an amazing choice for offices with pro brewers and beginners. You can be sure that your employees will appreciate the thought no matter which model you opt for.