There is a high chance that during your search for the best espresso brewer you will stumble upon a double-boiler espresso machine. This is a very powerful espresso brewer that can simultaneously heat brewing water and steam for the frother. It allows you to brew back to back without having the gap for the water to heat up.
To choose the best one, you need to consider its quality, efficiency, power, performance, etc. Thankfully, we covered all these "problems" below to make your decision process as easy as possible.
The Rundown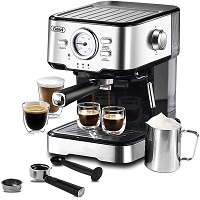 Gevi Espresso Machine
OVERALL RATING: ★★★★★
With its high-pressure extraction pump, this espresso machine easily extracts delicious flavors from your grinds.
Jump To Review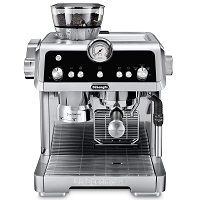 De'Longhi La Specialista Espresso Machine
OVERALL RATING: ★★★★☆
Due to its built-in grinder, this espresso machine allows you to brew coffee using your favorite coffee beans.
Jump To Review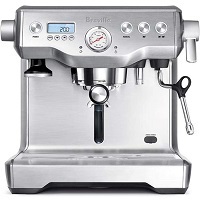 Breville Dual Boiler Espresso Machine
OVERALL RATING: ★★★★☆
Its simple LCD allows simple programming and features a shot clock that times the extraction process.
Jump To Review
What Does Dual Boiler Mean?
This espresso brewer comes with one brew boiler and one steam boiler. It is specially designed to ensure that you can brew espresso and steam milk simultaneously without compromising the performance of either.
How Does Dual Boiler Machine Work?
A dual boiler espresso brewer works by pumping water into two separate boilers. One is designed to keep brewing water at its optimal temperature level while the second one reaches and maintains the optimal pressure for frothing milk.
What Makes It Different From Other Brewers?
Espresso machines are different both from "regular" coffee makers and heat-exchange espresso machines. Here is how:
Regular coffee makers – Basic coffee makers use hot water and rely on gravity to gradually pull the brewing water through coffee grounds inside the filter. Dual boiler espresso makers use very high extracting pressure to push brewing water through coffee in only a few seconds and can steam milk at the same time.
Heat-exchange coffee makers – Unlike dual boilers, heat-exchange models come with a single boiler that keeps the temperature of the water inside the boiler at its optimal level. Since it is constantly exchanged between boiling and steaming, you can't perform both functions and expect perfect results.
What Is A Prosumer Espresso Machine?
This term is often connected with dual boiler models but it's not the same. A prosumer espresso machine doesn't neccessary have two boilers. It is a brewer that shares versatile features with high-grade commercial espresso machines but is still suitable for home use. They are designed with home espresso aficionados in mind as they provide all features you would find in an espresso machine that is used in coffee shops.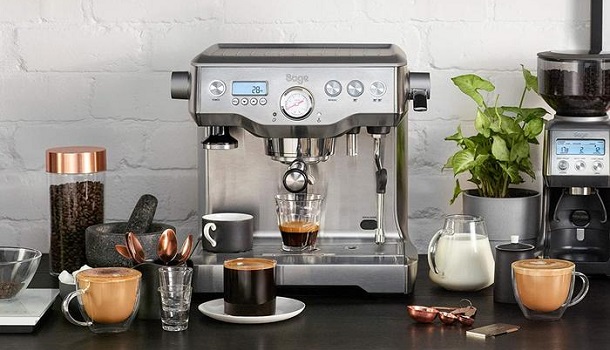 Advantages Of Using A Double Boiler Brewer
Double boiler models offer versatile advantages anyone can benefit from:
Continuous Use – Since both boilers constantly work to maintain perfect temperature both for the brewing and frothing system, you get to use the machine continuously.
Time-Efficient Performance – You never have to wait for the brewing or frothing system to re-heat.
Amazing Results – The temperature stability ensures impeccable brewing and frothing results with every cup you make.
Are They Suitable For Home Use?
Yes, although they might not be intended for home use specifically, you can use any machine at home too. Keep in mind that they are slightly bulkier, meaning they take up more space. Also, they are more expensive than home models and require more maintenance over time.
Is Dual Boiler Machine Worth It?
These machines are great because they provide consistent results shot after shot. Also, you get to brew and froth milk without having to wait for one system to re-heat to its optimal temperature. However, if you are not really an espresso enthusiast and you maybe make yourself one beverage per day, it might be a purposeless investment.
Features You Should Look Out For
Since dual boiler machines are an investment, there are some things you should look out for:
Machine's Size – Since dual boiler models are generally made for commercial use, they are a bit bulkier. They come in versatile sizes from 6.7 x 12.2 x 16.1 inches for a smaller model to 20.2 x 19.5 x 12 inches for a larger model.
Material Quality – Although you can always find plastic models, dual boiler espresso brewers are most commonly made out of stainless steel material. This is because stainless steel is known for offering higher durability and quality.
Pumping System – You can find a dual boiler model with a rotary or vibratory pump system. The former are generally made for direct water line connections, they are long-lasting and much quieter. The latter, on the other hand, are made for machines with water tanks, they are not as robust, and are somewhat louder.
Extraction Pressure – Espresso machines with a 15 – 20 bar extraction pressure provide optimal results and fit in the "professional-grade" category. The models with a 9 – 15 bar extraction pressure are still a great choice, but more suitable for home use.
PID Temperature Control – It maintains the brewing and frothing temperature at a consistent level (for the best results, the thermostat should be set between 90 and 96°C or 195 and 205°F).
Programmable Performance – This includes cup size, brewing temperature, coffee grind size (models that come with built-in grinders), etc.

Steamer Control – A manual steaming wand allows you to control how silky or thick foam you want to make whether you are brewing a latte, cappuccino, etc.
Coffee Grinder – Although it is not a rule, most espresso machines with a dual boiler system come equipped with a coffee grinder that allows you to brew the freshest espresso using your favorite coffee beans.
Does Rotary Pump Make Better Espresso Than Vibration Pump?
Both rotary and vibration pumps provide a great espresso flavor. However, rotary pumps have been proven to prove better brewing results in blind tasting tests.
Manual, Automatic, Or Semi-Automatic Performance?
Machines with two boilers usually feature a semi-automatic performance. This means that they offer a perfect blend of manual controls and convenient automatic performance.
Manual espresso machines – You are in charge of the entire brewing process, meaning you also need to manually generate the water pressure (using a pump or more commonly, a lever).
Automatic espresso machines – Also known as volumetric espresso machines, these brewers automatically stop the brewing pressure once a determined water volume passes through the coffee puck. Apart from choosing the coffee grounds, you have no control over the machine's performance.
Semi-Automatic Espresso Machines – You get to control dosing weight and the grind size of your coffee beans, make the desired tamping pressure, shot timing, etc. The brewer's pump generates the extraction pressure needed to pull the shot.
5 Best Dual (Double) Boiler Espresso Machines
These machines are highly efficient. While the first four are the perfect fit for professional environments, the last one might be the best choice for home use.
Gevi Espresso Machine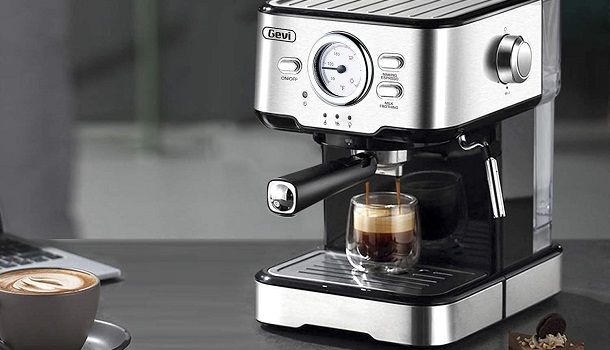 SPECIFICATION:
Material: Plastic
Dimensions: 10.83 x 15.08 x 13.7 In
Weight: 8.49 Lbs

Controls: Buttons
Capacity: 1.5 Liters
Features: Italian ODM 15 Bar Pump
With its professional Italian ODM Pump, this double boiler brewer for espresso provides a high 15 bar extraction pressure. It needs only about 25 seconds to provide you with a delicious brew. Apart from espresso, you can use it to brew a latte, mocha, cappuccino, or caramel macchiato.
With its separate thermostats, this brewer allows you to control both the brewing and frothing temperature. To achieve the best crema extraction, the brewing temperature should be set at 197°F. On the other hand, to achieve a delicate milk foam, the frothing temperature should be set at 212°F.
A heated metallic plate atop the machine works as a cup warmer. Thanks to this feature your brew will stay hot a bit longer. Its water reservoir is both transparent and removable so you will always be able to tell when it needs to be refilled.
Overall:
Quality:
Power:
Capacity:
Safety:
Funcionality:
PRICE RANGE
from $100 to $200
depending on eCommerce offer (Amazon, Walmart, eBay) and discounts
REASONS TO BUY:
Provides a quick 25-second brewing process
Comes with a top-mounted cup warmer
360° rotating stainless steel frothing wand
REASONS TO AVOID:
Provides fewer control settings
De'Longhi La Specialista Espresso Machine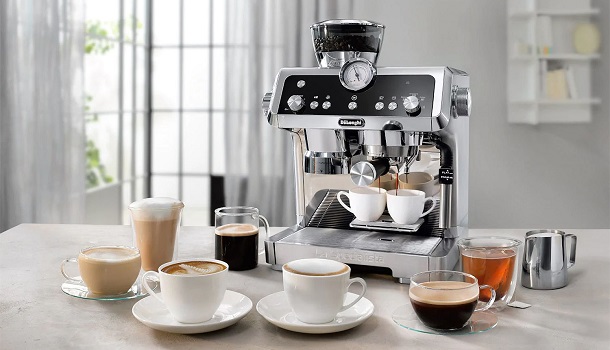 SPECIFICATION:
Material: Stainless Steel
Dimensions: 14.48 x 15 x 17.5 In
Weight: 29.7 Pounds

Controls: Buttons
Capacity: 2 Liters
Features: Smart Tamping Station
With its built-in grinder, this brewer allows you to make espresso using your favorite coffee beans. It comes equipped with sensor grinding technology that provides optimal grinding results with every use. It also produces the optimal amount of grounds for a perfect espresso shot.
Its separate hot water spout can dispense hot water on demand. This is a great feature as you can use it to make tea, hot chocolate, or even a bowl of oatmeal for breakfast. It is important to mention that the water spout does not transfer the residual coffee taste so you will be supplied with clean water.
This espresso machine also comes with a frothing wand that provides two different frothing options. You can choose between "flat" and "foam" settings. Make sure you clean the frother after every use to ensure that there is no residual milk inside the wand.
Overall:
Quality:
Power:
Capacity:
Safety:
Funcionality:
PRICE RANGE
from $800 to $1400
depending on eCommerce offer (Amazon, Walmart, eBay) and discounts
REASONS TO BUY:
Makes a delicious Americano using the hot water dispenser
Provides consistent brewing results with every  use
Very easy to clean and maintain
REASONS TO AVOID:
Steamer automatically shuts down after pre-programmed time
Breville Dual Boiler Espresso Machine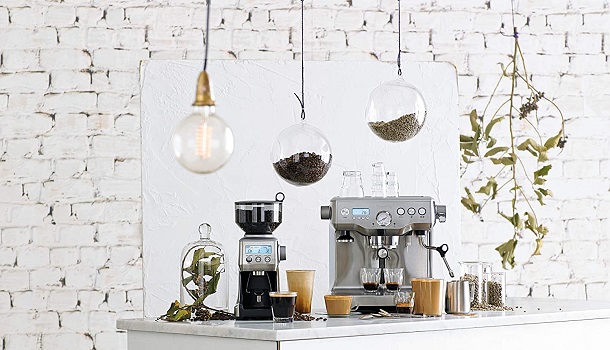 SPECIFICATION:
Material: Stainless Steel
Dimensions: 14.7 x 14.8 x 14.7 In
Weight: 30 Pounds

Controls: LCD, Buttons
Capacity: 5.3 Pounds
Features: Dose Control Grinding
Due to its simple flexible shot control, this stainless steel machine for espresso provides you with an ultimate control system. You get to choose whether you want to make a single shot, double shot or manually control how much espresso is dispensed into your cup.
Another thing worth mentioning is that the brewer provides optimal water pressure with each extraction session. It starts by slowly saturating the grounds inside the filter to ensure that the rich flavors from your grounds get captured inside the brew and then increases it to an optimal level.
Both its boilers and the heated group head are controlled with a digital temperature system. It brings the temperature to an optimal level and extracts delicious flavors cup after cup. Its milk steamer is designed to provide you with control over its frothing performance.
Overall:
Quality:
Power:
Capacity:
Safety:
Funcionality:
PRICE RANGE
from $1000 to $3000
depending on eCommerce offer (Amazon, Walmart, eBay) and discounts
REASONS TO BUY:
Features a backlit LCD with shot clock timer
Flexible shot control system
REASONS TO AVOID:
Customers often complain about the quality of its design (plastic tubes and fittings)
Gaggia Babila Espresso Machine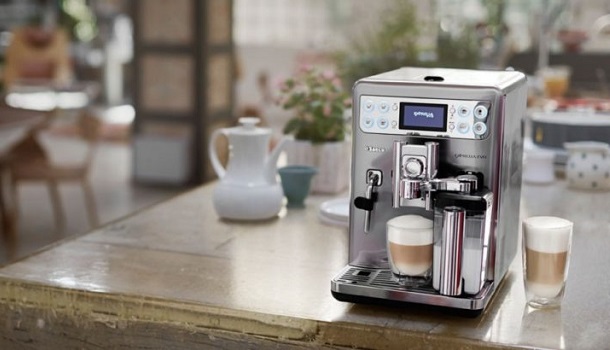 SPECIFICATION:
Material: Plastic
Dimensions: 16.53 x 9.64 x 14.17 In
Weight: 28.7 Pounds

Controls: Dial, Buttons
Capacity: 50.7 Oz
Features: Ceramic Burr Grinder
When compared to the rest of the listed models, this Italian machine provides you with the highest control over its performance. It comes with a user-friendly control panel with 8 different programmable brewing options. Its backlit display n the middle of the panel makes adjusting these settings a much simpler process.
Although it provides a single espresso shot at a time, this espresso machine allows you to control its aroma strength. This feature can come in handy especially for those who often enjoy a bit bolder espresso taste.
Another amazing thing about this model is that it comes with both a manual frothing wand and an automatic frothing mechanism. You can choose whether you want it to prepare the perfect froth or if you want to make a customized drink. Either way, you can count on great results.
Overall:
Quality:
Power:
Capacity:
Safety:
Funcionality:
PRICE RANGE
from $1500 to $3000
depending on eCommerce offer (Amazon, Walmart, eBay) and discounts
REASONS TO BUY:
User-friendly control panel with backlit display
8 programmable brewing options
Simple aroma strength control
Automatic & manual steaming options
REASONS TO AVOID:
Provides only a single shot of espresso at a time
West Bend Espresso Machine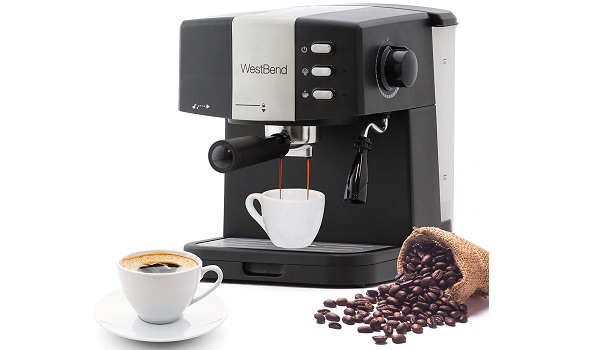 SPECIFICATION:
Material: Plastic
Dimensions: 14.1 x 13.9 x 13.2 In
Weight: 8.33 Pounds

Controls: Buttons
Capacity: Around 1 Liter
Features: Swivel Jet Frother
This is the only dual boiler machine here that is suitable for use with both ground coffee and coffee pods. Due to its size, design, and more affordable price, it is a great choice for home use. Its water reservoir is located on the back of the machine and can easily be removed for a refill.
Its swivel jet frother easily creates a delicious milk froth. To adjust its performance to your needs, simply turn the control dial on the side of the machine in the desired direction. Once you are done using it, give it a quick clean to ensure that it is ready for the next use.
With its bottom drip tray, the machine collects all accidental spills and drips that might happen during the brewing process. This means that your countertops will remain perfectly clean. When the machine completes its brewing process, give it a few minutes and then remove the drip tray and rinse it under tap water.
Overall:
Quality:
Power:
Capacity:
Safety:
Funcionality:
PRICE RANGE
from $30 to $100
depending on eCommerce offer (Amazon, Walmart, eBay) and discounts
REASONS TO BUY:
Simple performance suitable for beginners
Comes at the most affordable price
REASONS TO AVOID:
Doesn't come with as many controls and settings
How To Make Your Dual Boiler Espresso Brewer Last?
If you want to be sure that the coffee machine with a dual brewing system you decide to buy has a lasting lifespan and provides amazing performance, you need to pay some attention to its maintenance requirements.
Maintenance Level
Make sure that the machine is always clean, flush its brew heads between every use, always keep the steamer is clean to avoid bacteria build-up, drain the machine, etc. Also, you should make a minor service every 3 to 6 months depending on whether you use the machine daily or a couple of times during the week.
How To Properly Drain Espresso Machine?
Here are a few simple steps you should follow to properly drain your dual boiler machine for espresso:
Turn off the "brew" button and the machine's main power switch
Open the brewer's hot water dispensing valve
Run the espresso machine and let the water flow out of the valve
When you notice that there is no more water you can turn it off
Here is a detailed video that will give you a more thorough descripton of the whole process:

How Long Do Dual Boiler Pumps Last?
Rotary pumps are generally more robust and somewhat larger than vibratory pumps. They are constructed with more metal material and as a result, cost more. Their main disadvantage is that they come with a limited manufacturer warranty of around 90 days.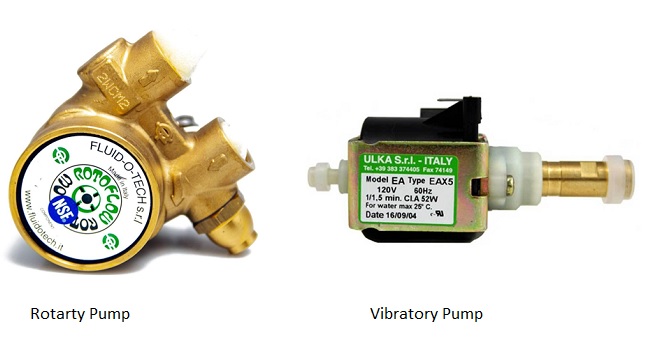 On the other hand, vibratory pumps are mostly made out of metal material but have plastic components as well. As a result, they are much cheaper, less bulky, and easier to replace. Their lifespan depends solely on how often you use your espresso machine and if you have it serviced regularly. If you brew a large amount of coffee every day, the pump may last only a couple of months whereas if you only make yourself one cup a day, it might last up to a year.
Is Used Machine Cheaper Option?
You might consider buying a used machine which can be a more budget-friendly option, but there are some things you should pay attention to.
Benefits And Downsides Of Used Espresso Brewers
There are many benefits to buying a used espresso machine:
they are much more budget-friendly
you get to look for a higher quality machine you wouldn't otherwise be able to afford
buying a used appliance is an eco-friendly choice
However, there are some downsides too:
you don't know whether the machine has been used properly and with care
were all parts of the machine maintained over time
was it serviced to the schedule every 3 to 6 months
Things To Be Careful About?
You can find a used espresso brewer on versatile websites. However, I don't recommend purchasing a used brewer from an unknown source. You need to think about how old the brewer is and whether the manufacturer still has replacement parts available.
Is The Brewer Still Covered With Warranty?
Before you consider buying a used brewer you need to check if it is still covered with a warranty. This is important because it lets you know if you have the right to a free service by the manufacturer.
To Wrap It Up
To conclude, I recommend purchasing the Gevi Espresso Machine. It features a semi-automatic design, comes with a powerful and professional 15 bar Italian pump, and provides a powerful 1100 Watt performance. With its two separate thermostats, this type of machine allows you to control both the brewing and frothing temperature, and as a result, provides complete control over both processes.