Are you looking for the best iced espresso machine that is currently available for sale?
Then you are in the right place!
I found, reviewed, and compared six of the top-rated models on Amazon. Check out their designs, features, and prices, and find a model that meets all of your needs perfectly.
The Rundown
Top 6 Iced Coffee Espresso Machines Ideal For Hot Summer Day
Best Of Best Iced Coffee Espresso Machine
Breville Nespresso Essenza Mini
Compact Size
This coffee maker with a removable water reservoir comes in a highly convenient compact size. Thanks to this feature it will easily fit atop your countertops even if you have a somewhat smaller kitchen. Most importantly, it will require very little storage space.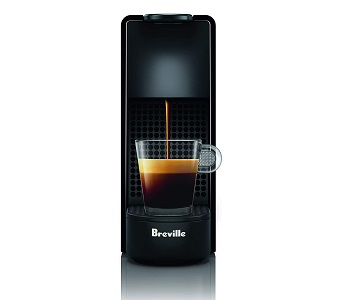 19 Bar Pressure
You can be sure that this iced espresso machine provides you with a very powerful brewing performance. It uses a 19 bar extraction pressure that extracts all the delicious flavors and coffee oils that would usually remain trapped inside your grounds.
Energy Saving Mode
The best thing about this brewer is that it is extremely energy efficient. It is specially designed to shut down in about 9 minutes since the last brew. You will never have to worry whether you turned it off before you left home or not.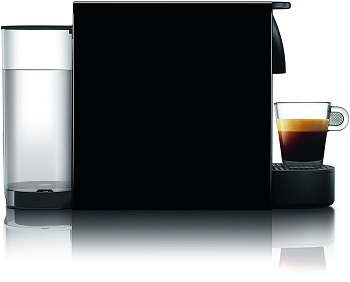 Complimentary Starter Kit
Included with this compact single serve coffee maker comes a complimentary starter kit. It consists of versatile Nespresso capsules. Thanks to this feature you will be able to enjoy versatile tastes using only one brewer.
Short Description:
comes in a compact size
a powerful 19 bar extraction pressure
time-efficient 25-second heat-up time
energy-saving operating mode
provides you with an adjustable cup size
a completely removable water reservoir
complimentary starter kit included
Best Latte Iced Espresso Machine
De'Longhi Dinamica TrueBrew
User-Friendly Control Panel
The best thing about this espresso machine under 1000 dollars is that it comes with a user-friendly control panel. It is conveniently placed on the front of the machine to ensure that you can easily access it. Its controls are backlit to ensure that you can easily adjust them when required.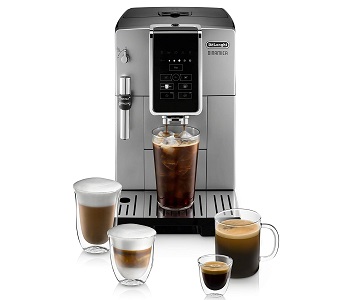 Fully Automatic Performance
Note that this programmable single-serve coffee maker provides you with a fully programmable brewing performance. This means that you only need to fill up its water reservoir, add coffee, and choose desired brewing setting. The machine will take care of the rest.
Built-In Coffee Grinder
The thing that separates this model from the rest of the listed ones is its built-in coffee grinder. Due to this feature, you will be able to brew coffee using whole coffee beans. The best thing is that you can adjust its grinding performance according to your likings.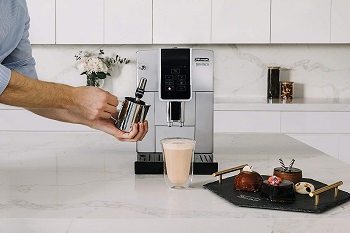 Frothing Control
Another great thing about this iced coffee espresso machine is that it comes with a frothing wand. It provides you with two different frothing functions. These include hot milk and cappuccino. To switch between the two simply move the frother up or pull it down.
Short Description:
fully automatic brewing performance
a user-friendly control panel with backlit keys
brews versatile coffee-based beverages
built-in stainless steel coffee grinder
provides multiple grinding adjustments
an adjustable milk frothing wand
Best Pod Iced Coffee Espresso Machine
NESCAFÉ Dolce Gusto Coffee Machine
Pod Brewer
As opposed to the previously reviewed models, this brewer is made for use with coffee pods. Keep in mind that it is compatible only with Nescafe Dolce Gusto capsules. They come in a variety of flavors to ensure that you can find your perfect taste.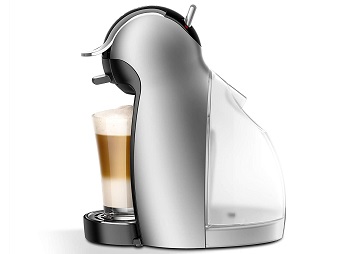 Versatile Use
Because of its design, this single-serve pod coffee maker can easily brew versatile coffee-based beverages. For instance, you can use it to brew an espresso, make a cappuccino, latte, etc. No matter which beverage you decide to make you can be sure that it will have the perfect flavor.
Simple Interface
This iced espresso machine also features a very simple interface. It comes with a toggle stick that will help you make the required adjustments. Move it to one side to brew a hot cup and to the other to make a cold brew.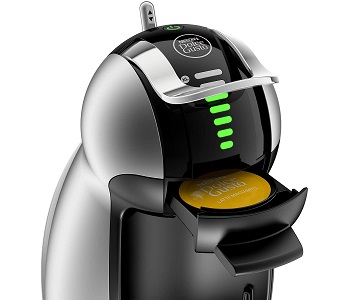 Water Reservoir
Another thing worth mentioning is that this small pod coffee maker features a fully transparent water reservoir. It is placed in the back of the machine to ensure that it doesn't get in the way. Additionally, it is completely removable from the unit to ensure that you can easily refill it when needed.
Short Description:
very simple interface with a toggle stick
hot and cold brewing options
a transparent and removable water tank
compatible with Nescafe Dolce Gusto pods
Best Single Cup Iced Espresso Machine
Moocoo Portable Espresso Machine
Single Cup Capacity
Because of its size and design, this coffee brewer can brew a single cup of coffee at a time. This makes it a highly convenient choice for everyone who lives alone or simply doesn't consume too much coffee throughout the day.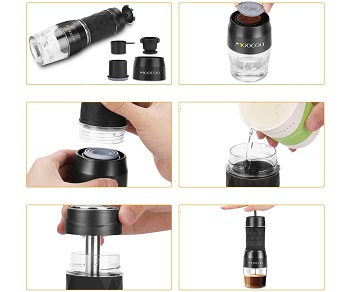 Easy To Use
Even though this iced coffee espresso machine is a manual model, it is still very easy to use. Simply add coffee grounds or a capsule, assemble the machine's outlet, add hot or cold water, install the pump and press it a few times. In a minute, you will get a delicious brew.
Powerful Pressure
This coffee maker for a single person provides a very powerful 20 bar extraction pressure. Thanks to this feature, you will get all the delicious flavors and oils from the coffee grounds you use to brew your cup.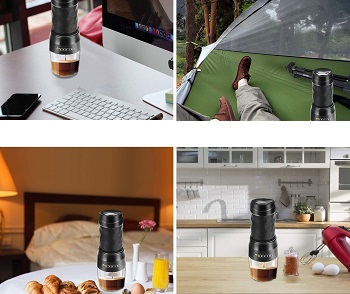 FDA Approved
The best thing about this single serve iced coffee maker is that it features an FDA-approved design. This means that it is entirely made out of food-safe materials, meaning nothing will affect the quality of the machine's brew.
Short Description:
small lightweight design
single-cup brewing capacity
very simple brewing performance
a powerful 20 bar extraction pressure
for Nespresso capsules and ground coffee
FDA approved material construction
Best Travel Iced Coffee Espresso Machine
CONQUECO Portable Espresso Maker
Portable Model
Keep in mind that this coffee brewer is specially designed to fulfill your brewing needs while on the go. It comes in a highly convenient size to ensure that you can easily carry it inside your hands. Most importantly, it takes up very little storage space.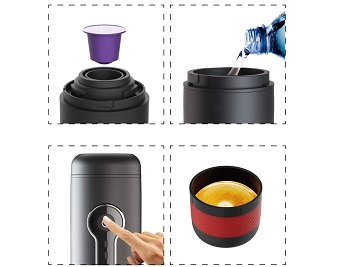 4-Step Use
To achieve the best brewing results with this 12-volt coffee maker for the car, you need to follow four very simple steps. Firstly, add a Nespresso capsule. Secondly, our water to the max level mark. Thirdly, press the "power" button for about 2 seconds if you want to boil water or for 5 seconds to make a direct brew.
Rechargeable Battery
The great thing about this 15 bar espresso machine is that it comes with a rechargeable battery. You can easily recharge it using a wall charger inside your home or a portable charger inside your car. Both are included in the package to ensure that you have both options available.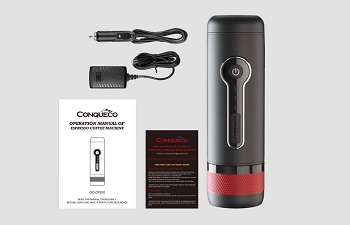 Low Maintenance
You won't have to spend too much time keeping this iced espresso machine clean. The only thing you need to clean is its coffee cup. To clean the machine's brewing system simply press and hold the "power" button for about 5 seconds without adding a capsule to it.
Short Description:
a portable travel model
simple 4-step brewing performance
comes with a fully rechargeable battery
wall and portable chargers come included
requires very little maintenance
Best Cheap Iced Espresso Machine
AeroPress Go Travel Coffee Press
On-The-Go Brewer
This is another on-the-go coffee brewer. However, this one is entirely made for manual use. It doesn't require any batteries or electricity. Thanks to this feature you will be able to use it even in remote locations.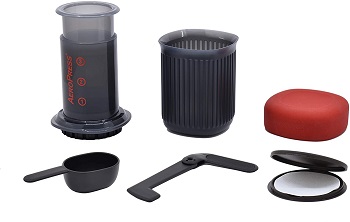 Brewing Capacity
Due to its size, this iced coffee espresso machine will be able to provide you between 1 to 3 cups of coffee at once. It even has visible level marking that will help you brew the desired amount of coffee.
Additional Filters
Note that this backpacking coffee maker comes with a pack of 350 additional microfilters. They are specially designed to prevent the coffee grit from getting inside your brew. As a result, you will get a perfectly smooth, rich, and flavorful cup of your favorite brew.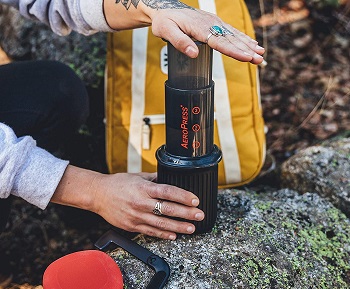 Affordable Price
This is the most affordable coffee maker on this list. It costs less than 40 dollars. This makes it the perfect choice for everyone who is looking for a more budget-friendly option that still provides amazing performance.
Short Description:
a highly convenient on-the-go brewer
brews between 1 to 3 cups at once
350 micro filters included in the package
comes at the most affordable price
What To Consider About The Best Iced Espresso Machines?
All listed iced coffee espresso machines I reviewed above can make both hot and cold brews. Here are some things you might want to consider when choosing the model you want to buy.
Hot & Cold Options – All these listed models are specially designed to provide you with both hot and cold brewing options. This makes them very convenient for people who want to enjoy a hot cup of coffee in the morning and a delicious cold brew on a hot summer night.
Brewing Capacity – Another thing you should think about is the brewing capacity of the iced latte machine you like. Depending on the model you choose, these coffee machines can brew a single cup or up to 3 coffee servings at once.
Brewing Versatility – The great thing about these models is that they provide you with amazing brewing versatility. Some are made to brew coffee using coffee grounds while others are compatible only with coffee pods. Some models even have a built-in grinder to ensure that you can brew coffee using your favorite beans.
Permanent/Paper Coffee Filter – The instant iced coffee makers I listed above either come with a permanent coffee filter or are made for use with paper filters. Keep in mind that permanent filters are a much more convenient and eco-friendly choice and they don't cost additional money.
Maintenance Level – All iced espresso machines in this post require very little maintenance. Some even come with a self-cleaning program that keeps the brewing system perfectly clean. They are a great choice for people who don't want to spend too much time cleaning them manually.