Weight loss isn't an easy journey and besides regular working out, your diet has a crucial part too. There is a palette of diets, ideas, tips, and tricks on what types of food will help you with reaching your goals. But even though many foods and meals have a big NO mark, there are a lot of healthy variations, and thanks to that, you won't have to give up your favorite recipes. Especially, if you're a pasta lover. Because this time, we're giving a tribute to pasta or to be more precise, healthy pasta sauces perfect for weight loss.
Now, isn't that good news you needed to hear today?
We know, we know, pasta doesn't have a good reputation, but trust us, with our healthy sauce variations, you won't have to give up this delicious creamy dish.
Pasta
What is the key info to know about pasta? Well, first of all, it actually CAN be a part of a healthy diet if it is consumed and eaten in moderation (yes, despite its bad reputation). The solution lies in pasta sauces and additional ingredients. Oh, and moderate consumption, of course.
When we're talking about weight loss, pasta surely comes with a bad reputation due to its carbs. But pasta is popular so it didn't take a long time to mix some healthy versions of it. And yes, healthy pasta dishes are a thing.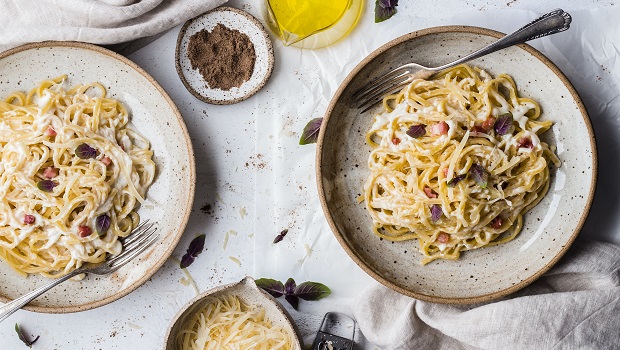 Pasta is a part of the Mediterranean diet known for its simple and nutritious dishes eaten in moderation. And pasta can be a healthy meal if it is paired with vegetables, proteins, and healthy fats. Besides, chickpea, zoodles, and whole-meat pasta will give your body much-needed nutrition. The key is moderation, both on the portion of pasta, and on the sauce.
Homemade Sauces' Advantages
Preparing a homemade sauce, pesto, or dressing is certainly the best way to prepare a healthy pasta meal.
Such sauces have less sugar and sodium than store-bought ones. Big brands and markets have a tendency to add sugar and salt into their sauces in order to make them tastier, as well as to provide better preservation. Now, if you're preparing pasta sauce at home, you're in complete control of the amount of used salt and sugar.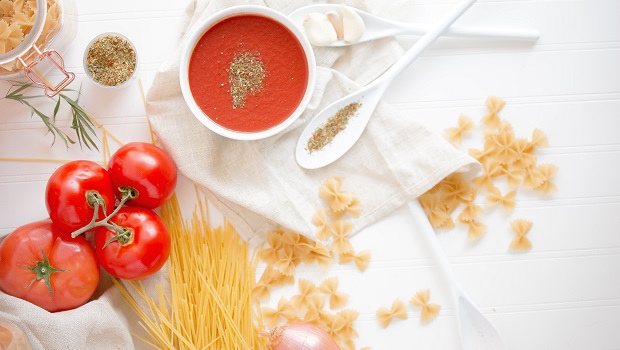 Homemade sauces can contain more nutritious and healthier ingredients (depending on your preferences), which, of course, contribute to your overall health.
But the most important advantage of preparing a homemade sauce is that you have complete control over the ingredients, amount, nutrition, and health. Besides, you can prepare pasta sauce with almost everything you have in your kitchen and if you're using the right ingredients, the meal will be both delicious and healthy.
Healthy Sauce Ingredients
What ingredients are the best to use to prepare healthy (and delicious) sauces? Nuts, vegetables, and fruits are certainly amongst the healthiest ones. In case you wish to use dairy ingredients such as yogurt and cheese, there are some specifications you need to look for, while herbs and spices are great to bring a special touch of flavors and aromas.
Here is our recommendation on which sauce ingredients will give you a healthy pasta version.
Nuts and seeds such as walnuts, almonds, pine nuts, sesame seeds, hemp seeds, and cashews are great with pasta, they'll give you enough nutrition, full flavors, and healthy sauce. Nuts and seeds can easily be mixed with the sauce.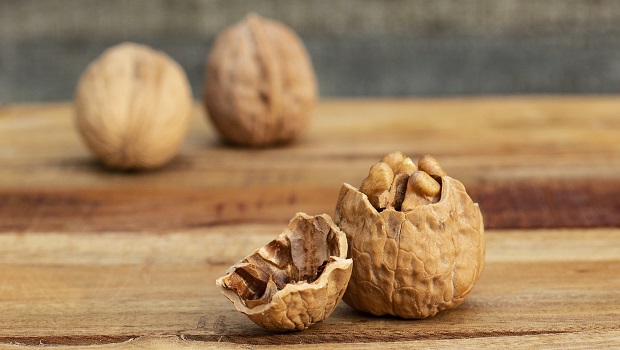 Vegetables are perfect with pasta, and you can choose them according to your preferences. You can go with zucchini, peppers, tomatoes, or leafy greens such as spinach, kale, and arugula.
From beans and legumes, use chickpeas, peas, black beans, and white beans.
Fruits can actually go quite well with pasta. In Italy for example, pasta is often paired with plums, oranges, lemons, berries, and figs.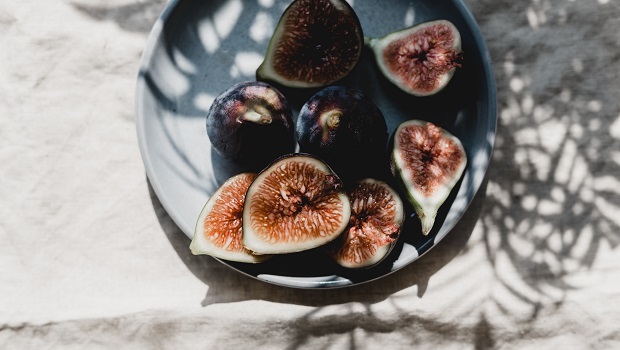 Use dairy products such as greek yogurt, goat cheese, or parmesan cheese.
When it comes to vinegar, you can use classic balsamic one, apple cider vinegar, red wine vinegar, or perhaps rice vinegar.
Herbs and spices bring great aromas to any pasta sauce. They can be both fresh and dried. You can use cumin, oregano, salt, pepper, mint, parsley, garlic, onion, red pepper flakes, basil, and more.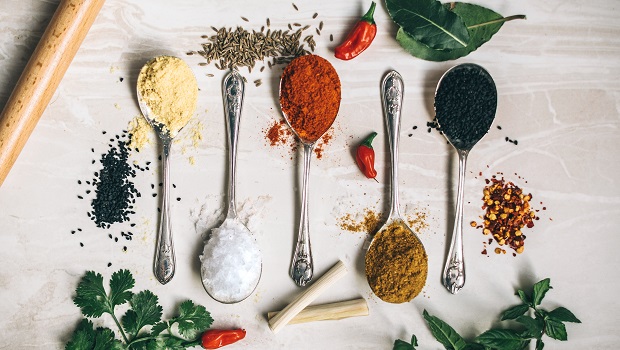 For healthy cooking oil variation, you can always use sesame oil, olive oil, avocado oil, or rapeseed oil.
Pasta sauces can easily be made with nut butter such as peanut or almond butter, as well as with liquid sweeteners like maple syrup or honey.
What To Use?
So we mentioned some of the key ingredients which can be used in the preparation of healthy pasta sauces but how exactly to prepare them? Raw? Fresh? Dried? Cooked? Or in some other form? Well, they can actually be used in any of the mentioned forms! But in order to make a delicious homemade sauce, there are some tools you'll need. To help you out, here are some of the appliances we recommend.
Healthiest Pasta Sauce – Simple Tomato Pesto
To be precise, there ain't no winner when answering the most common question – what is the healthiest pasta sauce for weight loss? However, a simple tomato sauce is certainly amongst the highest-ranked sauces.
Tomatoes are rich in potassium, folate, antioxidants, and vitamins A and C. So tomato sauce definitely provides your body with all the essential nutrients. They can provide fibers too, depending on the way you prepare them.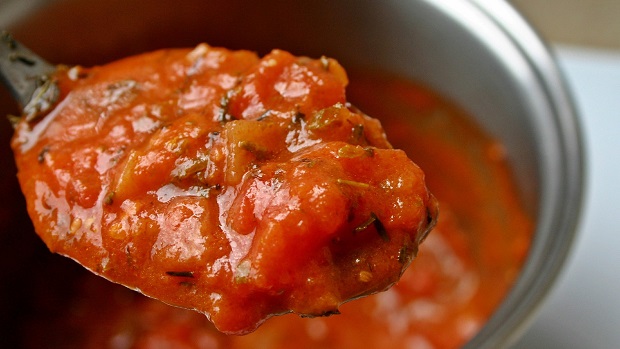 Vitamin C has multiple roles in your body – besides keeping your gums healthy and speeding up the wound healing, it metabolizes fats, while tomatoes' manganese and potassium help your body with building stronger bones. Unlike cream-based sauces, tomato sauce has around 100 calories per cup, so it is a good nutritious option. What is interesting is that pure tomato sauce has 20 grams of carbohydrates per cup and no fat and that makes it perfect for a low-fat diet or low-carbohydrate plan.
Healthy & Homemade
Besides tomato sauce, what other healthy pasta sauces are there? We decided to mention 11 of them so you can choose according to your preferences and taste. The recipes are quite easy and you can always mix something up, add, or remove a specific ingredient if you don't like it or wish to make the sauce even more healthy. So here are the healthiest pasta sauces for weight loss!
Avocado Sauce
This is a simple, dairy-free avocado sauce combined with lemon juice, salt, pepper, fresh garlic, and hot pasta water, and then stirred with tomatoes and green onion.
Romesco Sauce
If you combine roasted red peppers and tomatoes with olive oil, parsley, garlic, salt, and lemon juice, you'll get delicious and healthy Romesco sauce.
Fresh Tomato Sauce
Tomato sauce can be combined with many ingredients so this one is perfect to make completely according to your preferences. We like to prepare it with onion, garlic, sugar, basil, parsley, and salt. Oh, and tomatoes, of course.
Basil & Parsley Pesto
This pasta sauce or pesto is prepared by using basil, parsley, almonds, garlic, lemon, honey, and salt. The pesto is then combined with oil and cheese.
Spinach Pesto
Spinach pesto will take only 5 minutes of your time. It is made with spinach, basil, and minced garlic, and combined with pine nuts, olive oil, and lemon juice. And that's it!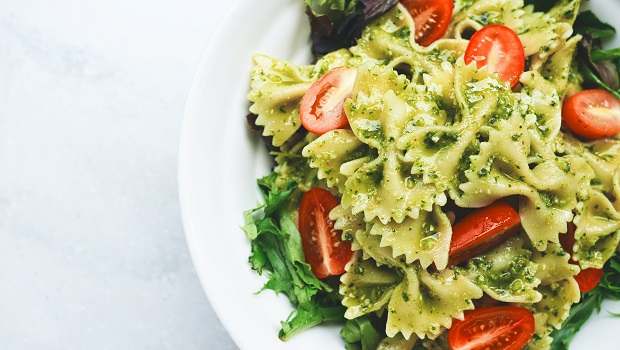 Sweet Potato Cream
This cream is simple and light. It combines sweet potato, coconut oil, garlic, onion, cashew butter, smoked paprika, black pepper, sea salt, and lemon juice.
Cashew Cheese Sauce
Healthy, dairy-free, and vegan, the cashew cheese sauce is quite a good match for pasta. It beautifully combines cashew nuts, miso paste, garlic and onion powders, mustard powder, ground nutmeg, salt, pepper, and dairy-free milk.
Garlic Sauce With Roasted Tomatoes
The combination of sea salt, olive oil, almond breeze, garlic, onion, and roasted tomatoes is simply perfect.
Greek Yogurt & Cheese Sauce
This is actually an Alfredo sauce but with greek yogurt instead of the classic one. The sauce combines butter, greek yogurt, parmesan, garlic powder, salt, pepper, and parsley.
Mushroom Sauce
Mushroom sauce is creamy and delicious. It is made with mushrooms, garlic, chili flakes, olive oil, oregano, flour, parmesan, sea salt, pepper, and milk.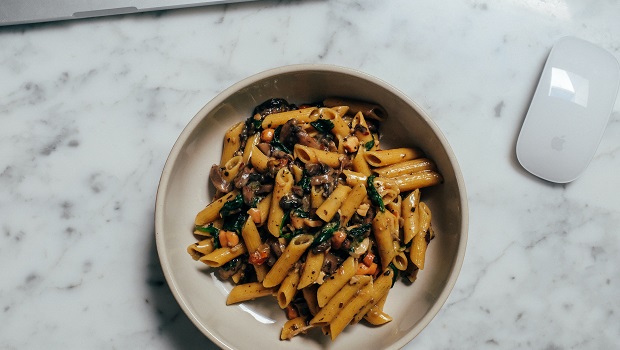 Roasted Red Pepper Sauce
What you need for this sauce is nutritional yeast, cornstarch, olive oil, almond breeze, onion, garlic, red pepper, salt, and pepper. Quite a tasty combination.
Store-Bought Sauces
Sometimes you really don't have time to make a homemade sauce, we get it! So how to find a good, healthy, and nutritious sauce that fits your diet life and weight loss journey? What to look for while buying a sauce? Here are some of the components we think are important while choosing a healthy store-bought pasta sauce.
Calories
Calories do matter. The calorie count depends on the amount of the added oil in the sauce, as well as on its thickness. Due to that, calories can go up to 110 calories per half of a cup. Go with the sauce that has a lower calorie count.
Salt
Watch out for the amount of salt – store-bought pasta sauces tend to have too much of it!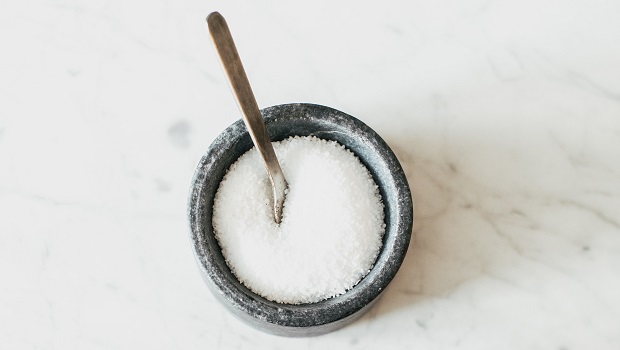 Sweetness
Check out the amount of added sugar in the sauce. There is really no need to have great amounts of it – try to find a sauce that is made with ingredients that have natural sweetness!
Ingredients & Content
Do your research. Simple as that. Find out what flavors you want, what is suitable for your diet and weight-loss journey. Good research goes a long way!
Money Range
Basically, the more you pay for it, the better the sauce is. We're not talking about hundreds of dollars but up to 5$ of difference. Overall, pasta sauces aren't expensive, but a few bucks really do make a difference.
To Wrap It Up
Pasta may have a bad reputation when it comes to a weight-loss journey. However, it can surely be consumed, only on a moderate basis. Today, we focused on healthy pasta sauces which contribute to the health of your body. We talked about the advantages of homemade sauces, recipe ideas, and store-bought sauce variations. Due to that, we covered everything you need to find the healthiest pasta sauce for weight loss, perfect for your body and diet!