May is already here and we all know what that means – summer is just around the corner! Since the whole world is still fighting the pandemic, we know that summer may not go according to your plans, but hey – there are a lot of ways to spice up those hot summer days, you just need a bit of inspiration! And what I suggest is to combine one delicious food trend and your backyard pool. Intrigued? Good.
Old, New & Trendy Essentials
Summer essentials are always changing. Back in the old days, you needed a straw hat, simple bathing suit, glittering coconut oil, and reading material, and you were good to go – to your backyard pool. But today, the gatherings in your own pool have certainly raised the bar. A lot. From effective bathing suits, 3 different suntan oils, and the bigger-the-better straw hat to the sun towels in the shape of a pineapple, watermelon, and pizza, inflated swans, pizzas (again), and unicorns. And I'm sure I've forgotten some other essentials but these were the first ones on my mind since I'm already seeing them on every corner of the internet.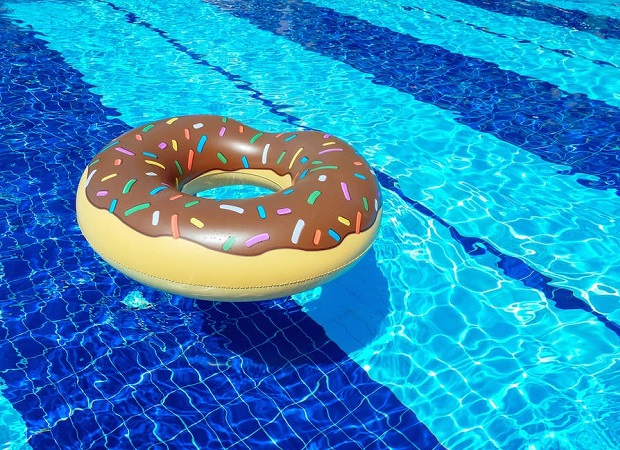 Due to that, I've decided to combine that love-for-the-pool and one particular food trend that is quite popular these days. Since the summer essentials are always changing (am I the only one that has a feeling that all the essentials are becoming – bigger?), but the place of the enjoyment stays the same (in our case – the backyard pool), wouldn't it be nice to combine delicious food, flavors, and aromas, with floating on the swan? Or just chilling with our third suntan oil on our body on the inflated pizza?
The most popular trend these days is the grazing board or platter. It presents a large tray or board which is loaded with small bites. These boards are rich, colorful, and simply delicious (and not to mention so photogenically, so hello Instagram!). Usually, these boards contain a couple of varieties of cheese, crackers, baguettes, different dips, and seasonal fruit such as grapes, blueberries, strawberries, watermelons, vegetables, olives, peppers, and more. The point is to make a rich selection of small bites which are great for snacking while sunbathing, as well as to keep you fresh during those hot summer days. Due to that, have you ever wondered how amazing would be if this grazing board could – float?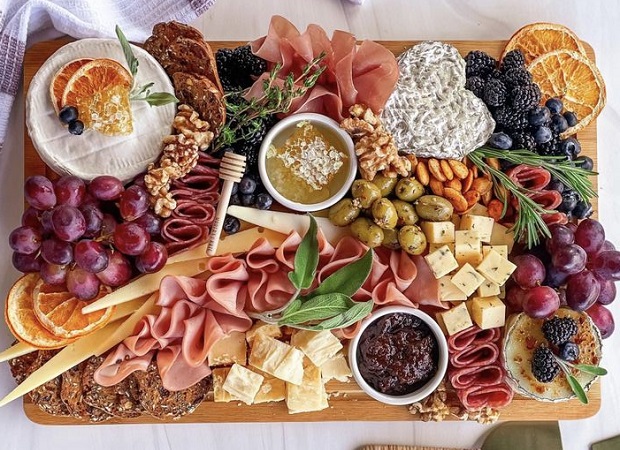 Types Of Floating Baskets & Boards
This idea actually quite simply and easily comes to life. All you need (besides the backyard pool) is a simple rattan basket. Now, you can order that type of flat basket or board but just make sure it is specifically made and suitable for floating. There are numerous choices on Amazon, eBay, and Etsy, and they are strong, made of high-density polyethylene, resistant to UV and weather, have high tensile strength, and are easy to maintain. Besides the rattan basket, you can also use a simple cork basket which is basically made for floating. Cork is a waterproof material made from cork oak tissue. Due to that, it is the perfect summer pool essential!
In case you already have a flat rattan basket or board at home and you want to use it as this luxurious essential, you need to spray the tray with clear polyurethane and left it out in the sun to dry. Apply a few coats in order to make the basket waterproof. To make the board float and not sink, just place it on the foam board and the cut pool noodle connected together. That's basically it!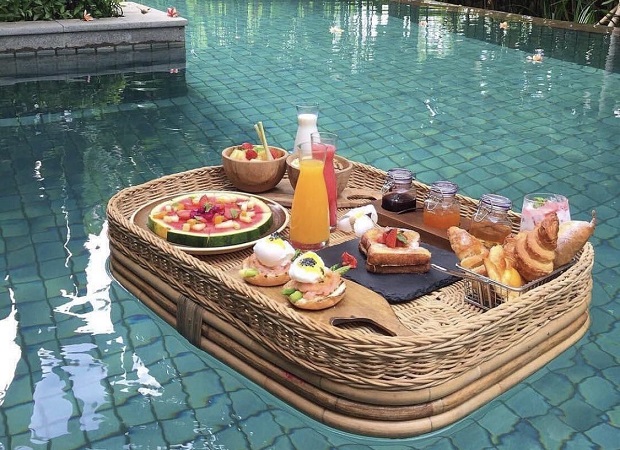 The most important part while choosing the suitable floating essential is that it is actually floating. It is definitely easier to buy the final product with all the right, strong, and waterproof characteristics, and thankfully, there are a lot of choices and sellers on the already mentioned sites like Amazon, Etsy, and eBay, and since the summer is approaching, there will be even more sellers on those and similar sites, as well as a much richer selection in your local stores. Of course, there is always an option on how to use the materials you already have at your home, and there are a lot of guides on how to simply, easily, and fast make some products waterproof (we've already mentioned one way to do that). To be honest, finding a basket or board is the first and the easiest step. Arranging the food, well, that's another story.
Food Selection
This is the second step, an easy one too, don't you worry! As I've already said, the grazing board contains a lot of different types of food, snacks, and dips, they can include drinks too. So which food to combine? The answer – everything. The point is to mix and match classic meat slices and cheese with bread and vegetables, salty snacks, and crackers, as well as with those sweet nuances from seasonal and summer-favorite fruits. In order to have a successful mix and match, make sure to have different types for each food group. That means 3 types of cured meats, 4 types of cheese, a variety of dips and crackers, and different and colorful fruit and vegetables. Don't worry, I'm here to help you out and ease up the food selection (and to think we haven't even gotten to the hardest part yet).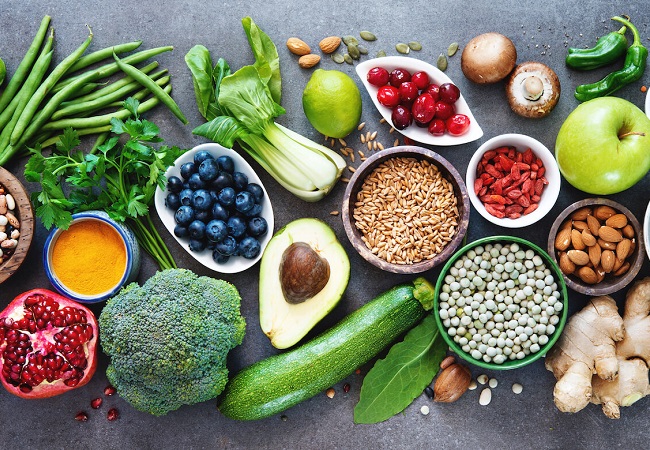 For cheese, use aged cheddar, truffled cheddar, brie, and blue cheese. When it comes to cured meats, the best options are prosciutto, salami, and ham. Choose crackers according to your preferences and wishes, but make sure you go with at least 3 different ones. Toast, baguette, and classic bread are welcomed (at least one of them), olives and pepperoni are a must, while for fruit, go with grapes, strawberries, blueberries, watermelon, oranges, kiwi, pomegranate, bananas, pineapples, or any type of fruit that comes to your mind (seasonal are, of course, the best). You know the rule already – the more, the better! When it comes to vegetables, choose cherry tomatoes, bell peppers, sour pickles, or fresh pickles. Go with the combination that suits your and your guests' palate. Besides all the mentioned, choose nuts such as pistachios, peanuts, walnuts, almonds, dry fruit, and pretzels. For the dips, make sure you have a couple of them. The most popular ones are whipped feta, hummus, avocado cilantro, and onion dip, but you can also go with your favorite ones. When it comes to the type of food, you can choose whatever you want, just make sure to have a rich selection, and you're good to go!
Additional Equipment
Besides the food selection, our luxurious floating grazing basket-board enriched with amazingly delicious flavors needs to have some additional equipment that eases up the snacking. Nothing too much, no worries, we don't want to sink that basket!
By additional equipment, I mean the simplest ones like toothpicks, wooden sticks, and forks for picking up fruits, and other delicacies and small bites. Besides that, the board should have paper napkins because hey, it may be easy to indulge in your food while floating on the unicorn but it also needs to be convenient for all those activities in the pool without washing your hands in it! You can go with the plain paper napkins which will nicely fit in with the rest of the board or you can continue in the same palette, shades, and colors (pattern is welcomed too)!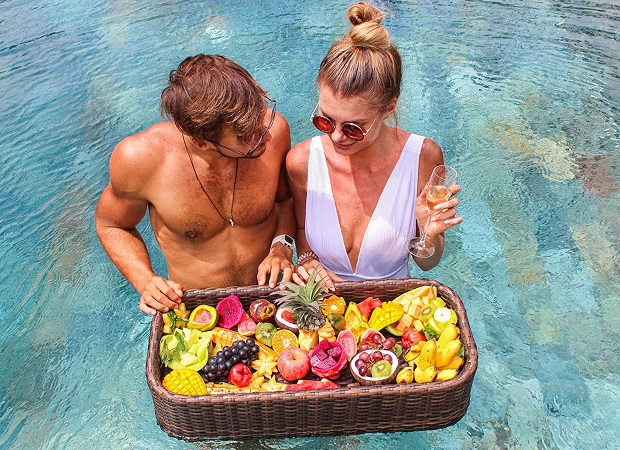 You're probably wondering what about drinks (delicious homemade aloe vera drink maybe?). Because I know, some of those snacks just beautifully harmonize with the right drinks. Also, what's the point of eating in the pool if you have to enter your house in order to get yourself a drink, right?
Well, since we've already filled (quite rich if I may say so) the basket-board, I wouldn't recommend putting the drinks as well. But you can always reduce the food selection to put a couple of (stable) glasses. The best ones are certainly the juice glasses. They can be filled with juice, water, sparkling water, cocktails, and more. But still, have in mind that the board is floating on the water so you can't really put pounds and pounds of weight on it! Due to that, I recommend placing the drinks in a separate basket filled with ice!
Arranging Small Bites
And now is the time for the last step before serving this rich snack bar. Yes, this is the hardest part I was talking about – arranging the food to look nice, rich, colorful, aesthetic, and luxurious. I always feel like something is missing on the board, but I did manage to narrow the rules and guidelines into a couple of main pointers for the simple and easy arrangement of all those delicious food.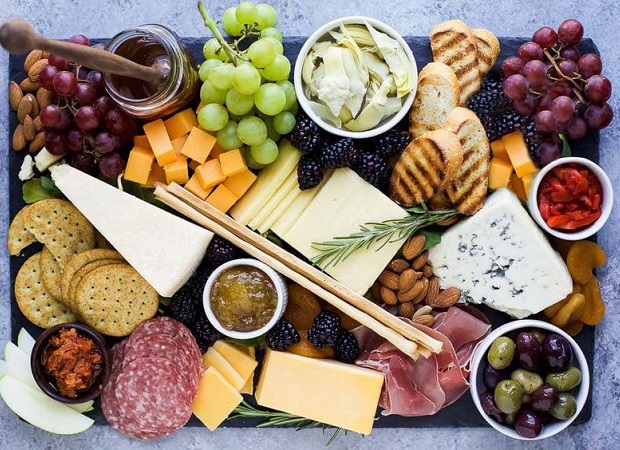 First, place cheese. Divide them all around the basket-board and then put the bowls with dips. Play around with placing them. Since the dips are colorful, trust me – you'll have no problem with finding the perfect spots for them, the colors will show you the way! Now, add bread or crackers in groups around the basket-board and fill all the gasps with cured meats, pretzels, nuts, fruit, and vegetables. And that's it. Follow these simple steps and play around with colors. And I know, it seems quite easy to arrange everything, doesn't it? So why did I say that this is the hardest step?
In some cases, (I'm that case too) there comes a feeling that something is missing. If you get that feeling, don't get discouraged. Add one more bread slice, two more pretzels, 3 more peanuts, and 4 more pieces of cured meats. Remember to play around with colors, ingredients, and small gasps (they can always be filled and enriched)!
Small Tips & Tricks
Okay, so, there are always some tips and tricks for making a perfect floating grazing board.
The basket-board, which is suitable for floating on the water, can hold a certain amount of weight. Before making an official gathering with your family or friends in your backyard pool, make sure to test the basket-board to see how much weight it can carry. It can hold all the food selection from one of the previous paragraphs, but just in case you wish to add something more (especially drinks), test the basket-board. This test is great to see if the basket is waterproof too (caution goes a long way).
How many guests will come and how many snacks do you need? In order to have a really rich and beautiful floating grazing board, it needs to be beautifully filled. You don't want it to be half empty, yet, you shouldn't serve too many snacks which will end up in the trash. The best way to go is to choose, buy, or make a smaller basket or board. That way you'll have enough room to place all the food (no matter how many guests are coming) and nothing will end up in the trash!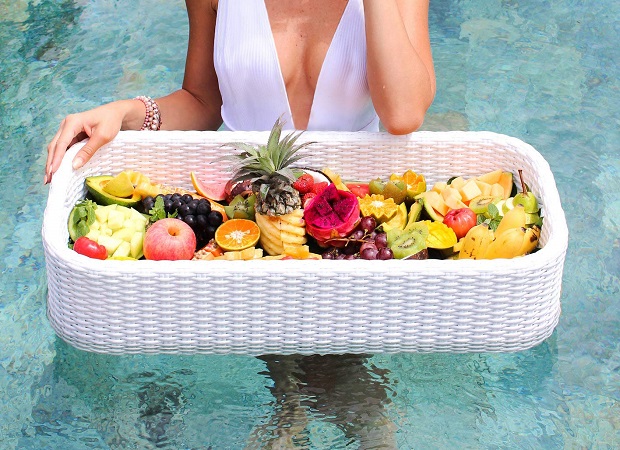 Do your research and find out which fruit and vegetables are in season.
Slice, dice, and prepare every single item that goes on the board so it is ready to eat. These are small bites and snacks, and they should be prepared and served as bites and snacks.
How to fill gaps? With nuts, pretzels, fresh herbs, and all those other small ingredients which have the perfect size to fit!
Don't forget the equipment we've talked about – toothpicks, disposable cocktail forks, or wooden sticks so everyone can eat simply and easily. Napkins required!
Final Words
The floating grazing board is definitely a luxurious (not too expensive though) summer essential rich in colors, flavors, and aromas. It is perfect for your backyard pool and all those summer gatherings which are just around the corner!
Of course, you can always adjust the food selection to the theme you want, you can make a sweet or salty board, with a specific food (sushi grazing board is getting quite popular so if you need essentials, make sure to use the best Japanese sushi knives!), snacks, and more. The only rule is to make it colorful and diverse so everyone can have a bite of their favorite food!
The floating grazing board is a great solution for those days that are perfect for sunbathing on the floating pizza and enjoying a nice conversation with your family and friends. Whatever occasion includes your backyard pool – a grazing board that floats from one end to the other is just a perfect match!
Are you ready for one more hot summer and one more summer essential? I am!