Hunting for an Arabic bread maker available on the market?
Then you've come to the right place!
In this article, we have gathered different Arabic bread making machine models available on the market and reviewed them for you. That way you can find all the important information in one place, to know which features to consider and what to look for to get the best machine for flatbread and pitta bread.
The Rundown
Best Of Best Arabic Bread Maker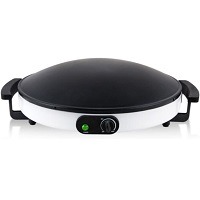 APL Arabic Bread Machine
Adjustable temperature up to 536°F, ideal for making 16-inch Arabic saj and markook flatbreads on a convex non-sticking surface.
Jump To Review
Best Electric Arabic Bread Maker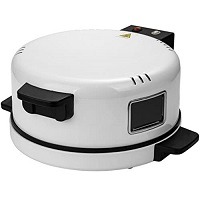 ALP Arabic Bread Maker Machine
With 1500 Watts, this model is ideal for making pita and saj bread on an 11.5-inch non-stick surface with temperature control.
Jump To Review
Best For Pita Arabic Bread Maker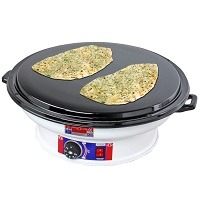 Remta Makina Pita Maker
This tawa-style machine with a 20-inch anti-bacterial enamel coating can make pita bread, roti, chapati, Arabic saj, etc.
Jump To Review
Best 3 Arabic Bread Maker Machines
Best Of Best Arabic Bread Maker
APL Arabic Bread Machine
16-Inch Convex Surface
This Arabic bread maker is a typical convex bread maker used to bake Saj bread. As it has a 16-inch surface, it is ideal for making these large thin, and round flatbreads, typical for both Turkish and Arabic cuisine. It comes in a combination of white and black colors and features a turning knob for temperature control, as well as a power indicator light.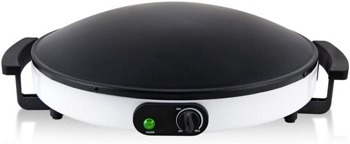 For Arabic Flatbreads
Using a power supply of 1400 Watts, this model can be used for a variety of flatbread types, including chapati, roti, saj, pita bread, papad, and more. It means that you can use it for creating not only Arabic-style flatbreads but also Indian-style ones. The non-sticking surface makes sure flatbreads stay in one piece and don't break.
Adjustable Temperature
The temperature of the convex plate can be adjusted up to 536 Fahrenheit degrees by turning the knob so that you can precisely bake different types of flatbreads. After you create the dough and shape it to be thin and round, placing it on the plate will bake it.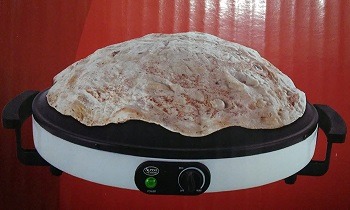 Warming Function
With two side handles, this kitchen appliance is easy to move around and store away when needed. As you can set it to high temperatures, you can use it to bake larger amounts of naan, markook, and saj bread faster. This model can also be used as a warmer for flatbreads.
Short Description:
features a 16-inch non-stick convex surface
1400 Watts, adjustable temperature control
ideal for making Arabic & Indian flatbreads
temperature adjustable up to 563°F
faster baking works as a warmer
Best Electric Arabic Bread Maker
ALP Arabic Bread Maker Machine
11.5-Inch Plate
A cooking surface with an 11.5-inch diameter features a non-stick coating and can work in any space as long as it is plugged into a power outlet. It comes in white color with black details and includes handles that stay cool to the touch for easy transport. This electric Arabic bread maker uses a power supply of 1500 Watts.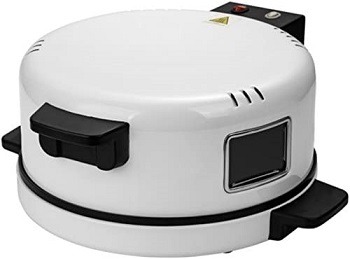 Heat Insulator
To insulate the heat, there is a plate with a hood that can be opened and closed when needed. The handles always stay cool to the touch, so that the hood can be opened without burning yourself. It can be used to make pita bread, Arabic saj, tortillas, and more.
Non-Stick Coating
The non-stick surface is easy to clean and works to bake flatbread so that it stays in one piece and doesn't break as a  result of sticking. The two heating elements heat the bread both from above and below for even baking. It can also be used as a toaster.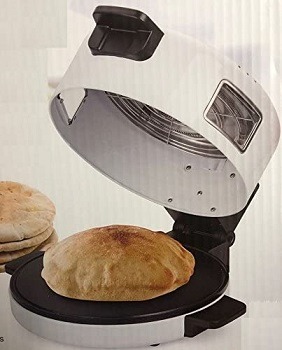 Temperature Control
This Arabic bread maker machine features an indicator light and a control button for operation. The power light indicates when the machine is ready to be used after you adjust the temperature to your needs.
Short Description:
11.5-inch non-stick surface
hood for insulating the heat
uses a power supply of 1500 Watts
ideal for pita and saj bread
convenient cool-to-touch handles
can heat bread like a toaster
Best For Pita Arabic Bread Maker
Remta Makina Pita Maker
20-Inch Surface
This Arabic pita bread maker is professionally-made and features a traditional tawa-look ideal for making a variety of flatbread types. This large model has a 20-inch diameter surface and can even be used as a bread warmer.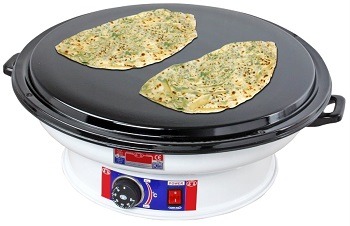 Anti-Bacterial Enamel
The cooking surface is coated in anti-bacterial enamel for precise cooking and bakes pita bread perfectly on the inside and outside. A power switch located at the base of the machine makes turning the unit on and off easier.
Temperature Control
A turning knob is located next to the switch so that you can adjust the temperature between 50 and 300 Celsius degrees. With the adjustable temperature of the surface, you can cook different types of flatbreads more precisely.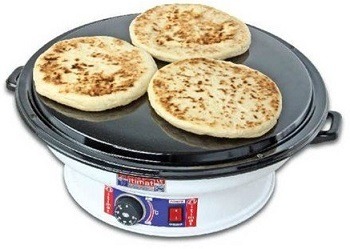 Various Flatbread Types
This unit uses 2000 Watts of power and, apart from pita bread, it can also be used for saj bread, roti, chapati, papad, and tortillas. It comes with side handles for convenient carrying and portability when needed.
Short Description:
professionally-made tawa-looking machine
20-inch anti-bacterial enamel coating
works for baking and keeping bread warm
features a temperature knob and power switch
adjustable temperature between 50 and 300°C
for pita bread, saj, roti, chapati, papad, etc
two side handles for portability and storage
What To Consider In Arabic Bread Maker Machines?
Before purchasing, I would suggest you look up Arabic bread maker models on Amazon to see what the market has to offer. To make sure you get a quality product, it is important to keep a few features in mind. Firstly, the size of the unit and its capacity. Secondly, the ability to adjust the temperature, while also looking out for non-stick surfaces for easy cleaning and healthy food. Likewise, opt for models with indicator lights and other features that make it safe for use.
Size – Apart from worrying whether the Arabic bread making machine can fit into your kitchen space, it is also important to think of its capacity. This means that you should opt for the model with a size that is appropriate for the size of flatbread types you want to make. The market offers differently sized cooking plates, for different needs.
Temperature Control – As they are multifunctional, Arabic bread machines come with turning knobs for adjusting the temperature. That way using one machine for several flatbread types is easier, as you can cook each of them more precisely by choosing the appropriate temperature for it.
Non-Stick Coating – This feature is very important, as Arabic bread types cannot stick to the plates, because they will then break upon removing them. Cooking surfaces with non-stick coatings are a healthy choice, and they are also easier to keep clean after the bread is easily removed from them.
Indicator Lights – Indicator lights help you figure out when the unit is turned on and when the desired temperature has been reached. You won't have to be guessing when to start making bread, which is also good for baking different types of flatbreads precisely.
Safe To Use – Apart from the indicator lights, also look for models with cool-touch handles. They prevent injuries and help to keep you safe while operating the unit. As they are safe to use, they are also easier to use, as you won't have to worry about how to touch the handles without burning yourself.
To Wrap It Up
One model of Arabic bread makers that stands out to us is the APL Arabic bread machine. It features a 16-inch convex surface with a non-stick layer that can be used for baking Arabic saj bread. The temperature can be adjusted up to 536 Fahrenheit degrees to be used for Indian and Arabic-style flatbreads. If you are interested in other machines suitable for Indian-style flatbreads, read these articles about roti press models and electric roti makers to find out about both manual and electric products popular on the market.