Do you want to fit a 28-inch wide dining table into your home but you can't decide on the shape and design?
Do not fret, because we've got you covered!
Instead, keep reading this article where you can find reviews of the 28-inch round, tall, rectangular, square, and outdoor dining tables. Moreover, in this article, we also list shopping guidelines that can help you find the best table measuring 28 inches in width for your needs and your space.
The Rundown
6 Top 28-Inch Wide Dining Tables
Best Of Best 28-Inch Wide Dining Table
Zinus Becky Farmhouse Wood Table
Two-Tone Finish
Thie rectangular table is 45 inches long, 28 inches wide, and 29 inches tall. It is constructed from pine wood material in a two-tone finish. The legs come in white color while the tabletop comes in a wooden-looking color for a country charm. Moreover, it is easy to set up in just minutes to save you time.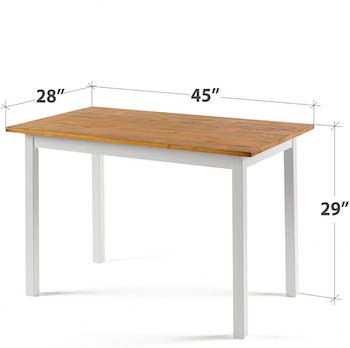 Sturdy & Durable
The rectangular tabletop is supported by four legs and has a neutral wood finish. Moreover, the pine material makes the table sturdy and durable for long-lasting use. You can use the 28-inch wide dining table in the kitchen, dining rooms, or dinettes spaces.
Farmhouse Style
With the two-tone finish, the table is a great example of farmhouse style. Also, it uses natural materials and comes in natural-looking colors to fit into kitchens, living and dining rooms, or even open-plan living spaces that connect the kitchen with the sitting and dining area.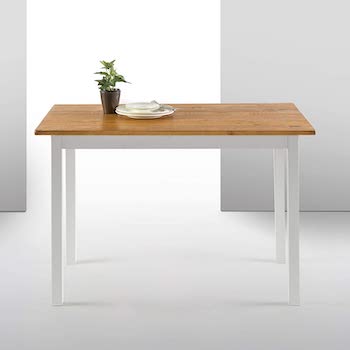 For Smaller Spaces
Finally, as the table is made from pine wood, it will be easy to clean. You can use it to seat up to 4 people at once. In short, this makes it a great option for smaller families or as a breakfast nook in the kitchen, away from the formal dining table.
Short Description:
pinewood table in white and wood colors
45 inches long, 28 wide, 29 inches tall
easy to assemble in minutes
country charm in farmhouse style
solid build for durability and longevity
Best Round 28-Inch Wide Dining Table
Modway Lippa 28 Inch Dining Table
With A Pedestal
If you want a 28 inch round dining table, this model could be the one for you. It comes in white color featuring a round tabletop and a pedestal base. The modern piece of furniture combines a retro look with a faux marble top for an elegant addition to your space.
For Everyday Use
The 28-inch diameter table is 29.5 inches tall, featuring a simple pedestal base. Moreover, the pedestal allows you to easily put the chairs around the table without the restrictions of legs at the edges of the tabletop. Finally, this makes the table ideal for everyday use.
Minimalistic Design
The round 28-inch wide table can easily fit many different decors thanks to its minimalistic design. In short, it can blend into mid-century modern, contemporary, and even retro-looking dining rooms. Besides dining rooms, it can also be put in the living room, breakfast nooks, and kitchens.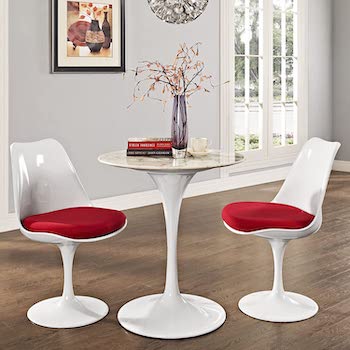 Lacquered Finish
Finally, the 28-inch wide dining table has a durable construction that can last you for as long as you want the table. The pedestal is made from metal and has a lacquered finish with a chip-resistance on top. Moreover, the marble design on the top is artificial. The small footprint is ideal for confined spaces to seat up to 2 people.
Short Description:
round tabletop with a pedestal in white
28-inch diameter, 29.5 inches tall
the modern minimalistic look fits many decors
faux marble 28-inch round tabletop
for dining rooms, breakfast nooks, etc
Best 4-Seater 28-Inch Wide Dining Table
Baniromay Patio Dining Table
Weather-Resistant Material
This 28-inch tall dining table features a square tabletop featuring 28 inches in width and length, as well. It is meant for outdoor use with a cast iron construction and a powder coating. Thus, it is suitable for all weather conditions thanks to the weather and rust-resistant material.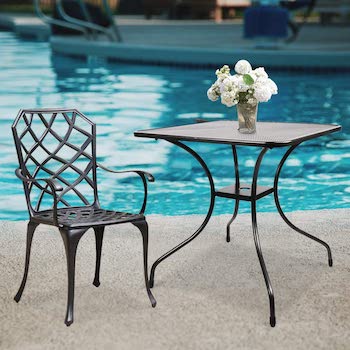 With An Umbrella Hole
You can use the table on the patio, in the garden, on the balcony, next to the pool, and more. Also, it has a 2-inch umbrella hole in the middle so that you can relax under a parasol during sunny days, as well. When there is no need for the umbrella, you can close the hole with the included lid.
Small But Sturdy
Besides dining, you can use the table for enjoying a chat with a friend or enjoying a coffee or any other drink. The small table has a sturdy build that can hold up to 250 pounds. Moreover, the table has non-slip adjustable feet that won't scratch the floorings. Furthermore, the included manual will help you to easily assemble the table.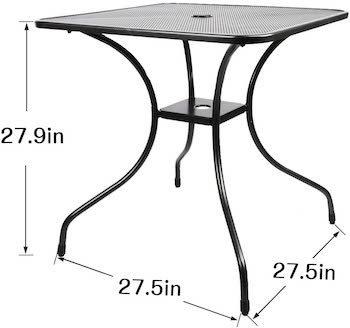 With Rounded Edges
This 28-inch wide dining table is easy to maintain and keep clean. The square tabletop has rounded edges to make it safe for use. For uneven terrains, the feet can be adjusted for stability. The modern design makes it easy to fit into many garden designs.
Short Description:
28 inches wide, long, and tall
cast iron construction with a powder coating
rust and weather-resistant for outdoor use
features a 2-inch umbrella hole
non-slip adjustable feet for stability
for gardens, poolside, patios, balconies, etc
easy maintenance and quick assembly
Best Modern 28-Inch Wide Dining Table
GreenForest 28" Wide Kitchen Table
Seats 4 To 6 People
This modern table comes in a rectangular shape, measuring 47.2 inches in length and 28.3 inches in width. Also, the table has 4 legs and measures 30 inches in height. Moreover, this table can seat between 4 and 6 people which makes it ideal for family use. The 28-inch wide table is a great table for seating people close to each other for an intimate dinner.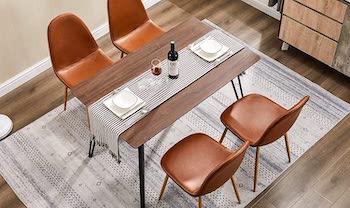 Walnut Tabletop
This 28-inch wide dining table works as a dining room in a separate room or as a breakfast nook table in the kitchen. The tabletop comes in walnut color and is made from a smooth wooden board. Moreover, the tapered metal legs keep the table supported and stable. Finally, the table is both modern and vintage thanks to the material combination and colors.
Sturdy Triangle Legs
Furthermore, the metal legs have rubber pads on the bottom to prevent the floors from scratching. The tabletop has a non-toxic layer on top for protection. To make the table long-lasting, it has a sturdy triangle leg construction. Moreover, the small footprint fits even small rooms while allowing you to seat up to 6 for a meal.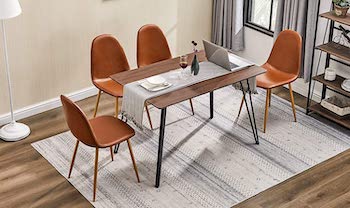 Easy To Combine
The walnut tabletop brings a warm touch to the dining space. You can combine it with chairs in many different styles and colors easily. Finally, the table is easy to assemble and comes with instructions.
Short Description:
rectangular shape, 47.2 inches long, 28 inches wide
30 inches high and has 4 legs
seats between 4 and 6 people
features tapered metal legs with rubber pads
walnut color tabletop, black metal legs
comes with instructions for easy assembly
modern yet vintage table design
Best Glass 28-Inch Wide Dining Table
Flash Furniture Round Glass Table
Round Glass Top
This 28-inch wide dining table has a round top made from tempered glass and has a black rattan edging frame. The metal legs have a powder coating and keep the table stable. Also, the table is 28 inches high and measures 28.75 inches in width and length. The metal legs have plastic floor glides that prevent the floors from scratching.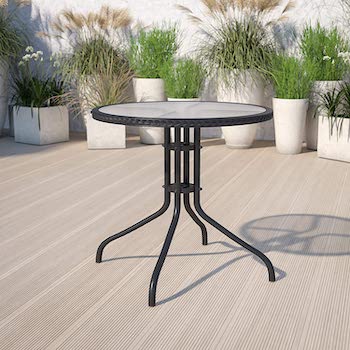 Versatile Use
The contemporary table is great for both commercial and residential use. You can put it next to the pool, in your garden, on the patio, balcony, and more. Also, for commercial use, the table is great for cafes, bistros, restaurants, hotels, and more. The tempered glass tabletop is 5-millimeter thick for sturdiness.
Fits Small Spaces
Moreover, thanks to its small size the table fits into almost any space. If you live in a small apartment and have a small balcony, this table can provide you with a dining area. Besides eating, you can also then use the table for playing games or having a drink on your balcony.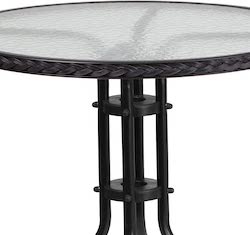 Intimate Experience
The round glass table is easy to clean and makes a perfect choice for both small spaces and small capacities. Futhermore, the small capacity can create an intimate area for dining and conversation in your home. To keep it long-lasting, protect the table from exposure to prolonged wet weather.
Short Description:
5-millimeter tempered glass tabletop
metal legs with a powder coating
28 inches wide and long, 28 inches high
for commercial and residential use
small footprint for small spaces
plastic floor glides protect the flooring
Best Square 28-Inch Wide Dining Table
Modway Lippa 28" Dining Table
Pedestal Base
This 28-inch wide dining table comes in white color and features a pedestal base with a square tabletop. Moreover, the square top is both 28 inches wide and long. The pedestal base makes the table stand tall at 27.5 inches. Finally, the minimalist design brings a modern touch.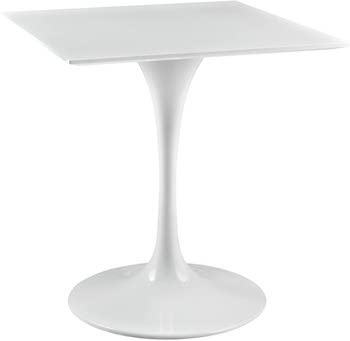 Fits 2 Chairs
This white table can also fit into retro-looking decors. Also, it can fit 2 chairs, which makes it ideal for breakfast nooks so you can enjoy a wuick meal away from the dining room. Moreover, it is also suitable for small dining rooms, kitchens, and living rooms. The small size is ideal for students in dorm rooms, or singles and couples living in studio apartments.
Stable & Durable
The table base is made from aluminum for stability and has a powder coating on top. Moreover, the tabletop is constructed from medium-denisty fiber and has a durable chip-resistant lacquered coating on top in white color. Likewise, the base ring is 20 inches wide to keep the table stable.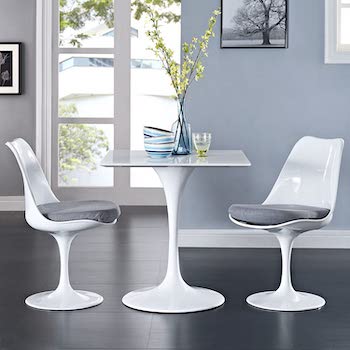 Functional Space-Saving Design
The table boasts a functional design and the square tabletop allows you to even put the table flush against the wall. That way, you can even save some extra space while seating up to 2 chairs on opposite sides. Finally, the white color allows you to easily combine it with many other colors.
Short Description:
white color square top and pedestal
MDF tabletop with a chip resistant lacquer
aluminum pedestal with a powder coating
27.5 inches tall, 28 inches wide and long
minimalist design with modern touches
it fits 2 chairs for small spaces
for breakfast nooks, kitchens, dining rooms
What To Consider In 28-Inch Wide Dining Tables?
To get the best 28-inch wide dining table for your home, here are some of the basic information that you should keep in mind when choosing. Firstly, make sure the table comes in a style of your choice and that it has a durable build. Secondly, consider the size and the shape of the table to get a model tailored to your needs. Moreover, you should also keep in mind the different table bases the market has to offer. Finally, also make sure to choose a user-friendly model.
Table Style – A dining table comes in many different styles so that there is something for everyone. For instance, the market offers models in modern, retro, farmhouse, minimalist, vintage, rustic, and many other styles and designs. Furthermore, the style depends on your personal taste and how you want the dining room to look.
Durable Build – A 28-inch dining table can be constructed from many different materials. Similarly, depending on the style, the table can be made from wood, metal, and more. In short, the most popular material choices include metal, wood, veneer, glass, plastic, and more. Finally, it is important to choose a durable table for stability and longevity.
Size & Shape – A table with a 28-inch width can have different tabletop shapes. The market offers rectangular, round, and swuare models with that width. Also, if you have to seat more than 2 people, then we advise you to choose a rectangular table as it will be able to seat more people at once. However, a 2-chair dining table is a great option for smaller spaces to seat 2 people comfortably.
Which Base To Go For? – The market offers tables with legs, pedestals, and trestles. Moreover, the choice will depend on different styles and even tabletop shapes. For example, pedestals are a common choice with round tops. Similarly, along with trestles, pedestals will allow you to add more chairs to the table easily if necessary.
User-Friendly Table – To start, a 28-inch wide dining table should have a footprint that works for your space. Round and square tables work better for smaller rooms and for seating less people. Meanwhile, rectangular tables are great for rectangular rooms and seating more people at once. Secondly, a table should also be easy to assemble and to keep clean. Lastly, also look for models that allow you to easily put the chairs under.
To Wrap It Up
To conclude this article, we would like to take a final look at the best 28-inch wide dining table. The Zinus Becky farmhouse table comes in white and wooden colors and is 28 inches wide and 45 inches long. The rectangular table assembles easily and has a pinewood construction for durability. If you would like to have a rectangular table that is a bit smaller, check out our selection of 24-inch wide rectangular dining tables. In case you want a round table for small spaces, consider some of the reviewed 42-inch round pedestal tables.