Are you interested in finding out more about the benefits of having a smokeless tabletop grill?
Then keep reading this post!
In the next few segments, you can find my reviews of the six best models that contain information about their designs, features, and prices. Check them out, compare their features, and choose a model that perfectly fits into your budget.
The Rundown
Best 6 Smokeless Tabletop Grills
Best Of Best Smokeless Tabletop Grill
CalmDo Smokeless Grill
Airflow Technology
Just like all of the listed models, this grill is also designed to provide a completely smokeless performance. It comes with a specially designed technology that features a fan that produces 3200rpms. It filters the smoke and discharges it through the smoke outlet.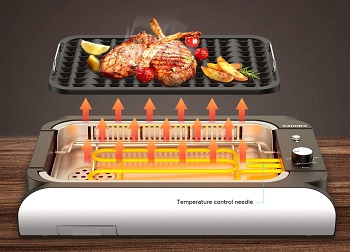 Temperature Control
Its specially designed U-shaped heating element will ensure even heat distribution throughout the cooking surface. Additionally, the built-in temperature control knob will allow you to set the perfect cooking temperature according to the ingredients you want to grill.
Overheat Protection
Another amazing thing about this smokeless tabletop grill is that it provides overheat protection. That means that once the heating element reaches the set temperature it will automatically stop the heating process and maintain the set temperature.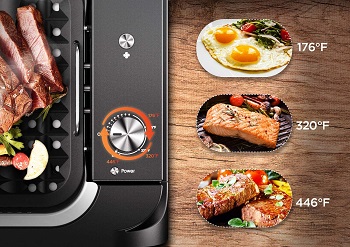 Drip Tray
The removable drip tray is specially designed to catch all the excess fat that drips away from the food during the cooking process. You can add one or two cups of water to it to help with the smoke extraction.
Short Description:
specially designed airflow technology
powerful U-shaped heating element
an adjustable temperature control knob
high-quality non-stick coat
overheat protection with temperature control needle
grill and griddle cooking plates included in the package
a completely removable bottom drip tray
Best Commercial Smokeless Tabletop Grill
Zhaohaojie Smokeless Grill
Stainless Steel Design
This smokeless tabletop grill is entirely made out of high-quality stainless steel material that provides the unit with amazing durability. This feature makes it a great choice for both domestic and professional environments.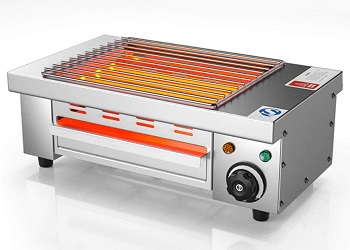 High-Quality Grilling Tube
You can be sure that this stainless steel indoor grill will provide you with amazing performance. It comes with a high-quality grilling tube that is made out of nickel-chromium alloy. Even if you spill grease or food residues it won't create any oily smoke during the grilling.
Quick Performance
Because of the high heat conductivity stainless steel as a material provides, the cooking grates will heat up in a very short time. The cooling wents that are located above the drip tray will dissipate the heat and ensure that the unit doesn't overheat at any point.
Removable Drip Tray
The bottom drip tray is designed to catch all the fat that drips away from your food. It is completely removable and very easy to clean. Once you are done cooking simply take the drip tray out, dispose of the fat, and clean the drip tray.
Short Description:
highly durable stainless steel design
high-quality nickel-chromium alloy heating tube
reaches a temperature peak very quickly
features a porous heat dissipation
a completely removable drip tray
Best Large Smokeless Tabletop Grill
H Hukoer Smokeless Grill
Large Capacity
This smokeless tabletop grill will allow you to cook a large capacity of food at once. It is the perfect choice for families that love to grill food together. The package also includes a bottom stand that will make this unit go from indoor to outdoor in less than a minute.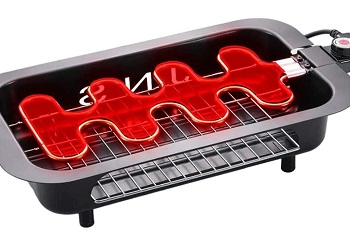 Stainless Steel Heating Tube
The heating tube of this electric grill is also made out of highly conductive stainless steel material and it features a highly practical S-ring design. Thanks to this feature you will be able to use both the top and bottom cooking surface at the same time.
Automatic Power-Off
The best thing bout this model is that it features automatic power-off protection which will prevent your food from burning. You can easily adjust the temperature level according to your needs by simply turning the small temperature control knob.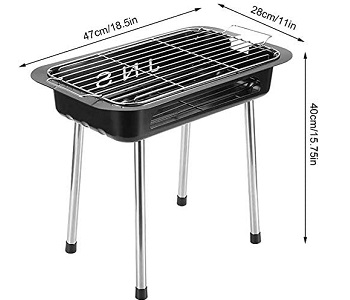 Easy To Clean
You won't have any trouble cleaning this electric grill. The baking tray, carbon net, grilling net, heating tube, and wires are all easily disassembled. Don't use abrasive detergents or materials because they might damage the quality of the plate.
Short Description:
designed to cook large food capacity at once
has two separate baking zones
highly conductive stainless steel heating tube
cyclic and rapid heating performance
automatic power-off protection
very easy to disassemble and clean
Best BBQ Smokeless Tabletop Grill
Simple Living Smokeless Grill
Easy To Use
This smokeless tabletop grill is very easy to use. Everything you need to do is plug it into a power source and turn it on. It will automatically start the preheating process and reach its cooking temperature in a very short time.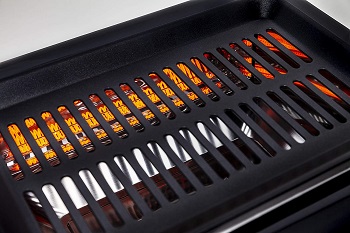 Infrared Technology
This model uses specially designed reflectors and advanced infrared technology that guides the heat towards the grilling grates. This means that the grates will heat up evenly throughout the cooking surface and provide perfect results.
Consistent Temperature
The best thing about this unit is that it is designed to maintain a consistent temperature of 446 degrees Fahrenheit throughout the cooking process. Thanks to this feature you won't have to make any specific adjustments.

Storage System
Because of its size, this smokeless barbecue grill will take up very little storage space. It is the perfect choice for everyone who lives in a smaller apartment and doesn't have too much countertop space inside the kitchen. You can easily keep it inside your kitchen drawers or kitchen cabinets while not in use.
Short Description:
very easy and simple to use
high-quality infrared technology
maintain consistent cooking temperature
fully coated non-stick cooking surface
requires very little storage space
Best Home Smokeless Tabletop Grill
Power XL Smokeless Grill
Transparent Lid
This smokeless tabletop grill features a completely transparent glass lid that will allow you to keep precise track of your food. You will be able to check your food at any point during the grilling process.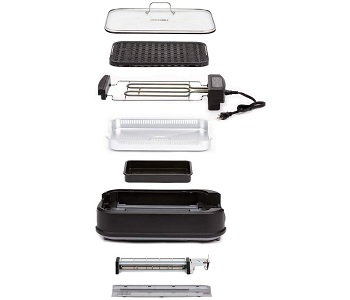 Grill & Griddle Plates
The amazing thing about this model is that it comes with both grill and griddle cooking plates. Thanks to this feature you will be able to grill meat and cook eggs and pancakes with only one kitchen appliance.
Ceramic Coat
Both grill and griddle plates are fully coated with a high-quality ceramic coat that won't flake or peel due to long-term use. It also provides the unit with non-stick properties and ensures that you don't have to add any additional fat to your food.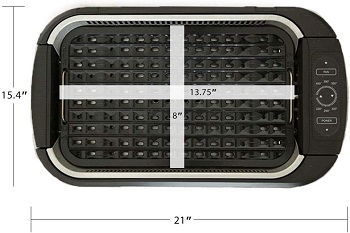 Powerful Smoke Extraction
Just like the rest of the models, I reviewed in this post, this smokeless non-stick indoor grill also provides very powerful smoke extraction. This means that you will ebb able to enjoy the perfect grilling experience inside the comfort of your home.
Short Description:
features a completely transparent id
comes with a grill and griddle plate
fully coated non-stick ceramic plates
provides powerful smoke extraction
Best Portable Smokeless Tabletop Grill
Gotham Steel Smokeless Grill
Easy To Use
This smokeless tabletop grill is also very easy to use. Everything you need to do is plug the metal rod connector into the grill and connect the other end with a regular power source. Set the desired temperature level and let the plates pre-heat to the set level.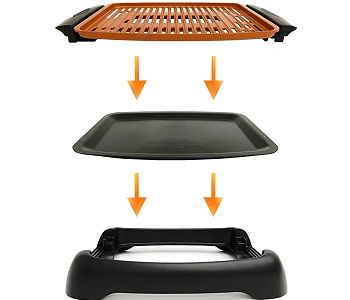 Ceramic Plate
Another amazing thing about this model is that it has a fully coated ceramic cooking plate that provides high heat conduction and ensures simple cleanup. The coat also provides non-stick properties thanks to which your food won't stick to the cooking plate.
Burn-Proof Base
The base of this portable electric BBQ grill is entirely burn-proof. Thanks to this feature you don't have to worry that you might suffer a heat-burn during the cooking process. The included drip pan is also fully coated and it keeps the drippings from overheating.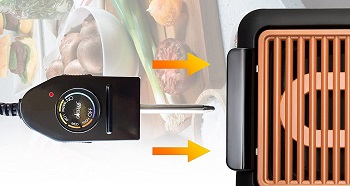 Easy To Transport
Because of its size, you won't have any trouble transporting this model around when needed. You can use it anywhere you are and anytime you want. The only thing you need to have is a regular power source you can plug it into.
Short Description:
simple electric plug-in design
fully coated ceramic cooking plate
burn-proof base prevents heat-burns
removable grease tray collects drippings
compact and easy to transport
What To Consider About The Best Smokeless Tabletop Grills?
All the listed models provide amazing quality and have many beneficial features that will make the cooking experience much easier. Here are my tips on the features you should be looking for when choosing the best model such as assembly, heating element, grate material, smoke filters and more.
Assembly Requirements – Most of the electric models you can find on the market come ready-to-use out of the box. The separate components could include cooking plates, a drip tray, a lid, and additional bottom feet. All of them are very easy to assemble and the whole process will require a minute of your time.
Heating Element – Another thing you need to pay attention to is the heating element that comes with the grill. The difference between the smokeless and the regular models is that the heating element of the smokeless grill won't react or create any smoke when it comes in contact with hot grease or other food drippings.
Cooking Grate Material – If you want a highly conductive grill, you need to pay attention to the material of the cooking grate. Top materials that provide amazing heat conduction and retention are stainless steel, cast iron, ceramic, etc.
Smoke Filters – Most of the indoor smokeless BBQ grills come with some sort of a smoke filter inside the unit that pulverizes smoke particles and dispenses them through specially designed filters. These filters ensure that you can safely use the grill inside your home.
Overheat Protection – Smokeless tabletop grills that come with built-in overheat protection are a great choice because they maintain the set temperature throughout the unit. They usually also provide automatic shut off that activates if the temperature reaches a higher level than set.