When older generations in your family start speaking about good old days, just remind them that today you don't have to wake up earlier just to brew an espresso.
Today you have smart espresso machines that do the job when in the morning you are taking one more short nap or taking clothes and preparing for work.
Models with smart touchscreen panels provide versatile functions while app-compatible ones allow you to summon up your favorite espresso brew from the comfort of your bed. To ensure that you don't get lost trying to find the best brewer for your needs, we gathered all the important information that will guide you to your final choice.
The Rundown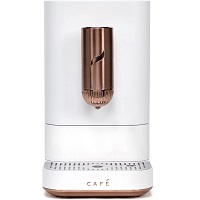 Café Affetto Automatic Espresso Machine
OVERALL RATING: ★★★★★
With its high extraction pressure, this machine easily extracts all coffee oils and flavors from your grounds.
Jump To Review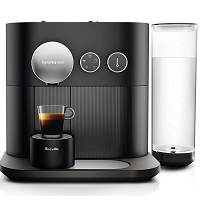 Breville-Nespresso Espresso Maker
OVERALL RATING: ★★★★☆
Since it is designed for use only with Nespresso pods, this machine allows you to try out different brew flavors.
Jump To Review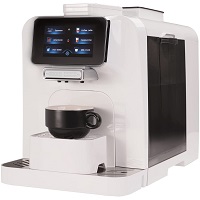 Mcilpoog Espresso Machine
OVERALL RATING: ★★★★☆
Its large backlit LCD ensures you can easily make desired adjustments with a simple touch of a finger.
Jump To Review
What Makes An Espresso Brewer Smart?
Smart models are your regular espresso machines. The only difference is that they offer the possibility of a wireless connection to a smartphone. This can be either with Bluetooth or your home WiFi.
How Does It Work?
You need to pair it up with a designated app on your smartphone. This can usually be done with Amazon Alexa or Google Assistant. Once you do this, you can start and finish the brewing process and adjust all its parameters through the app.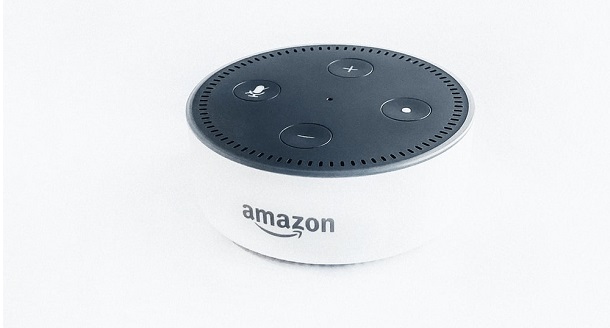 What Exactly Does It Do?
Just like a regular espresso brewer, a smart one also:
grinds beans (if it comes with a grinder)
allows you to choose the desired cup size
allows you to adjust the shot size
ensures you can adjust all the brewing parameters you want
uses extraction pressure to pull an espresso shot
provides an efficient steaming performance (models that include a steamer)
You still need to:
make sure that the grinder is full of freshly roasted beans
check that the water reservoir has enough water inside to complete a brew
choose and place the desired cup underneath the dispensing spout
How To Properly Install A Smart Machine?
Installing a smart machine is the same as installing any other espresso maker. You simply need to connect it to a power source. However, to use its remote access, you need to:
Plug the machine into a power source.
Connect it to your home WiFi network.
Sync it with a designated app on your smartphone.
Once you complete these steps, everything will be ready for you to start brewing espresso. It will be as simple as pushing buttons on your phone.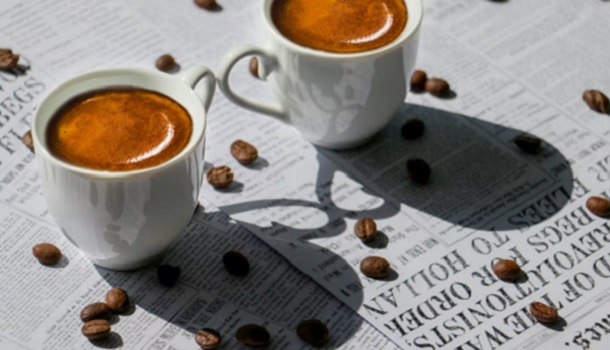 Benefits And Downsides
The great thing about these models is that they:
offer the optimal user-friendliness
are very easy to use, control, and clean
allow you to make desired brewing settings remotely
don't require you to stand next to a machine as it brews espresso
Their only downside is that they are the most complicated, and as a result most expensive, to fix if something malfunctions.
Features You Should Look Out For
When deciding which model you want to buy, you must cover all your basis:
Connection Options
The most important thing you need to know is what connection options your smart brewer provides. Generally, you can control your machine through a WiFi app such as:
Amazon Alexa which is compatible with iOS and Android operating systems, and even Fire OS
Google Assistant which also works with mentioned operating systems, or with a designated app that you will get access to once you purchase a machine.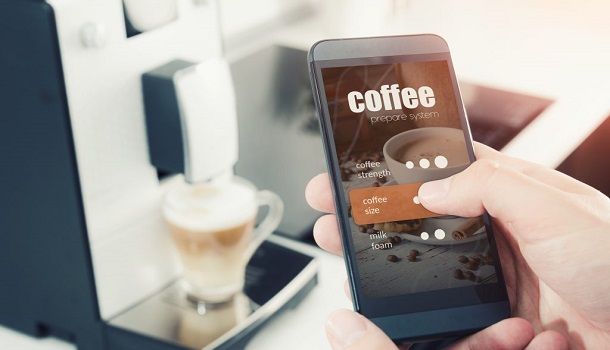 Customizable Features
These machines also provide you with many customizable features just like your basic brewers. You are in control of the brewing volume, strength, capacity, etc. You can also choose desired brewing program or set up one yourself based on the parameters you like.
Scheduling Options
Another thing worth knowing is that smart machines allow you to schedule your next brew. This means that you can set all the brewing parameters and schedule for the brewing process to start in the morning. That way you can have a delicious espresso waiting for you when you wake up.
Generally About The Machines…
Apart from the features that are specific to smart machines, you also need to consider ones that are related to the espresso machines themselves:
Ease Of Use
Consider how good you are at brewing espresso before you set your mind on one specific machine. This is simply because you don't want to invest in a machine you don't know how to use. Since smart models are generally super automatic, they are a great choice for beginners as well as professional users.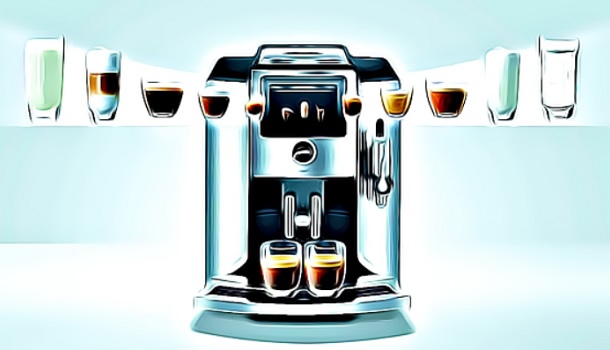 Brewing Capacity
Generally, you can choose whether you want to make a single or a double espresso shot at once. However, you can find models that come with a coffee pot that can hold multiple servings at once. They are great for when you have company and need to brew multiple servings at once.
Temperature Control
Amongst the many controls you have at the display you can also adjust the brewing water temperature. This is to ensure that every cup you make has the optimal flavor and is not either watered down or has a burnt flavor.
Brewing Compatibility
This is very important as it defines what kind of coffee you can brew. For instance, while some brewers are made for use with whole coffee beans, others work only with coffee pods. Both can be a great option, it simply depends on which brewing style you prefer better.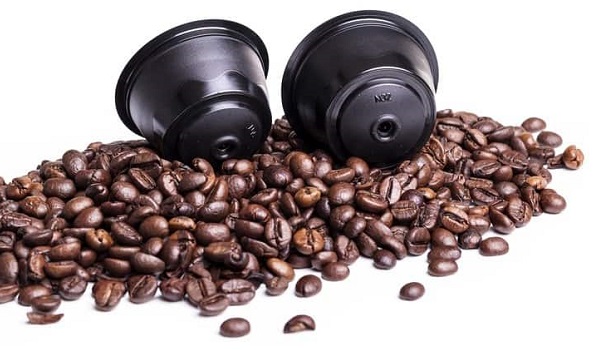 Extraction Pressure
Extraction pressure determines how much flavor you will get in your cup with every pull. These machines generally use a 15 to 20 bar extraction pressure that provides barista-like brewing results with every use whether you are brewing espresso or different espresso/milk-based beverages.
Milk Frothing Options
Although these machines do not come with a manual frothing wand, each one offers an automatic frothing system. This means that the machine automatically dispenses the perfect amount of milk froth into your cup based on the brewing recipe you set.
Direct Plumbing
You don't have the option of direct plumbing with these espresso makers. Each machine comes with a water reservoir from which the water is pulled during the brewing process. Its capacity determines how many brews you can make without having to refill the tank. For instance, a 2-liter reservoir allows you to brew espresso without worrying that you might need to refill it anytime soon.
Water Filters
Each machine has a filtering system but this does not entail a water filter itself. However, you can find models that allow you to add a water filter into the reservoir if you prefer to brew espresso with filtered water.
Additional Features
There are versatile additional user-friendly features you can look for. This includes a simple control panel for when you don't want to use your smartphone, user-friendly indicator lights that inform you about the machine's grinder's status, water reservoir, descaling needs, etc.
Maintenance Level
How much time you will need to spend cleaning the machine depends on its complexity. Most brewers come with a self-cleaning mechanism for the brewing or the frothing system to ensure that you need to clean only the exterior of the machine.
4 Best Smart Espresso Machines
While the first machine uses whole coffee beans and a high 20 bar extraction pressure, the second one is compatible for use only with Nespresso coffee pods and uses a 19 bar pressure. Read on to learn more about their differences.
Café Affetto Automatic Espresso Machine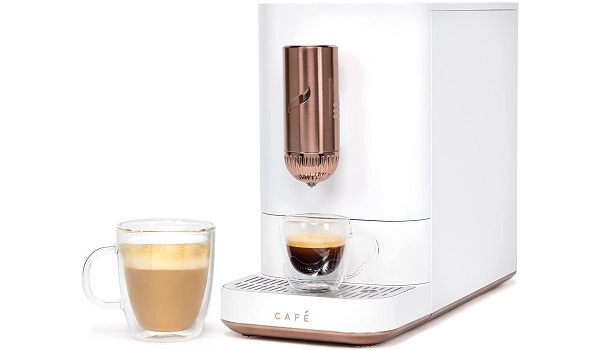 SPECIFICATION:
Dimensions: 12.5 x 7.25 x 13.75
Weight: 19 Pounds
Material: Stainless Steel

Wattage: 1470 Watts
Pressure: 20 Bars
Compatibility: Whole Beans
The great thing about this model is that it is highly efficient. It needs only about 90 seconds to make a perfect cup of espresso, americano, or lungo. You can even use it to dispense hot water for tea or hot chocolate. It also offers a "My Cup" setting you can program to your liking.
It comes equipped with a conical burr grinder to ensure that you always get the freshest brewing results possible. Additionally, it offers a bean hopper that can hold up to 6 ounces of freshly roasted beans at once. It is designed to ensure that the beans inside it remain sealed and fresh for a long time.
To use this machine via your smartphone, you need to sync it with a SmartHQ app. By doing so, you will be able to customize your drink preferences such as brewing strength, volume, and many more. The app also enables versatile software updates that ensure its optimal performance.
Overall:
Pressure:
Quality:
Functionality:
Power:
Safety:
PRICE RANGE
from $630 to $1020
depending on eCommerce offer (Amazon, eBay, Best Buy) and discounts
REASONS TO BUY:
Its innovative slim design takes up very little counter space.
It provides a rather quiet performance.
You can easily connect it to an app.
REASONS TO AVOID:
Its water reservoir does not come with a warning light indicator.
Breville-Nespresso Espresso Maker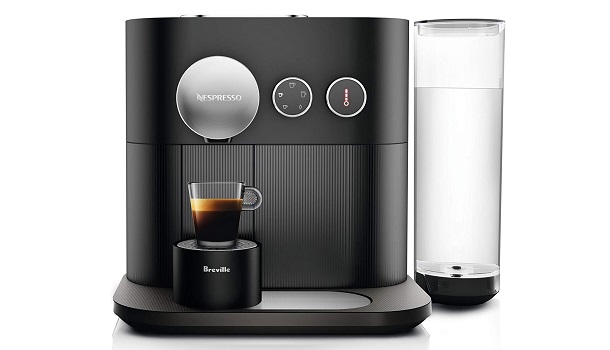 SPECIFICATION:
Dimensions: 17 x 10 x 15.25 In
Weight: 11.7 Pounds
Material: Metal, Plastic

Wattage: 1260 Watts
Pressure: 19 Bars
Compatibility: Nespresso Pods
This is the only home model we reviewed in this post that is compatible for use with Nespresso coffee pods. Even though it is limited only to capsules, there is a variety of flavors you can try out to ensure that you find the optimal flavor you enjoy.
Another great thing about the machine is that it comes with LED alerts that let you know if you need to refill the water tank or descale the machine. They also inform you if the pod container is full/empty to ensure that you are always atop everything.
To connect this machine to your smartphone you need to download a designated Nespresso mobile app. The app allows you to order coffee pods whenever you need, adjust the brewing recipes to your needs, schedule the exact time when you want the next brewing cycle to start, or simply brew espresso remotely.
Overall:
Pressure:
Quality:
Functionality:
Power:
Safety:
PRICE RANGE
from $300 to $500
depending on eCommerce offer (Amazon, Walmart) and discounts
REASONS TO BUY:
It provides barista-style brewing results with a high 19 bar extraction pressure.
Comes with an energy-efficient 9-minute automatic shut-off function.
REASONS TO AVOID:
Compatible only for use with Nespresso coffee pods.
Mcilpoog Espresso Machine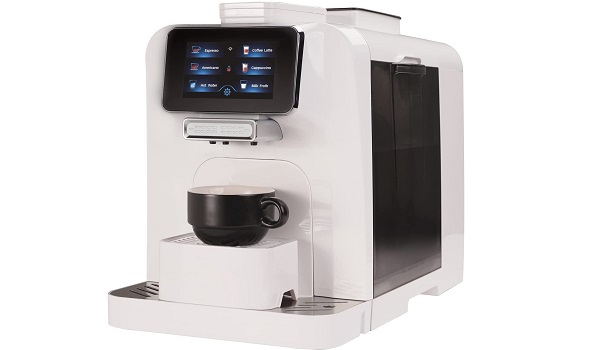 SPECIFICATION:
Dimensions: 18.7 x 9.7 x 14.6 In
Weight: 35.2 Pounds
Material: Info Not Available

Wattage: 1480 Watts
Pressure: 19 Bars
Compatibility: Whole Beans
You won't have any trouble setting up the desired brewing cycle with this espresso machine. It features a large TFT touch display that offers multiple language options. It provides 6 different brewing recipes including espresso, cappuccino, americano, coffee latte, hot water, and milk froth.
Keep in mind that its frothing system is completely automatic. Additionally, the machine comes with a patented refrigeration system that keeps the milk at its optimal temperature level for up to 24 hours. You never have to worry that it might go bad.
This machine comes with a built-in WiFi system thanks to which you can easily connect it to your smartphone. By doing so, you can make all the desired adjustments remotely from your phone without having to stand next to the brewer itself.
Overall:
Pressure:
Quality:
Functionality:
Power:
Safety:
PRICE RANGE
from $700 to $800
depending on eCommerce offer (Amazon) and discounts
REASONS TO BUY:
It features a large LCD with multiple language settings.
Comes with a built-in refrigerator for the milk.
REASONS TO AVOID:
Its frothing performance is not as efficient as you would want it to be.
Miele Wifi Coffee & Espresso Maker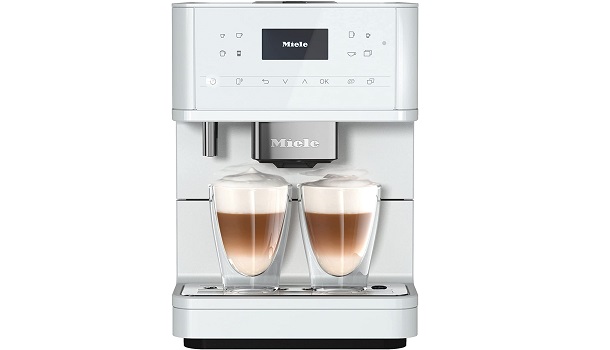 SPECIFICATION:
Dimensions: 16.8 x 9.9 x 14.1 In
Weight: 21.8 Pounds
Material: Plastic, Metal

Wattage: 1500 Watts
Pressure: Info Not Available
Compatibility: Whole Beans
Thanks to its WiFi Connect function, this German machine is highly convenient for use. Apart from the pre-set functions it provides, you can also program up to 4 different user profiles based on your brewing preferences. You can brew anything from coffee, espresso, to milk.
Another thing worth mentioning is that this model comes with a coffee pot that allows you to brew up to 8 cups at once. This can come in very handy especially if you have some company over and need to make several servings at once.
Like all listed models, this brewer also comes with a coffee bean grinder. It sits atop the machine to ensure that you can easily access it and refill it when needed. It allows you to adjust the grind size you prefer to ensure that every cup you brew offers the most delicious flavor.
Overall:
Size:
Quality:
Functionality:
Power:
Safety:
PRICE RANGE
from $1800 to $2600
depending on eCommerce offer (Amazon, Walmart, eBay) and discounts
REASONS TO BUY:
It comes with multiple user profiles you can program to your needs.
Provides powerful brewing and frothing performance.
REASONS TO AVOID:
You can not make direct plumbing connections.
Are Its Results Any Different From Regular Espresso Brewers?
Although you might think that a smart machine provides the most flavorful cup of coffee, the truth is that its brewing performance is the same as standard models. What truly affects the brewing results are parameters such as temperature, extraction pressure, etc., all of which we covered in a buying guide below.
How Much You Need To Invest?
By now, you have probably figured out that these machines do not come cheap. Depending on the model and the brand you choose, you can end up paying anywhere from 300 to 6000 dollars for such a model. Since this is a wide price range, no need to give up on the idea of having a smart brewer – you simply need to find one that meets your budget.
What If You Lose Wi-fi Connection?
If the brewer you buy is controlled via a smartphone app, you need a WiFi connection and there's no other option if you lose connection. Espresso machines that are Bluetooth compatible, however, don't need necessary a WiFi connection. In this case, your smartphone needs to be connected to Bluetooth whenever you want to use the machine.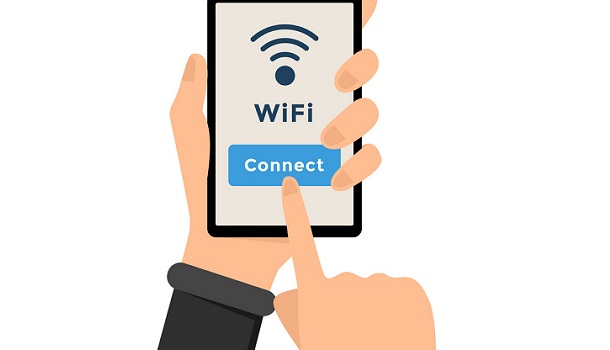 Warranty Period
Generally, these models come with a warranty period of 2 to 5 years, depending on the model you choose. If you notice any malfunctions during the warranty, be aware that any repairs you need to make will be done free of charge. Make sure that you check the machine's warranty before you buy it as it lets you know how much trust the manufacturer has in its appliance.
DIY Smart Espresso Maker
If these machines sound a bit too complicated or even too expensive, there is great news, you can make your basic espresso maker smart too. To do that, you will need to pair it with a smart plug, either Google or Alexa-enabled one which costs around 20 dollars.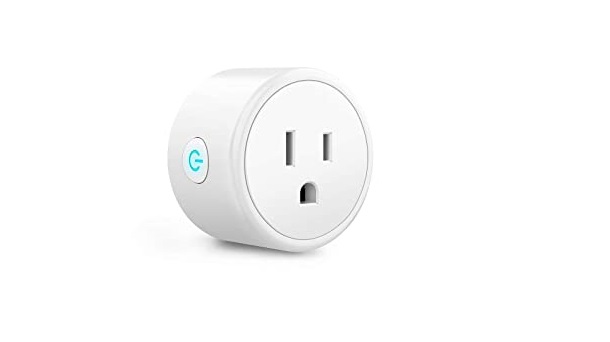 Keep in mind that this is possible only if you have a machine with a physical on/off switch you can easily toggle. This is because the smart plug cuts off all the power to a device the moment you turn it off. The same goes for when you turn it on. You can easily do this through a smartphone app or using voice commands with assistants including Google Assistant, Amazon Alexa, or even Siri.
To Wrap It Up
To conclude this post, we recommend buying Café Affetto Automatic Espresso Machine. It features a slim and elegant design that fits perfectly atop any countertop surface. If you have always been desirable for someone who would make you a coffee when you're busy or still in bed, it seems you finally found it. It's easy to connect your smartphone to any of these espresso machines and you have an assistant for the whole life!