Are you looking for a powerful grill that is completely safe to use even where gas and charcoal grills are prohibited?
Then an electric outdoor grill is just what you need!
Keep reading my post to learn all about the design, features, performance, and prices of the 10 best models on the market.
The Rundown
Best 10 Electric Outdoor Grills
Best Of Best Electric Outdoor Grill
George Foreman Gun Metal Electric Grill
Ceramic Coated Plate
This electric grill for outside use comes with a ceramic-coated cooking plate. It is specially designed to ensure that nothing sticks to its cooking surface. It is also slightly sloped and helps to direct the excess fat from your food straight into the bottom drip tray.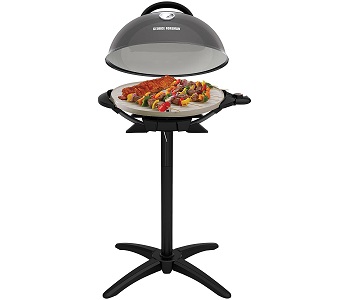 Precise Temperature Control
Another thing worth mentioning is that this ceramic electric indoor grill provides very precise temperature control. Its built-in temperature gauge will inform you about the grill's current temperature throughout the cooking process. For more information, click on the enclosed link.
Short Description:
240 square inches of circular grilling surface
makes up to 15 servings at once
ceramic coated non-stick cooking plate
slightly sloped cooking surface
comes with a convenient domed lid
features a built-in temperature gauge
a removable bottom stand included
Best Indoor/Outdoor Electric Outdoor Grill
Techwood Electric BBQ Grill
Cooking Capacity
Just like the previously reviewed model, this one also offers a spacious 240 square inch cooking surface. As a result, you can make up to 15 servings at once. Its temperature control knob is located on its thermostat probe to ensure you can easily access it. Read more about similar small electric outdoor grills and find your perfect match.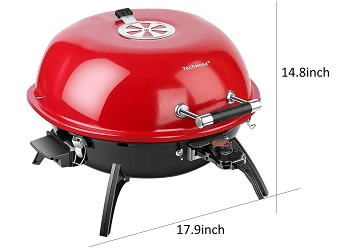 Warming Rack
Another convenient feature of this indoor-outdoor grill is its additional warming rack. It allows you to keep the cooked food warm unit you complete the cooking process entirely. Additionally, its built-in venting system efficiently dissipates the excess heat and keeps the machine from overheating.
Short Description:
a spacious 240 square inch cooking surface
cooks up to 15 servings at once
comes with an additional warming rack
a simple temperature control knob
built-in venting system prevents overheating
Best Griddle Electric Outdoor Grill
Presto Electric Griddle
Tilt-And-Fold Design
The best thing about this flat top grill is that you can slightly tilt its cooking surface. By doing so, you can direct the fat that drips from your food directly into the drip tray. Also, its bottom legs are completely foldable.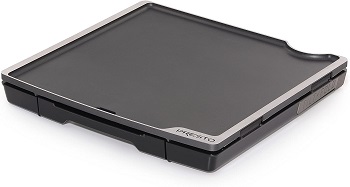 Easy To Store
Because of its size, and design, this electric outdoor griddle is very easy to store. It can perfectly fit into kitchen cabinets and even drawers. You can even store it vertically to ensure that you have enough free space for other kitchen appliances. Click on the enclosed link and find more information about this model.
Short Description:
a convenient tilt-and-fold design
provides simple temperature adjustments
features a flat griddle cooking surface
premium quality non-stick coat
a simple pull-out bottom drip tray
requires very little storage space
Best BBQ Electric Outdoor Grill
Masterbuilt Electric Veranda Grill
Spacious Cooking Surface
Even though this electric grill features a somewhat smaller footprint, its cooking surface is spacious enough to make multiple servings at once. If you want to learn more about its design, check out my post about the best small electric outdoor grills.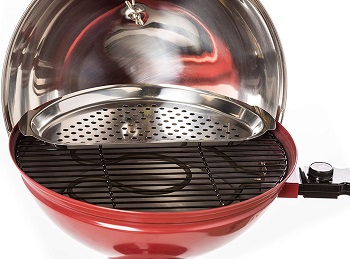 Powerful Heating Element
This electric barbecue grill comes with a very powerful 1650 Watt heating element. It is U-shaped and placed precisely beneath the grill's cooking surface to ensure that it provides powerful and even heat distribution all over its cooking surface.
Short Description:
features a somewhat smaller footprint
a powerful 1650 Watt heating element
provides even heat distribution
comes with a built-in thermostat
Best For Camping Electric Outdoor Grill
Giantex Outdoor Camping BBQ
Domed Lid
You can be sure that this electric camping grill provides efficient and delicious results. Its domed lid is specially designed to keep the heat circulating all around the food. It also prevents your food from drying out due to the high heat.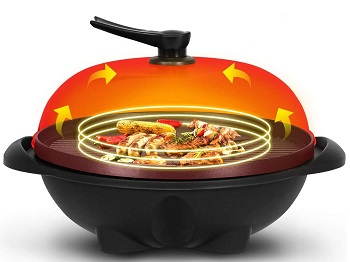 Removable Stand
This is another portable electric outdoor grill that comes with a removable stand. The difference is that this stand features a rotating condiment tray. You can use it to keep your spices or drinks while you grill away. Click on the enclosed link for a more detailed review.
Short Description:
made out of food-grade materials
240 square inch circular grilling surface
features a convenient domed lid
offers a detachable temperature regulator
comes with a removable bottom stand
360-degree rotating condiment tray
Best Large Electric Outdoor Grill
Costzon Table Top Griddle
Extra-Large Surface
As its category implies, this electric outdoor griddle grill features a somewhat larger cooking surface. The important thing is that its heating element covers its entire cooking area and provides efficient heating performance. Learn more about its beneficial features by clicking on the enclosed link.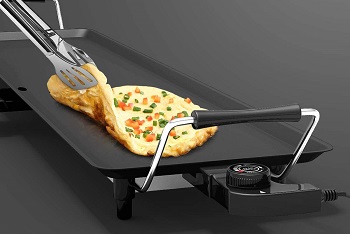 Additional Accessories
This large electric griddle comes with some additional accessories. These include 2 round rings that help you cook perfectly shaped eggs and 6 wooden spatulas that are specially designed not to damage the quality of the griddle's non-stick properties.
Short Description:
a somewhat larger cooking surface
non-stick coated griddle plate
offers a powerful heating element
additional accessories come included
Best Portable Electric Outdoor Grill
SEAAN 2In1 Portable Electric Grill
Durable Construction
Note that this portable electric outdoor grill features very durable construction. It consists of a bottom wear-resistant layer, a reinforced scratch-resistant layer, and a non-stick water-based layer. As a result, you can be sure that it will have a lasting lifespan.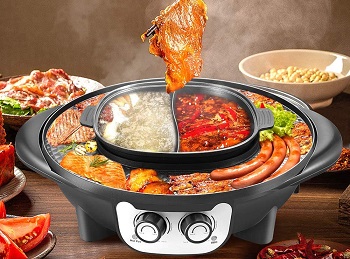 2In1 Design
The best thing about this model is that it features a convenient 2in1 design. It offers both a grilling surface and an additional hot pot you can use to prepare versatile gravies, soups, etc. Click on the enclosed link and get a more detailed description of its performance.
Short Description:
high-quality triple-layered construction
durable and rust-resistant material
grill and hot pot cooking options
comes with independent controls
powerful 2200 Watt heating element
integrated temperature regulation system
Best Small Electric Outdoor Grill
Americana Tabletop Electric Grill
Simple Performance
Because of its simple design, this small electric outdoor grill is very easy to use. Once you plug it in, set the desired cooking temperature using the small control knob on the thermostat plug and let it reach the set cooking temperature. Click on the enclosed link and learn more about its cooking performance.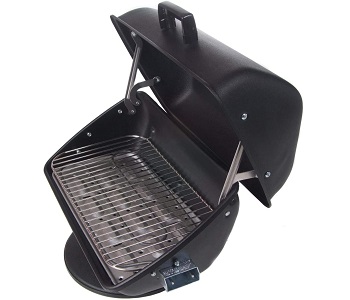 Convenient Base
This small electric grill also sits atop a convenient bottom base. Because of its design, you won't have any trouble finding the perfect place for the grill while you are outdoors. It can fit atop benches, wood logs, etc.
Short Description:
comes in a somewhat smaller size
provides very simple performance
very easy to carry around and transport
both UL and CUL certified heating element
Best With A Stand Electric Outdoor Grill
Cuisinart Outdoor Electric Grill
Telescoping Stand
The amazing thing about this outdoor electric grill with a stand is that its stand features a telescoping design. It provides 3 different height settings to ensure that you can adjust the height of its grilling surface according to your needs.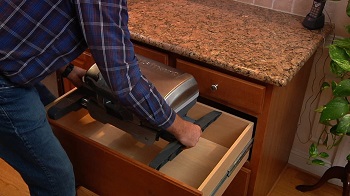 Easy To Store
Once you are done using the grill, you can easily store it in a kitchen drawer or a cabinet. To do so, simply collapse its stand and store the unit away. If you need additional information about this model, check out my post about the best electric grills on a stand.
Short Description:
somewhat smaller 145-square-inch grilling area
provides simple temperature adjustments
a powerful 1500 Watt, 5,120 BTU burner
quick and efficient cooking performance
telescoping stand with multiple height levels
easily fits into standard kitchen cabinets
Best Tabletop Electric Outdoor Grill
Weber Q 2400 Electric Grill
Tabletop Design
This small electric outdoor grill features a very simple tabletop design. Its two side handles are specially designed to remain cool-to-touch to ensure that you can easily move the grill around. A bottom stand is available for this model but sold separately. For more information, click on the enclosed link.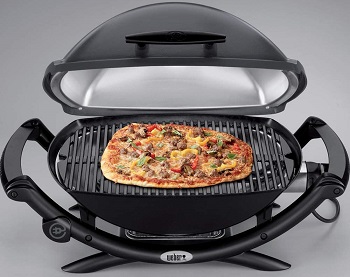 Spacious Surface
Even though this tabletop electric grill fits into the "small" category, it features a very spacious cooking surface. Its cast-iron cooking grates are completely porcelain enameled and provide amazing non-stick properties. They are also highly conductive and ensure even heat distribution.
Short Description:
features a simple tabletop design
highly conductive cast-iron cooking grates
porcelain-enameled non-stick surface
bottom stand sold separately
What To Consider About The Best Electric Outdoor Grills On The Market?
Have you managed to find the best electric grill for outdoor use that meets all your needs perfectly? If you are still having trouble choosing one model, here is a short buying guide that might help you make the final decision.
Heat Source – All listed outdoor electric grills require a "regular" power source to work properly. They are much safer for use than the usual gas and charcoal grills. This is simply because they eliminate the possibility of accidental flare-ups that are considered a safety hazard.
Machine's Portability – If you want to have a portable electric grill, consider the size and design of the grill you are buying. Small electric grills are much more convenient for transportation than larger models. Additionally, you might want to look for features such as cool-touch handles, a removable stand, etc.
Pre-Heating Process – Just like all grills, electric outdoor grills also require some time to pre-heat to their cooking temperature. The great thing is that their pre-heating process is much shorter. They don't need more than 5 minutes to heat their cooking surface.
Heat Control – Another great thing about the listed models is that they allow you to control and adjust their cooking temperature to your likings and needs. Thanks to this feature you can use only one machine to cook versatile ingredients.
Cooking Plates – Most models on the market come with either grill or griddle cooking plate. However, you can find electric flat-top grills that provide the beneficial features of both. No matter which one you decide to buy, make sure that its cooking surface is fully coated with a non-stick layer.
Indoor Use – Finally, since they are all electrically powered, most of these electric grills for the outside are safe to use indoors as well. However, due to their design/size, they might be somewhat inconvenient for use in smaller apartments.
To Wrap It Up
To wrap up, all listed electric outdoor grills are top-rated in their category. If you want to check out more different models, check out my post about the best electric grills on the market and find an electric barbecue grill that meets all your needs perfectly.