Looking for the best camping coffee percolator that will provide you with a delicious brew on your trips?
Then this post might be for you!
Stay with me and find out all about the beneficial features that the six best models have to offer. Check them out and choose the one that meets your needs perfectly.
The Rundown
6 Best Camping Coffee Percolators
Best Of Best Camping Coffee Percolator
Coletti Bozeman Camping Coffee Pot
Food-Grade Design
This coffee pot features a high-quality food-grade safe design. Both its exterior design and filtering/brewing system are entirely made out of durable 18/8 stainless steel material. It is completely free of aluminum and plastic.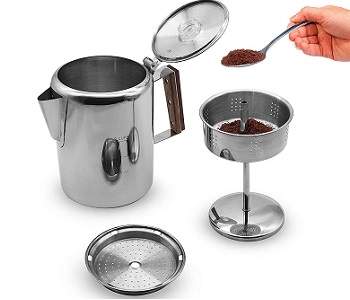 Delicious Results
You can be sure that this best camping percolator will provide you with delicious results with every single use. It extracts all delicious flavors and coffee oils from your coffee grounds and ensures the optimal taste of every brew you make.
User-Friendly Features
Note that this model comes with versatile user-friendly features that will make it much more enjoyable to use. For example, its transparent glass cover knob ensures that you can check on the brewing process, the wooden handle minimizes the possibility of accidental heat burns, etc.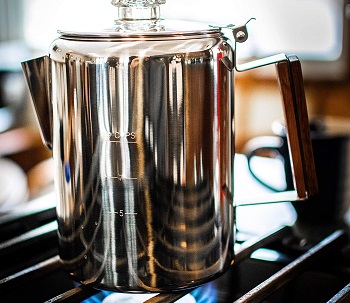 Simple Maintenance
Because of its design, this machine will require a very low maintenance level. Although it is very easy to clean manually, you can also pop it in a dishwasher and let the machine do the job for you. Either way, make sure that you clean all its parts with every single use.
Short Description:
made for both indoor and outdoor use
solid 18/8 stainless steel construction
features 18-gauge thickness
completely aluminum and plastic-free
safe to clean inside a dishwasher
comes with a pack of 20 coffee filters
instructions come included in the package
Best Stainless Steel Camping Percolator
Eurolux Percolator Coffee Maker
Stainless Steel Design
This is another coffee machine that is made out of stainless steel material. Thanks to this feature you can be sure that it will provide you with exceptional quality, durability, and lasting performance. You won't have to worry about replacing it any time soon.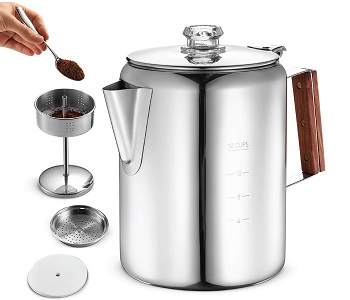 No Toxic Chemicals
Keep in mind that this model doesn't have any plastic parts, meaning, it is completely free of any kind of toxic chemicals. This means that your brew will have the perfect taste of the coffee grounds you decide to use during the brewing process.
Wooden Handle
Just like other percolators, this one is also made for use over fire stovetops. This is where its wooden handle comes in very handy. It is specially designed to minimize the option of accidental heat burns while you pour your coffee or move the percolator.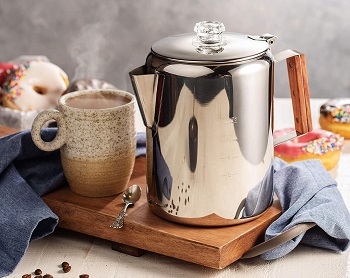 Brewing Options
Note that, because of its design, you can use this best camping coffee percolator over direct fire, grill, and versatile stovetops. It is the perfect choice both for outdoor and indoor use. No matter which brewing option you choose, you can be sure that it will provide great brewing results.
Short Description:
great for home, camping, and traveling
high-quality stainless steel design
provides exceptional durability
free of all kinds of toxic materials
heat-resistant wooden handle
made for use over versatile stoves
Best Travel Camping Coffee Percolator
GSI Outdoors Enamelware Percolator
Enamel Design
This is the only percolator on this list that features an enamel design. It provides it with a bit more retro feel that everyone who loves the old-fashioned appliances will enjoy. Its pouring spout is specially designed to ensure that you don't create too much mess while pouring coffee.
Three-Ply Construction
Another thing worth mentioning is that this model features a three-ply construction that maximizes the heat distribution throughout the percolator. Due to this feature, you will be able to make a delicious brew in a very short time.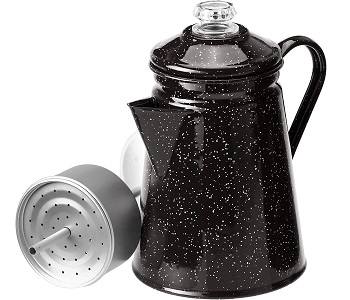 High Durability
The construction of this best camping percolator is what ensures its durability and lasting performance. Most importantly, it is kiln-hardened twice at 1000 degrees Fahrenheit to ensure that it provides high resistance to chipping and scratches. It also has an unbreakable resin cap that is fully transparent.
Versatile Use
Just like the rest of these models, this one is also compatible with use over different fire stovetops. This makes it a much more practical choice because it means that you can use it both outdoors while camping and indoors in your home kitchen.
Short Description:
for campsites, cabins, RVs, and kitchens
heavy-gauge steel with speckled enamel finish
kiln-hardened twice at 1000 degrees F
three-ply construction for better heat distribution
comes with an unbreakable top resin cap
Best Vintage Camping Percolator
Stanley Camp Percolator
Lasting Design
Because of its stainless steel construction, this coffee percolator will provide you with a long-lasting performance. It is highly durable and offers exceptional quality. Thanks to this feature you will be able to enjoy it for a long time to come.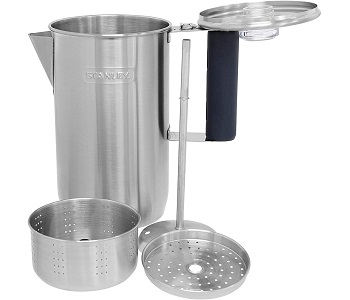 Lightweight Construction
Even though this best camping coffee percolator is made out of highly durable material, it is still very lightweight. This means that you won't have any trouble transporting it around inside your bag or a backpack. You can even carry it inside your hands.
Thermal Efficiency
Note that this model provides amazing thermal efficiency. It will maintain the temperature of your hot brew for up to 4 hours, cold brew for about 9 hours, and iced beverages for up to 24 hours. It is the perfect on-the-go percolator.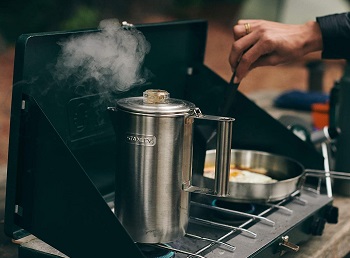 Cool Touch Grip
The handle of this percolator is fully coated with silicone material that stays at a safe temperature no matter what kind of a stove you use it over. This feature makes it much safer to use. Additionally, its top transparent cap allows you to observe the brewing process.
Short Description:
a lasting stainless steel design
very lightweight and easy to carry
provides high thermal efficiency
heat-resistant cool-touch grip
Best Large Camping Coffee Percolator
Stansport Aluminum Percolator
Aluminum Design
This coffee percolator features high-quality aluminum construction. It is highly durable and resistant to rust and corrosion. It features a very high gloss finish that ensures its beautiful appearance. It also makes this machine very easy to clean.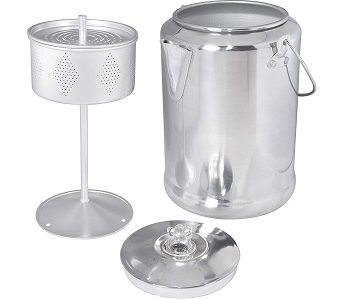 Large Capacity
Out of all models in this post, this percolator provides you with the largest brewing capacity. It can make about 20 cups of your favorite beverage per single brew. It is a perfect option if you need a model you can use when you have company and friends over.
Quick Heat-Up
Since aluminum is a highly heat conductive material you won't have to wait too long for the coffee to brew inside the percolator. However, since it is entirely made out of aluminum material, you will need to be careful not to accidentally burn yourself during the process.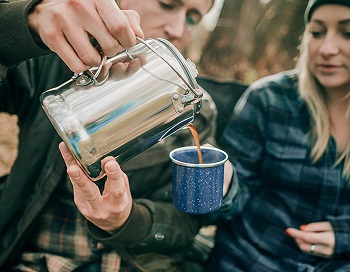 Pouring Spigot
Note that this best camping percolator features a pouring spigot. It is specially designed to ensure that you don't spill your brew or create an unwanted mess while pouring coffee. Its top handle and side rings will help you tilt the percolator without accidentally dropping it.
Short Description:
durable, rustproof, high gloss aluminum
provides a very high heat conduction
large brewing capacity of up to 20 cups
simple pour spout for a mess-free pour
comes with a highly practical handle
most affordable model on the list
Best Small Camping Percolator
GSI Outdoors Glacier Percolator
Small Size
Compared to the previous models, I reviewed in this post, this percolator comes in a somewhat smaller size. This makes it much easier to transport around. The best thing is that you won't need too much storage space for it.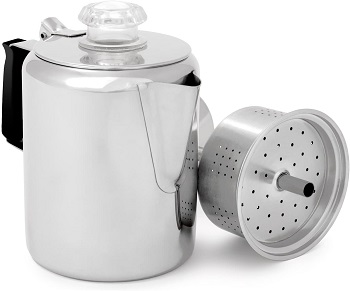 Brewing Capacity
Because of its size, this best camping coffee percolator can brew up to six servings at once. It works perfectly both for individuals and smaller groups. You can use it anywhere and anytime you want. No need for electricity.
Easy To Use
To use this model properly, everything you need to do is fill up its coffee basket with your favorite coffee grounds and add water to its chamber. In just a few moments, you will have a delicious brew waiting to be served.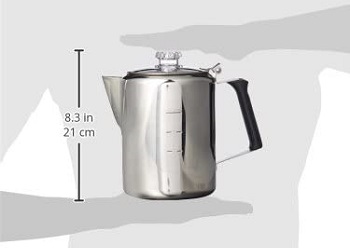 Lasting Performance
This model will also provide you with lasting performance. It won't get damaged by exterior factors such as rust, corrosion, stains, dents, scratches, etc. It can easily withstand rough handling and ground impact. that can often occur due to long-term use.
Short Description:
comes in a somewhat smaller size
brews up to 6 servings at once
corrosion-resistant stainless percolator
heat-resistant cool-touch silicone handle
What To Consider About The Best Camping Percolators?
The best camping coffee percolators I reviewed in this post provide amazing quality and durability. Here are some things you might want to consider before choosing the best one.
Size & Portability – The first thing you need to consider is the size and portability of the model you like. Although larger models can yield more servings at once, smaller ones, such as 6 cup percolators are usually a much more practical choice when it comes to choosing a coffee maker you can carry around.
Durable Construction – Since camping percolators are designed to be carried around in your backpack, they need to have high-quality and durable construction. That way they won't get damaged during transportation and will have a much longer lifespan.
Thermal Efficiency – Stainless steel models are a perfect choice if you want a percolator that will provide you with great thermal efficiency. They can maintain both hot and cold temperatures for a much longer time and ensure you have a perfect brew you can enjoy even long after you brew your coffee.
User-Friendly Features – All the listed percolators come with some user-friendly features. These may include a heat-resistant handle that keeps your hands safe from heat burns, a carrying handle that makes them much easier to transport, a pouring spout that will help you pour your brew without creating additional mess, etc.
Budget-Friendly Price – All listed best camping percolator models are a great choice for everyone who is looking for a more budget-friendly option. They range between 20 and 70 dollars to ensure that you easily find the perfect one for yourself.