Have you been trying to find the best basic coffee maker that will provide a very powerful performance?
Then check out my post!
In the next few segments, you can find all the important information about the six best models that are currently available for you to buy. Check them out, compare their designs, features, and prices, and choose the best one.
The Rundown
6 Best Basic Coffee Makers With Simple Use And Design
Best Of Best Basic Coffee Maker
Ninja Programmable Brewer
Delay Brew Option
This 12 cup programmable coffee maker features a highly practical delay brew option. It allows you to program the exact time when you want the coffee maker to start another brewing process. Most importantly, you can do it up to 24 hours in advance.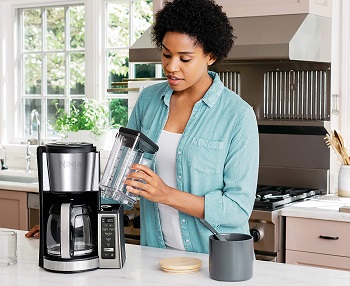 Mid-Brew Pause
The mid-brew pause option is a perfect feature for everyone that simply can't wait for the entire brewing process to complete. It allows you to stop the brewing process at any point and pour yourself a cup. Once you place the carafe back in its position, the brewing process will automatically continue.
Bottom Warming Plate
The bottom of this best basic coffee maker works as a warming plate. Thanks to this feature your coffee will remain at its optimal temperature for up to four hours. The best thing is that it will automatically shut down after two hours.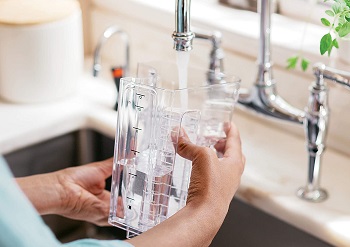 Removable Water Reservoir
This coffee maker with auto shut off comes with a completely removable water reservoir. This makes it very easy to refill and clean. Since it is completely transparent, you'll be able to check the water level inside the reservoir at any point.
Short Description:
a highly practical delay brew option
advanced boiler brewing technology
mid-brew pause for a quick-serve
a 4-hour bottom warming plate
2-hour automatic safety shut off
a transparent water reservoir
dishwasher-safe removable parts
Best Thermal Basic Coffee Maker
Black+Decker Thermal Coffee Maker
12-Cup Capacity
This is another coffee machine that provides a somewhat larger brewing capacity. It comes with a carafe that can brew up to twelve servings at once. This is a great thing because it means that you can easily brew a large batch for your company.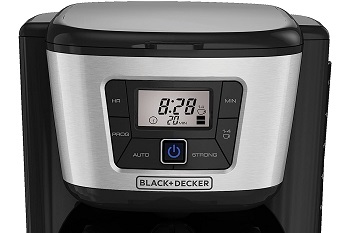 Showerhead Technology
To provide efficient results, this best basic coffee maker uses a specially designed Evenstream Showerheat technology. It dispenses hot water evenly all around the coffee grounds inside the filter. As a result, you get a much more flavorful and full-bodied cup.
Thermal Carafe
The included coffee carafe provides high thermal efficiency. It is entirely made out of a durable stainless steel material that retains heat very well. It will maintain the temperature of your brew for up to several hours.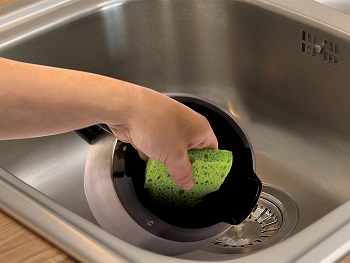 No-Drip Spout
The mentioned carafe also features a highly practical no-drip spout. This feature ensures that you won't make any mess while using this 12 cup coffee maker with a thermal carafe. Additionally, you can easily clean it under tap water in a very short time.
Short Description:
provides a 12-cup brewing capacity
Evenstream Showerhead technology
customizable brewing performance
stainless steel thermal carafe
a highly practical no-drip spout
Best Home Basic Coffee Maker
Hamilton Beach 2-Way Brewer
Stainless Steel Design
Because of its durable construction, this stainless steel coffee maker is an amazing choice for versatile surroundings. It provides amazing quality and high resistance to all kinds of exterior damages that often happen in the kitchen environment. This includes stains, dents, scratches, and even more serious ones like rust or corrosion.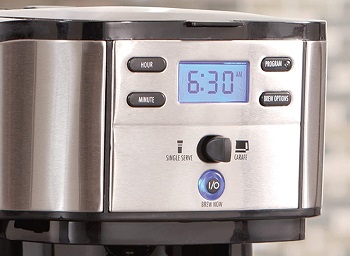 Simple Control Panel
This best basic coffee maker features a very simple control panel. It allows you to program its performance in accordance with your needs and likings. For example, it allows you to program the exact time you want the machine to start the brewing process using only two buttons.
Strength Selector
Another feature this machine allows you to adjust is its brewing strength. You can easily set it between the "regular" and "bold" options. No matter which one you choose, you can be sure that you will get the most perfect brewing results.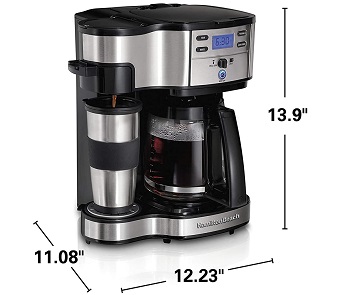 2-Way Brewer
Note that this coffee maker with timer allows you to brew both an entire carafe and a single cup. The single-serve dispenser can brew coffee directly into a travel mug you can easily take on your trips.
Short Description:
a high-quality stainless steel design
brews a single cup or a full carafe
simple control panel with built-in display
"regular" and "bold" brewing options
the all-in-one scoop comes included
Best Espresso Basic Coffee Maker
DeLonghi Espresso Machine
Narrow Footprint
This 15 bar espresso machine features a bit more narrow footprint. This feature makes it the perfect choice for versatile surroundings. You will easily find the perfect place for it inside your kitchen, office, dorm room, living room, etc.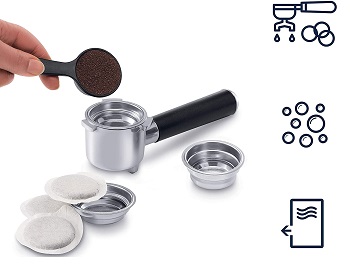 Versatile Use
Thanks to the included milk frother, you will be able to use this simple espresso machine to brew espresso shots, letters, cappuccino, etc. Make sure that you clean the frother thoroughly after each use to ensure that it always provides a great performance.
Professional Pressure
Just like professional models, this machine provides a powerful 15 bar extraction pressure. This means that it will be able to extract all delicious coffee oils and flavors from the grounds you use and provide a full-bodied coffee flavor.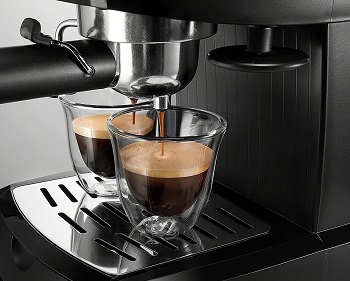 Advanced Heating System
The best thing about this best basic coffee maker is that it comes with an advanced heating system. It maintains the temperature of the water at its optimal level to ensure that you can brew one cup after the other.
Short Description:
features a narrow footprint
specially made for versatile use
professional 15 bar extraction pressure
come with an advanced heating system
Best K Cup Basic Coffee Maker
Keurig K-Mini Coffee Maker
Small Size
Compared to the rest of these models, this single-serve coffee maker comes in a somewhat smaller size. This means that you won't have any trouble finding the perfect place for it on your countertops. Because of its size, you'll be able to easily store it away in your kitchen cupboards.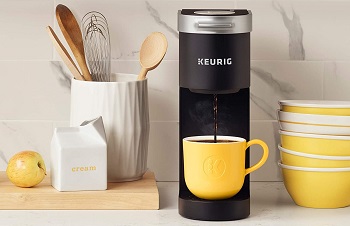 K Cup Coffee Maker
This best basic coffee maker is made for use with coffee pods. It is compatible with versatile K cup pods to ensure that you can easily find the flavor you like the best. Everything you need to do is add the preferred pod and let the machine do the rest.
Efficient Performance
Note that this machine provides highly efficient performance. It comes with an automatic shut-off feature that automatically turns off the machine about 90 seconds after the last brew. This feature minimizes power consumption. Additionally, you'll never have to worry about whether you turned the coffee machine off or not.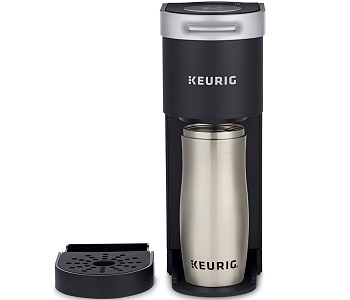 Removable Drip Tray
The included drip tray features a completely removable design. By removing it from this k cup coffee maker you can create additional space for taller travel mugs. This feature also makes it much easier to clean and maintain.
Short Description:
comes in a somewhat smaller size
designed for use with k cup pods
a highly efficient brewing performance
90-second automatic shut-off feature
the completely removable bottom drip tray
Best Pour Over Basic Coffee Maker
Bodum Pour Over Coffee Maker
Pour Over Coffee Maker
This is the only coffee machine on the list that does not require a power source. To use it properly, simply add coarse coffee grounds to the filter and pour a small amount of hot water over them. Once they're fully soaked, add the remaining water and let the coffee drip into the carafe.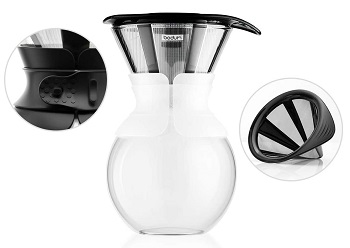 Borosilicate Glass Construction
You don't have to worry that this pour-over coffee maker might accidentally break. It is made out of a durable borosilicate glass material that can withstand high temperatures. Most importantly, it is completely tasteless. This means that nothing will affect the quality of the brew you make.
Permanent Filter
A permanent coffee filter comes included with this machine. It is made out of a durable stainless steel material that ensures its lasting performance. This also means that you won't have to purchase any additional paper filters, meaning no additional cost.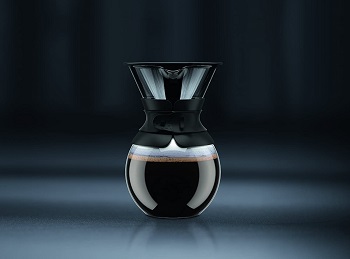 Affordable Price
Out of all listed models, this best basic coffee maker comes at the most affordable price. It costs around thirty dollars which makes it the perfect choice for everyone who is looking for a more budget-friendly choice.
Short Description:
simple pour-over design
durable borosilicate glass construction
comes with a permanent stainless steel coffee filter
features a completely removable heat-resistant cup
safe to clean both manually and inside a dishwasher
comes at the most affordable price
What To Consider About The Best Basic Coffee Makers?
The best basic coffee makers I reviewed above provide versatile design, performance, functions, etc. Here are some things you should consider to ensure that you choose the best model.
Electric Vs. Manual – Electric coffee makers are very easy to use. The only thing they require to work properly is a power source. The upside is that they allow you to program their performance according to your likings. Manual models on the other hand don't come with so many features but are much simpler and portable.
Programmable Performance – Programmable models allow you to have control over their performance. For instance, you can control the strength and capacity of each brew, adjust the exact time you want the machine to start the brewing process, set the auto shut-off so you don't have to worry whether you turned the machine off or not.
Brewing Capacity – Another thing you need to think about is the size of the coffee maker. The larger the model is, the higher the brewing capacity it will provide. The models I reviewed above will allow you to brew a single cup or an entire 12-cup carafe.
Thermal Efficiency – If you want a coffee maker that provides amazing thermal efficiency, a stainless steel model is the best way to go. It can maintain the temperature of each brew a lot longer than the "regular" models with a glass carafe can.
Price To Value Ratio – When deciding which of the best basic coffee makers you want to buy, you also need to consider the price to value ratio. You can easily find inexpensive coffee makers that still provide amazing features but fit perfectly into your budget.