Are you interested in buying the best automatic cappuccino machine?
Then you are in the right place!
I found, reviewed, and compared six of the best models that are currently available on the market. Check them out and find the one that fits your needs perfectly.
The Rundown
6 Best Automatic Cappuccino Machine
Best Of Best Automatic Cappuccino Machine
Philips 3200 Espresso Machine
User-Friendly Control Panel
This grind & brew coffee maker features a user-friendly control panel. It is positioned on the front side of the machine to ensure that you can easily access it when needed. You can set desired functions with a simple touch of your finger.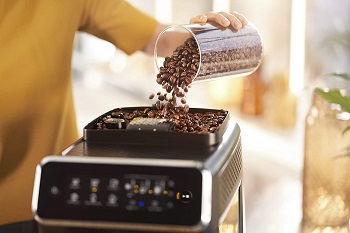 Adjustable Performance
The great thing about this automatic cappuccino machine is that you can completely adjust its performance according to your needs. The small indicator lights will let you know which brewing mode is on and help you adjust the strength of your brew.
Two-Part Milk System
You won't have any trouble cleaning the included milk system. It consists of two simple parts without any tubes or hidden parts that are usually hard to access. Thanks to this feature you'll be able to clean it thoroughly in less than fifteen seconds. You can even clean it inside a dishwasher.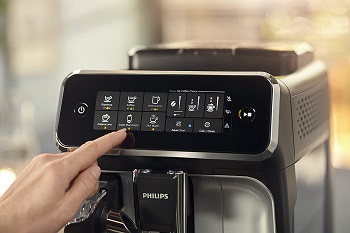 AquaClean Filter
Due to the included AquaClean filter, the incoming water will be purified of all toxins it usually contains. As a result, you'll get a much better-tasting cup of coffee. Keep in mind that you need to replace the filter at the machine's request to avoid descaling.
Short Description:
user-friendly touch control panel
completely adjustable brewing performance
provides five different coffee options
a highly practical two-part milk system
an adjustable durable ceramic grinder
comes with AquaClean water filers
dishwasher-safe removable parts
Best Commercial Automatic Cappuccino Maker
La Pavoni Cappuccino Machine
Durable Construction
This is another cappuccino machine that features durable construction. It has red side panels and stainless steel rear and front panels that make it the perfect choice for commercial use. Since stainless steel provides the unit with additional durability, you won't have to worry about any kind of exterior damages.
Powerful Steam Wand
Included with this electric coffee maker comes a powerful steam wand that will help you make a delicious, rich, and texturized foam. You can control the pressure of the steamer by using the small knob that is located just above it.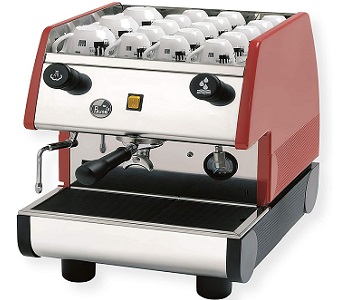 Portable Design
Because of its portable design, this automatic cappuccino maker is a highly practical choice for catering and other smaller food or drink businesses. The best thing is that it doesn't require any direct plumbings so you won't have any trouble connecting it to a water source no matter where you are.
Non-Slip Bottom Feet
The bottom of the unit features highly practical non-slip bottom feet that provide it with additional stability. Thanks to this feature you won't have any trouble finding the perfect place inside the kitchen for the unit.
Short Description:
durable stainless steel construction
powerful adjustable steam wand
features a completely portable design
four non-slip bottom feet
Best Programmable Automatic Cappuccino Machine
Gaggia Anima Coffee Machine
Programmable Performance
Just like the rest of these models, this machine also provides a completely programmable performance. This is an amazing thing because it means that you'll be able to control and adjust both its performance and the results that the brewing cycles provide.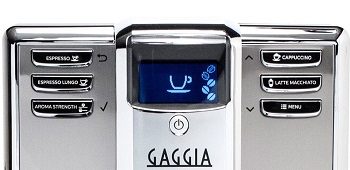 Convenient Notifications
The backlit LCD in the middle of the unit displays convenient notifications that warn you when the water level inside the tank is too low, when the bean hopper is empty, etc. It will also help you set the desired brewing function and adjust it according to your needs.
Temperature Control
This programmable single-serve coffee maker also allows you to choose and set desired temperature level between the three it offers. These include a minimum of 177.5 °F, a medium of 182.9°F, and a maximum of 184.5°F.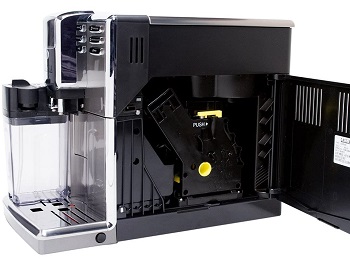 Milk Reservoir
Another highly practical feature of this automatic cappuccino machine is its removable milk reservoir. Because of its design, you won't have any trouble refilling it or cleaning it once empty. You can even place it inside a dishwasher if you don't want to clean it manually.
Short Description:
completely programmable performance
a highly practical backlit LCD
displays convenient notifications
three different temperature levels
removable milk and water reservoir
Best With Grinder Automatic Cappuccino Maker
Delonghi Automatic Espresso Machine
Double Boiler System
The best thing about this coffee maker with a grinder is that it comes with a double boiler system. This means that you'll be able to steam milk and brew coffee at the same time. You'll be able to make a cappuccino in no time.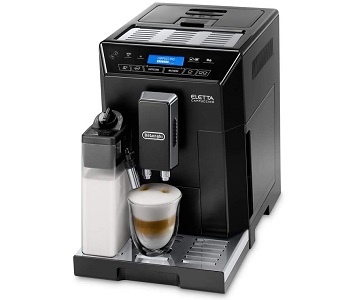 13-Setting Burr Grinder
Due to its adjustable built-in grinder, this machine will allow you to grind fresh beans before every single use. Most importantly, it is very quiet which means that you'll be able to use it at any time both during the day and night.
Bypass Doser
Thanks to the bypass doser, this automatic cappuccino maker features, you'll be able to use pre-ground coffee too. It can come in very handy especially when you don't want to spend too much time preparing your cup of coffee.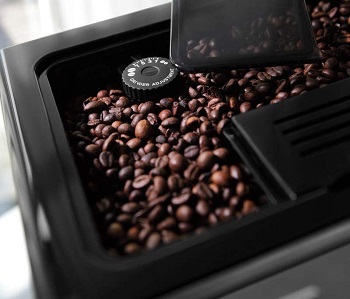 Easy To Clean
You won't have any trouble cleaning this unit once you are done using it. All removable parts are completely safe to clean inside a dishwasher. Once clean, dry all parts of the unit thoroughly and place them back into their position so that the machine is ready for the next use.
Short Description:
user-friendly control panel
provides a super-automatic performance
specially designed double boiler system
and adjustable powerful 13 setting burr grinder
an additional bypass doser for ground coffee
easy to clean manually and inside a dishwasher
Best With Frother Automatic Cappuccino Machine
Chefman 6-in-1 Espresso Latte Maker
Stainless Steel Design
Because of its stainless steel design, you can be sure that this cappuccino machine will provide amazing durability. It has high resistance to all kinds of exterior damages, including rust, corrosion, spill stains, etc., and its sleek design ensures that it will perfectly fit into versitile kitchens.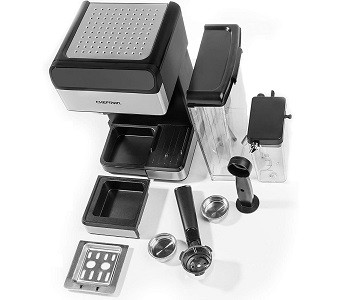 Simple Interface
This automatic cappuccino machine also features a very simple interface. It allows you to choose the brewing option and the size of the brew you want to make. Its convenient position ensures that you can easily access it without moving the unit around.
15 Bar Pump
Thanks to its 15 bar pressure pump, this machine will be able to extract all the delicious coffee flavors and oils that usually remain trapped inside the grounds. This means that you'll be able to enjoy a much more flavorful cup of coffee with every single use.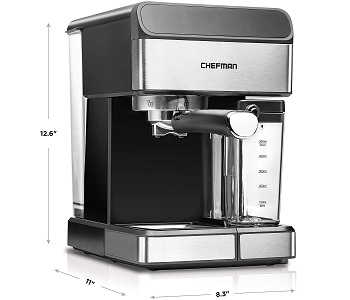 Additional Accessories
Alongside this coffee machine with a milk frother, you will get all the additional accessories you may need to enjoy the best performance of the unit. The package includes two removable water and milk reservoirs, a ground coffee measuring scoop and a tamper, a portafilter and shot baskets, a removable drip tray, and a reversible metal coaster.
Short Description:
durable and sleek stainless steel design
a simple touch control interface
15 bar pressure extraction pump
comes with all accessories you need
Best Single Cup Automatic Cappuccino Maker
Mr. Coffee Cappuccino Machine
Simple Control System
This single cup coffee maker with a removable water reservoir also features a very simple control system. It provides you with both pre-programmed and manual brewing options to ensure that you can achieve the best results that fit your needs.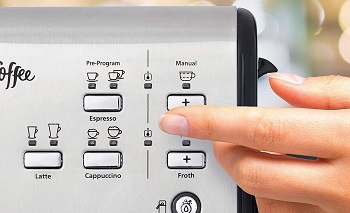 Heating System
Another thing worth mentioning is that this machine comes with a thermocouple heating system. It is specially designed to heat the water inside the tank evenly to ensure that your beverages are piping hot when served.
19 Bar Pump
Compared to the previous model, this one offers a more powerful extraction pump. The pump uses a nineteen-bar pressure to ensure that all flavors get extracted from the coffee grounds and that you have a minimum amount of waste per cup.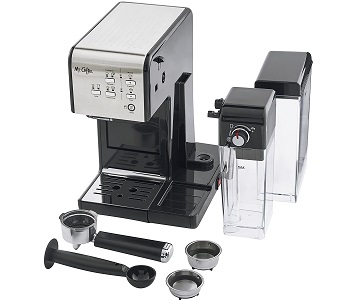 Automatic Frother
Like all the listed models, this automatic cappuccino maker also has an automatic milk frother. This means that the frother will dispense foamy and textured milk directly into your mug and you have a delicious cappuccino ready in no time.
Short Description:
a simple control system
powerful thermocouple heating system
a 19 bar extraction pressure pump
features an automatic milk frother
adjustable bottom cup tray
What To Consider About The Best Automatic Cappuccino Makers?
All automatic cappuccino makers I listed above are designed to make delicious cappuccinos with a rich and textured milk foam. Here are some things you should keep n mind when choosing the best model.
Simple Performance – All electric coffee makers provide a very simple performance and are very easy to use. Most models come with versitile features you can easily adjust according to your likings to ensure that everyone can make their favorite kind of cup.
User-Friendly Features – Make sure that the coffee maker you want to buy provides versitile user-friendly features you can control. The more features it offers, the higher control you'll be able to have over its brewing process and the results that it provides.
Heating System – Another very important thing you should think about is the heating system of the coffee maker you are getting. You need it to provide even heating performance and possibly to heat both water and milk reservoirs simultaneously.
Extraction Pressure – The main function of the pressure pump is to extract all the flavors and oils from the coffee grounds you use during the brewing process. That's why you need to pay attention to the pressure it uses. The higher pressure the more flavors you'll be able to extract and capture inside your cup.
Additional Accessories – Some automatic cappuccino machines come with additional accessories. These may include coffee bean grinders, bypass dosers, water filters, etc. Each additional accessory will improve the performance of the appliance and provide great results. However, pay attention to the price to value ratio to ensure that you don't overpay for accessories.