Are you trying to find the best 48-inch dining table that provides you with a spacious tabletop surface?
Then check out my post!
I found, reviewed, and compared six of the best models that are available for you to buy. Check them out and find out which one meets your needs perfectly.
The Rundown
6 Top 48-inch Dining/Kitchen Tables
Best Of Best 48In Dining Table
POLY & BARK Kennedy Dining Table
Thick Tabletop Surface
This 48 inch round glass dining table features a very thick 10-millimeter tempered glass tabletop surface. Thanks to this feature you don't have to worry that it might get scratched or damaged by the load you place atop it.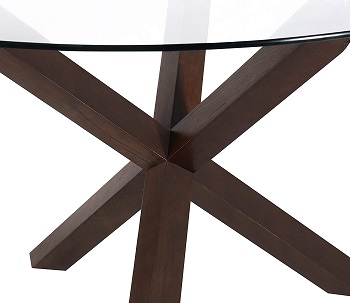 Durable Base
Another thing worth mentioning is that this 48-inch dining table comes on a highly durable bottom base. It is made out of high-quality solid rubberwood with oak veneer and features a beautiful dark walnut color finish that provides it with additional elegance.
Seating Capacity
Due to its size, this table will be able to seat up to 4 or 5 people very comfortably. Keep in mind that it does not come with dining chairs. However, because of its contemporary design, you won't have any trouble finding the perfect chairs that go along with it.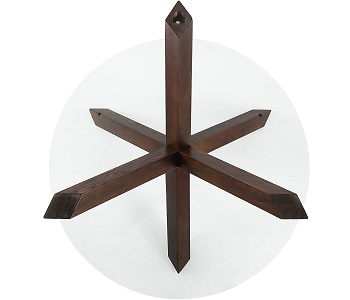 Quick Setup
To assemble this dining table properly, you will need only about 20 minutes. This means that you can have a beautiful table that is ready to use in no time. Once set, it will require a very low maintenance level.
Short Description:
48 x 48 x 30 inches dining table
solid rubberwood legs with oak veneer
star-inspired silhouette bottom base
comes in a beautiful dark walnut finish
seats 4 to 5 people comfortably
weights around 94 Pounds
takes approx 20 min to assemble
Best 36 x 48 Inch Kitchen Table
Fenix Sol Steel Kitchen Table
Stainless Steel Design
This is the only dining table that is entirely made out of stainless steel material. This makes it the perfect choice for both domestic and commercial use. It also has high resistance to all kinds of exterior damages such as rust, corrosion, spill stains, etc.
Prep Table
Because of its construction, this stainless steel table works great as a prep kitchen table. You can easily use it to prepare ingredients for the next meal. The best thing is that you can cut directly on it without damaging it or leaving scratch marks on it.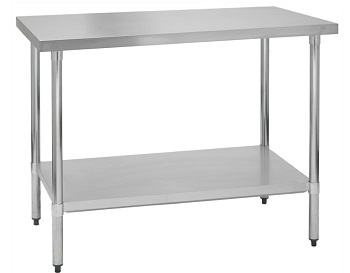 Storage Shelf
The best thing about this 36 x 48 kitchen table is that it comes with a bottom storage shelf. Most importantly, you can adjust its height to ensure that its position meets your needs perfectly. You can use it to store your dishes or to keep the ingredients you need at arm's reach.
NSF Certified
Note that this 48-inch kitchen table comes with an NSF safety certificate. This means that it is designed and approved to meet specific safety standards that are set by National Sanitation Foundation. It features commercial-grade quality and will not likely harbor bacteria.
Short Description:
430-grade stainless steel design
fit for residential and commercial use
highly resistant to rust and corrosion
features a galvanized steel bottom shelf
galvanized steel legs and bracing
comes with an NSF safety certificate
Best Square 48 Inch Dining Table
Belnick Wood Folding Banquet Table
Steel Legs
The bottom legs of this table are made out of durable steel material that provides the table with its stability and sturdiness. Their powder coat provides them with high durability and resistance to versatile wear damages including rust, corrosion, and other wear damages.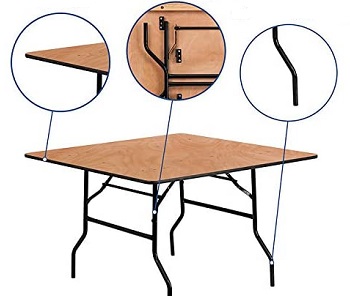 Load Capacity
Due to its durable base, this 48in dining table will be able to provide you with a load-bearing capacity of up to 485 lbs. Thanks to this feature you don't have to worry that the table might give in under the pressure you place atop it.
Foldable Design
Another amazing thing about this square dining table is that it features a completely foldable design. This feature makes it a highly practical choice for smaller apartments. You can easily fold it up and store it away while not in use to create additional free space.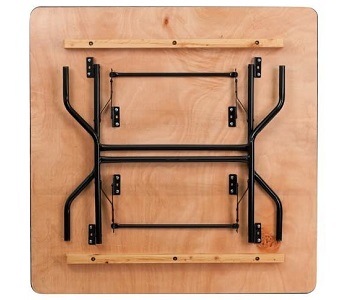 Floor Caps
The bottom legs of this 48 inch square dining table feature protective floor caps that are specially designed to keep your floors safe from accidental damages, such as scratches. Due to this feature, you can carelessly move the table around whenever you need or want to.
Short Description:
4′ x 4′ plywood tabletop surface
black powder-coated wishbone legs
485 lb static load capacity
features a completely foldable design
Best Rectangular 48In Dining Table
Monarch Specialties Dining Table
Contemporary Design
This dining table features a beautiful contemporary design. This means that it will easily fit into versatile home decors and provide additional elegance and sophistication to them. It is a great choice for everyone looking for a 4-seater table.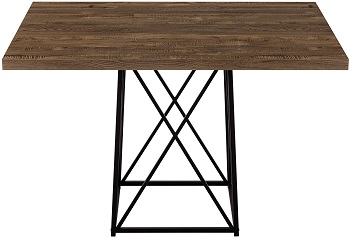 Rectangular Shape
This is another model that comes in a rectangular shape. It can work perfectly both in casual and formal dining rooms, kitchen areas, or different working areas. Its tabletop surface is about 1.5 inches thick, meaning, it will easily support the load you put on it.
Spacious Surface
Because of its shape, this 48-inch rectangular dining table will provide you with a very spacious tabletop surface that is about 36 inches wide and 48 inches long. On the other hand, its base is center-located to ensure that it provides proper support and that you can store your dining chairs beneath the table's surface.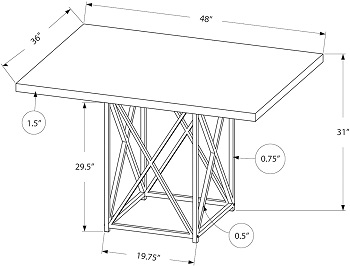 Sleek Metal Legs
The mentioned base of this 48in table is made out of durable metal material that provides the table with a bit more sleek look. Since metal is extremely resistant to all kinds of exterior damages, you can be sure that this table will last for many years to come.
Short Description:
a beautiful contemporary design
the very spacious tabletop surface
comfortably seats up to 4 people
sturdy, stylish black metal legs
for casual or formal dining rooms
Best With Leaf 48 Inch Kitchen Table
Fly YUTING Drop-Leaf Table
Drop Leaf Design
As opposed to the rest of the listed models, this dining table comes in a much more space-saving size and features a highly practical drop leaf mechanism. This means that you can easily collapse its 2 side drop leaves and place the table next to a wall when not needed.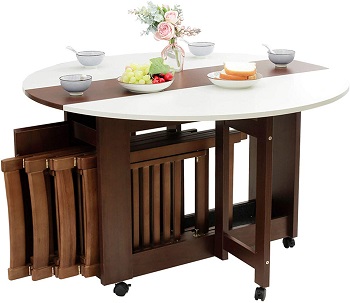 Clear Texture
Its clear wood texture is what provides this 48 extendable dining table with additional freshness and elegance. Additionally, this model is completely waterproof and resistant to all kinds of damages including spill stains, scratches, abrasion, or high temperatures.
Rolling Wheels
Another thing you should keep in mind is that this table comes on silent, anti-skid, 360-degree rotating bottom wheels. They make it super easy to move around. Also, the wheels have brake pads you can press to ensure that the table stays in its place.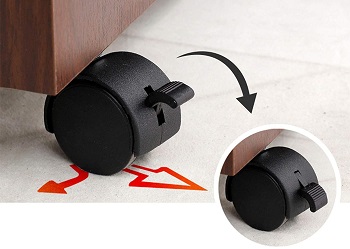 Foldable Chairs
Included with this 48in dining table come 4 completely foldable chairs. The best thing is that they even have their own storage space right beneath the table's top. This means that they don't take up any space at all while not in use.
Short Description:
very suitable for versatile use
fresh and elegant clear wood texture
18-millimeter thick solid wood chipboard
waterproof and resistant to versatile damages
bottom 360°rotating silent anti-skid wheels
load-bearing capacity greater than 250GK kg
Best Set 48 Inch Dining Table
Decok 3-Piece Dining Table Set
3-Piece Set
The best thing about this dining table is that it comes in a 3-piece set with two benches that match its design perfectly. The benches are specially designed to ensure that you can easily store them beneath the table. By doing so, you can create much more space inside your dining room.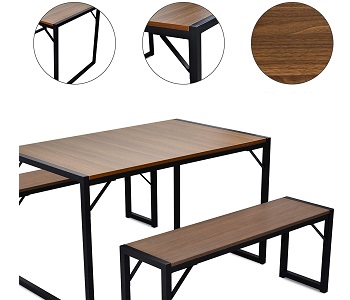 Seating Capacity
Because of the included benches, this set can comfortably seat between 4 to 6 people. However, by simply adding two additional chairs to both ends of the table you can seat up to 10 people and still have enough room for everyone.
Simple Setup & Low Maintenance
You won't have any trouble setting up this 48-inch kitchen table and the best thing is that you will need only about 30 minutes to assemble it. It also requires very little maintenance, meaning, you won't have too much trouble keeping it perfectly clean.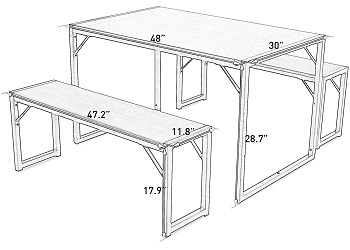 Affordable Price
Out of all models I reviewed in this post, this 3 piece high-top table set comes at the most affordable price. It costs around 150 dollars, meaning, it is the perfect choice for everyone who is looking for a more budget-friendly option.
Short Description:
a space-saving 3-piece dining set
seats 4 to 6 people comfortably
premium particle wood board and steel frame
table supports the load of up to 300 lbs
the benches support the load of up to 550 lbs each
very easy to assemble and maintain clean
What To Consider About The Best 48 Inch Dining Tables?
All of these 48in dining tables come with versatile beneficial features that make them an amazing choice for every household. Here is a short guide that might help you find the best model for your home.
Table Vs. Table Set – The first thing you need to know is whether you want to buy a table or a table set. If you already have dining chairs you like, go for a table alone. However, if you are renovating your dining room, a set might be a much more practical choice.
Seating Capacity – Another thing you should think about is how much seating capacity you need your table to provide. If you have a larger family, a bigger model, such as a 10-person extendable dining table, might be a better choice. The larger the table is, the more people it will be able to comfortably seat.
Spacious Surface – Always make sure that the table you chose to buy provides you with a spacious tabletop surface. This is very important when it comes to dining tables as well as coffee tables, work or prep tables, etc.
User-Friendly Features – All models I reviewed above come with some user-friendly features you can benefit from. For instance, they have a fully coated surface that is waterproof and fully resistant to wear damages, rotating bottom wheels that make the table much easier to move around, etc.
Price Range – Finally, you need to know how much money can you afford to spend on a 48-inch dining table you like. Models I reviewed above range between 150 and 4000 dollars to ensure that you can easily find the one that fits your set budget.