Are you looking for a high-quality pan that will help you make delicious waffles in stick shape and on a stick?
Then a waffle stick maker is just what you need!
Listed below, you can find my reviews of the top-rated models on the market. Check them out, learn all about their differences, and choose the best one.
The Rundown
Best 9 Waffle Stick Makers
Best Of Best Waffle Stick Maker
Hanchen Hot Dog Waffle Machine
Heating Performance
This waffle finger maker comes with multiple heating tubes that are precisely placed beneath the machine's cooking plates. They ensure amazing heat distribution. The machine also offers very simple temperature control. You can adjust it by simply rotating the control knobs on its front side.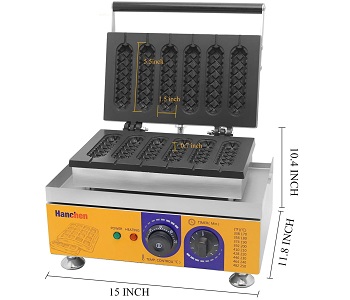 Easy To Clean
You won't have any trouble keeping this machine clean. It comes with a convenient pull-out drip tray that collects the excess batter that would usually drip onto your countertops. To learn more about its beneficial features, read my post about the best hotdog waffle makers.
Short Description:
201-grade stainless steel construction
coated non-stick cooking surface
comes with multiple heating tubes
powerful and even heat distribution
a wide adjustable temperature range
a convenient pull-out drip tray
requires very little maintenance
Best Lolly Waffle Stick Maker
NDHENG Lolly Stick Machine
Simple Performance
This hotdog waffle maker provides a very simple performance. Everything you need to do is plug it in and give it a few minutes to heat up. Once it does, add your waffle batter, close the lid, and wait for your waffles to get that crispy texture. To learn more about its performance, click on the enclosed link.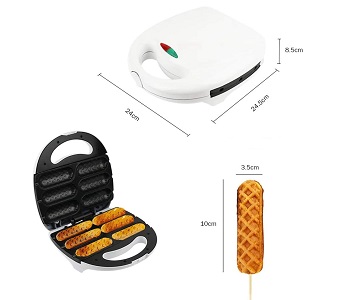 Heat-Resistant Handles
You don't have to worry you might suffer a heat burn while using this stick lolly waffle maker. Its handles are specially designed to ensure that they remain cool to touch throughout the cooking process. They also have a locking mechanism that ensures you don't have to stand next to the machine all the time.
Short Description:
very simple plug-in design
heat-resistant cool-touch handles
a convenient locking mechanism
requires very little storage space
Best Commercial Waffle Stick Maker
Cgoldenwall Commercial Electric Machine
Simple Controls
This commercial waffle stick iron also comes with a very simple control panel. It features simple temperature and timer controls. To adjust them to your needs simply rotate the control knob in the desired direction. Once set, just let the machine heat up, add your batter, and wait for the timer to go off.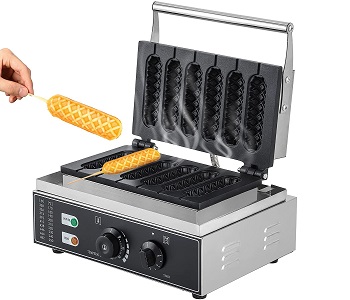 Efficient Results
Due to its double-sided sealed heating system, this model will provide you with efficient results in a very short time. It is specially designed to provide great heat distribution throughout both cooking plates. To learn more, read about commercial waffle makers and find out if this model is the right fit for you.
Short Description:
high-quality stainless steel design
double-sided sealed heating system
simple temperature and timer control
time-efficient cooking performance
built-in "power" and "ready" indicator lights
Best Mini Waffle Stick Maker
Babycakes 4 Mini Waffle Maker
Convenient Size
This 4 piece mini waffle maker comes in a somewhat smaller size that makes it highly convenient for use in smaller kitchens. It takes up a small amount of storage space, meaning, you will be able to keep it inside your kitchen drawers. Read more about its design by clicking on the enclosed link.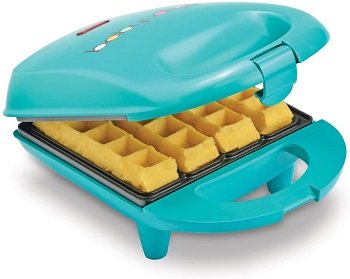 Affordable Option
When compared to the rest of the models, I reviewed in this post, this mini stick waffle maker comes at the most affordable price. This makes it a great choice for everyone who is looking for a more budget-friendly option on the market.
Short Description:
simple electric plug-in design
provides a 4 small waffle stick capacity
cool-touch handles with locking mechanism
comes at a more affordable price
Best Frozen Waffle Stick Maker
Disney Frozen Sisters Waffle Maker
Anna & Elsa Design
This is the only waffle machine that features a Disney cartoon design. It comes with a picture of Elsa and Anna from Frozen. This makes it a great choice for those whose kids love watching Frozen. If you like this model, find out more about it in my post about the best Disney Frozen waffle makers.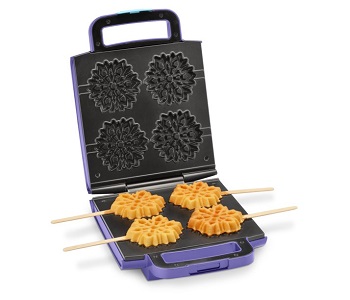 Waffle Capacity
Due to its size, this Frozen waffle sticks maker can also make 4 small waffles. The main difference between this and previously reviewed models is that this one doesn't make waffles in the shape of small sticks. It makes small snowflake-shaped waffles you can cook on a stick by placing sticks into the built-in grooves.
Short Description:
Frozen themed Anna & Elsa design
makes snowflake-shaped waffles
comes with a power light indicator
built-in grooves for sticks
Best Home Waffle Stick Maker
J-JATI Waffle Corn Dog Maker
Simple Design
This is another waffle stick iron that features a very simple design. It features a simple plug-in design and comes with convenient "power" and "ready" light indicators that will inform you whether the machine is in its heating mode or is ready to use.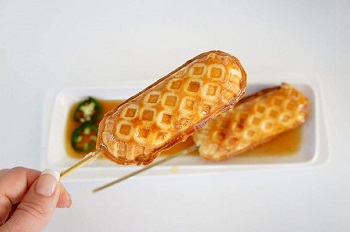 Low Maintenance
Note that this machine requires very little maintenance. Its cooking plates are fully coated and prevent your food from sticking to them. Because of the coat, you can easily clean them using simply a damp kitchen cloth. Read more about the best hotdog waffle makers and find a model that works the best for you.
Short Description:
a simple plug-in design
"power" and "ready" light indicators
fully coated non-stick cooking plates
makes up to 6 small sticks at once
requires very little maintenance
Best Stainless Steel Waffle Stick Maker
DNYSYSJ Hotdog Waffle Maker
High-Quality Construction
This is another model that features high-quality stainless steel construction. It comes with very simple temperature and timer controls and has a fully coated cooking surface with exceptional non-stick properties. Learn all about the beneficial features this model has to offer in my post about the best waffle makers with a timer.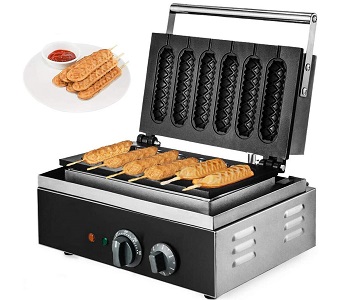 Cooling Vents
What makes this waffle stick machine such an amazing choice for professional use are its built-in cooling vents. Because of them, the machine won't start to overheat due to the continuous us and it will easily withstand the high demands of professional kitchens.
Short Description:
professional-grade stainless steel design
offers exceptional quality and high durability
built-in powerful 1500W heating element
coloring vents for continuous use
comes with temperature and time controls
built-in user-friendly light indicators
Best Stovetop Waffle Stick Maker
Nordic Ware Dippers Pan
Cast Aluminum Construction
This is the only waffle dipper maker in this post that is entirely made out of cast aluminum material. The great thing is that aluminum is highly conductive so you can count on even heat distribution throughout both plates. The only thing you need to do is make sure that you constantly move it over the heating surface.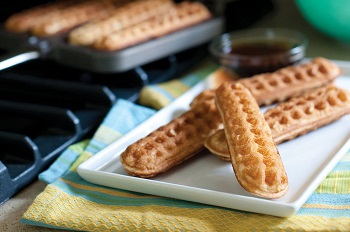 Food Grade Coat
Just like the rest of the listed models, this one also comes with a non-stick coat. The important thing is that it is entirely made out of food-grade materials and doesn't contain any harmful PFOA-s. For more information about its design, check out my post about the coolest waffle makers on the market.
Short Description:
highly conductive cast aluminum design
fully coated non-stick PFOA-free cooking plates
compatible with electric, ceramic, and gas stovetops
not compatible with induction stovetops
Best 4 Piece Waffle Stick Maker
Holstein Housewares Waffle Maker
Portable Design
Due to its design, this 4 mini waffle maker is very convenient for transportation. It comes with cool-touch locking handles that make it very easy to carry around. To learn more about its design and the beneficial features it offers, click on the enclosed link.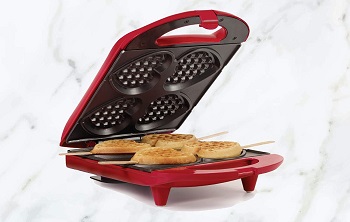 Built-In Stick Grooves
This waffle stick iron machine also doesn't create stick-shaped waffles but has built-in stick grooves. If you want to achieve a perfect heart-shaped waffle on a stick simply add a somewhat smaller amount of batter into the grids, place a waffle stick so it fits into the groove and is covered in batter, and add the remaining batter.
Short Description:
comes in a convenient portable size
four heart-shaped waffles capacity
fully coated cooking plates
offers locking cool-touch handles
takes up little storage space
What To Consider About The Best Waffle Stick Makers?
All listed waffle dipper makers provide great cooking performance. Here are some things you should keep in mind when deciding which one is the right fit for you.
Stick Maker/Machine With Sticks – Most of the listed machines are waffle stick irons that make stick-shaped waffles you can dip into versatile toppings. However, two of them create different shaped waffles and provide you with the possibility of adding sticks to them.
Professional or Home Use – Another thing you should think about is whether you want to buy a machine for professional or home use. If you decide to buy a commercial waffle maker you need to make sure that it features a design of exceptional quality and has a powerful heating system.
Heat Conductivity – For you to achieve the perfect waffles you need to have a waffle stick maker with highly conductive heat plates. Cst iron and aluminum are highly conductive materials, provide amazing heat retention, and ensure even cooking results with no burned spots.
Machines Portability – If you want a machine you can easily carry around on your camping trips, you might take its size and portability into consideration. For instance, small waffle makers are a much more convenient choice if you are looking for a cush model.
Safety Features – There are some safety features you can look for when choosing the best waffle stick machine. For instance, the listed models come with heat-resistant cool-touch handles, have a non-slip bottom base that keeps the machine in its place, etc.
To Wrap It Up
Has this post helped you find the best waffle stick maker? If you are still having second thoughts, check out my post about the best waffle makers on the market and find the right high-quality waffle pan that meets your needs perfectly.