Are you having trouble finding the best stovetop panini press?
Then this post might help you with your decision!
I reviewed six of the best models that are currently available on the market. Read about their design, compare their beneficial features, and find my advice on what are the features you need to pay attention to when buying a stovetop model.
The Rundown
Best 6 Stove Top Panini Presses
Best Of Best Stovetop Panini Press
BulbHead Panini Maker
Induction Plates
This stovetop panini press comes with dual aluminum induction plates that are designed to provide powerful and even heat distribution throughout both sides. That means that you will get the most perfect baking results with every single use.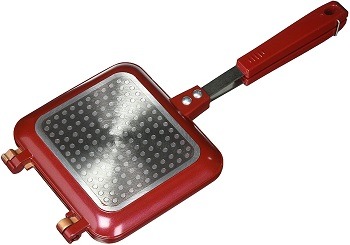 Riveted Handles
Another great thing about this panini press is that it features very strong and durable riveted handles thanks to which you will be able to easily flip the unit on the other side. It also has a handle clip that locks the two sides tightly together to ensure that nothing falls out of it.
Copper Coat
You won't have to add any additional oil to your food while cooking on this panini press. It features a high-quality copper-infused non-stick coat that provides additional value to the unit and requires very little maintenance.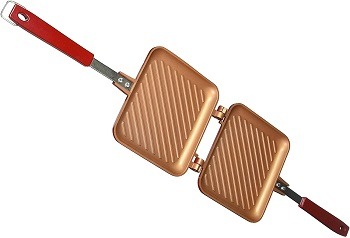 PFOA And PTFE-Free
The best thing about this stovetop panini & sandwich maker is that it is entirely made out of PFOA and PTFE -free materials. That means that it contains no harmful chemicals and that it is perfectly safe to be used with food.
Short Description:
dual aluminum induction plates
two twin interlocking plates
highly durable riveted handles
handle clip for a tight lock
high-quality non-stick copper coat
scratch resistant coat for additional durability
made out of PFOA and PTFE-free materials
Best Cast-Iron Stovetop Panini Press
Jean-Patrique Sandwich Maker
Cast Iron Construction
This is the only stovetop panini press on this list that is made out of high-quality cast iron material. This is a great thing because it means that it is highly durable. However, note that you should never soak cast iron inside the water for a long time.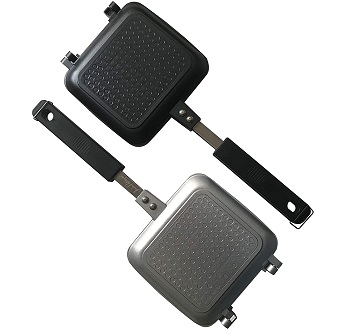 Ideal For Indoors & Outdoors
Another great thing about this panini press is that it is an ideal choice for both indoor and outdoor activities. Since it is made to be used on gas stovetop surfaces you can simply bring it on your camping trip and grill sandwiches over a portable gas stove.
Nonstick Coat
Both cooking plates of this panini press come with a high-quality non-stick coat. Be careful not to damage the coat with different utensils because you might accidentally damage it. If this happens, the food will start to stick to the cooking plates and the coat won't be as functional anymore.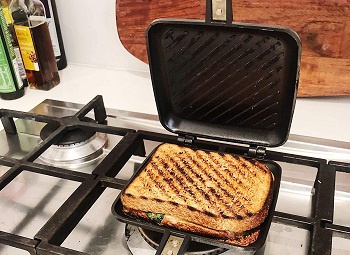 Simple Cleanup
Thanks to its nonstick coat, this stovetop sandwich press will be super easy to clean. Everything you need to do is wait for it to completely cool down, wash it with clean water, and dry it up thoroughly.
Short Description:
entirely made out of cast iron material
designed for use over gas stovetops
great for both indoor and outdoor cooking
features a highly durable non-stick coat
requires very little maintenance
Best Waffle Stovetop Panini Press
VolksRose Waffle Maker
Waffle Maker
This stovetop panini press is actually a waffle maker. It is designed out of aluminum alloy which provides durability and additional quality to the unit. It will help you make perfectly shaped waffles no matter where you are, at home or outdoors.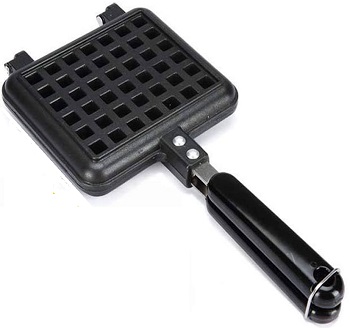 Heat Conduction
The best thing about this panini press is that it will provide you with amazing heat conduction. Thanks to that feature both sides of this waffle maker will quickly heat up to the perfect temperature and ensure a powerful bake.
Teflon Coat
Both cooking trays of this waffle maker are completely covered with a high-quality Teflon coat. That means that you never have to worry that your waffles might stick to the cooking surface. It also makes this unit much easier to clean and maintain over time.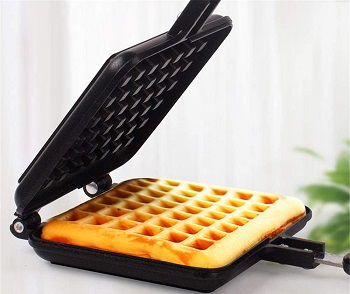 Affordable Price
This stovetop panini and sandwich maker comes at the most affordable price out of all the listed modes. It costs around twenty dollars which makes it a great choice for everyone who doesn't want to spend too much money on a waffle maker.
Short Description:
thick cast aluminum alloy material
specially designed for baking waffles
offers amazing heat conduction through both sides
highly durable Teflon coat
Best Large Stovetop Panini Press
TINTON LIFE Sandwich Toaster
Large Surface
This stovetop panini press will provide you with the largest cooking surface of all of the listed models. Thanks to that feature you will be able to make multiple paninis at the same time or even cook different meals on open surfaces.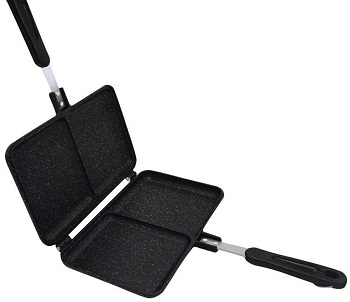 Easy To Use
Because of its highly practical design, this panini press is very easy to use. Everything you need to do is place your sandwiches on the bottom part of the unit, cover it with the lid, and lock the two sides together. Remember to flip the pan every once in a while to ensure that both sides get heated evenly.
Safe To Use
You can be sure that this panini press is completely safe to use. Once you lock the two sides nothing will leak out of the unit. Additionally, the handles are covered to ensure that you don't accidentally suffer a heat burn.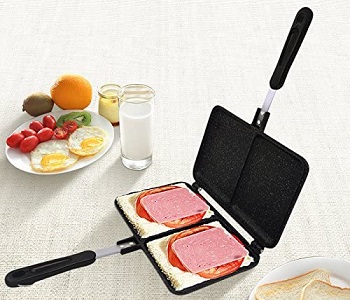 Using Tips
Before you start to use this stovetop panini & sandwich maker you need to pour water inside the pan, let it boil up, and pour it out of the pan. After that, simply dry the pans thoroughly and cover them with a thin coat of edible oil. Once you've done that the pan will be ready to use.
Short Description:
provides a large cooking surface
made out of high-quality aluminum alloy
strong and even thermal conductivity
provides oil temperature control
completely safe food-grade material
Best Small Stovetop Panini Press
Bawloo Panini Press
Small Size
A great thing about this stovetop panini press is that it comes in a highly practical small size. You will be able to make only one sandwich at a time but because of its size, you will be able to take it on your camping trips and use it anytime you want.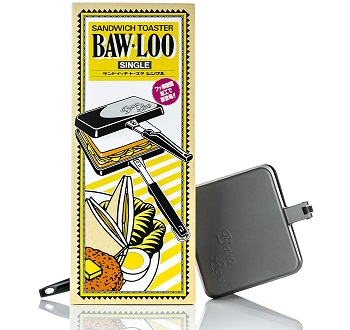 Coated Surface
This panini press features aluminum material construction which has an additional Teflon coat on the cooking surface. Thanks to this feature your food won't stick to the cooking surface and you will be able to simply wipe it clean afterward.
Easy To Store
You won't have any trouble finding the perfect storage space for this small panini press. It will perfectly fit into your kitchen cabinets. However, if you can't make enough room for it, you can also detach the handles and reattach them the next time you use the unit.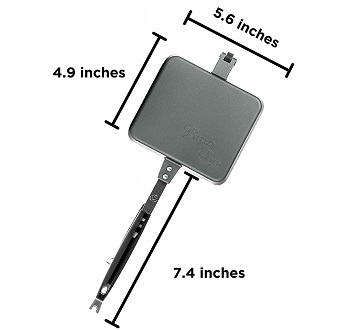 Compatibility Of The Unit
Note that this stovetop sandwich press is compatible with any kind of gas stove. This feature can come in very handy because it means that you can use it both indoors and outdoors. However, note that it is not compatible with induction stovetops.
Short Description:
highly practical small size
aluminum material with Teflon coating
compatible with all gas stovetops
not compatible with induction stovetops
Best Panini Pan Stovetop Panini Press
Calphalon Panini Pan&Press
Pan And A Press
Unlike other models in this post, this stovetop panini press features a separate pan and press design. That means that if you want to make the perfect pressed panini, you need to place it inside the loan and press it down with a specially designed lid that comes with it.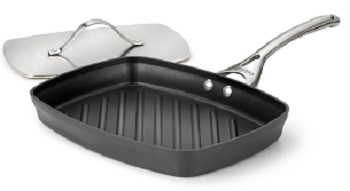 Multipurpose Use
The best thing about this panini press is that it is specially designed for multipurpose use. You can use it as a pan and grill burgers and meat, use the press to make perfectly pressed paninis, or place it inside your oven. It can withstand oven temperatures up to 450 degrees.
Stainless Steel Handle
Thanks to the stay-cool stainless steel handle, you never have to worry that you might get burned due to heat transmission. The handle is designed to ensure that it stays out of the way of direct heat to ensure that you can easily handle the pan.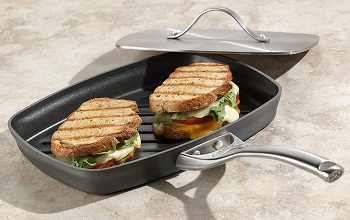 Quick Cleanup
Because of its design and high-quality coat, this stovetop panini and sandwich maker is very easy to clean. The best thing is that both the pan and the press are safe to clean inside the dishwasher. Make sure that you thoroughly dry them up once they are clean.
Short Description:
hard-anodized aluminum nonstick design
ridges for grilling and searing
specially designed for multipurpose use
oven-safe up to 450 degrees
highly durable stay-cool stainless steel handle
both pieces are dishwasher-safe
What To Consider About The Stovetop Panini Press?
Unlike the electrical models you can find on the market, stovetop panini press models are specially designed for stovetop use. They don't come with built-in heating elements but rather use the heat that your stove provides and transmit it throughout the unit. Here are some features you should keep in mind when looking for the best model.
Size And Capacity – The first thing you need to consider is the size and the capacity of the panini press you want to buy. Depending on what kind of model you need, you can choose from small models that can bake one panini at a time to large panini press models that can cook two or four sandwiches at the same time.
High-Quality Design – Before you purchase a panini press make sure that it features a high-quality design that will ensure its long life-span. Stainless steel models provide the most value for the money, but you can also find amazing cast iron and aluminum models.
Heat Conduction – Always check the heat conduction that the panini press provides. The best models will disperse heat evenly throughout both cooking plates ensuring perfect cooking results.
Durable Coat – Another great thing you definitely want your panini press to have is a durable non-stick coat. Also, you can look for models that offer scratch-resistant coats to ensure that your panini maker doesn't get damaged over time.
Stove Compatibility – The last but just as important thing you need to check before you buy a stovetop panini press is its stove compatibility. Some models are only compatible with induction stovetops while the others are specially designed for gas stovetops.