Have you been looking for the best mini indoor grill?
Then keep reading this post!
I found, reviewed, and compared six of the best models that are currently available for sale. Check them out and find a model that accommodates your needs the most.
The Rundown
Best 6 Mini/Small Indoor Electric Grills
Best Of Best Mini Indoor Grill
CalmDo Smokeless Indoor Grill
Heating Element
This mini indoor grill comes with powerful double U-shaped heating tubes that provide 1000 Watts of power. They will generate the heat and transfer it evenly to the grilling surface. Thanks to this feature you will get perfect cooking results with every single use.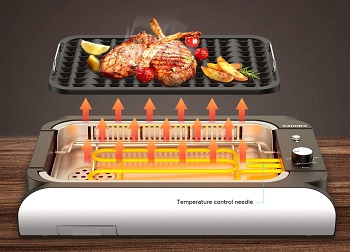 Temperature Settings
Another great thing about this grill is that it provides you with three different temperature settings that include 176°F, 320°F, and 446°F. To switch between them simply rotate the small temperature knob in the desired direction. Keep in mind that you should let the unit preheat for about three or four minutes before you start to use it.
Powerful Smoke Extraction
A combination of the specially designed airflow technology and the powerful smoke extraction fan will ensure that you can enjoy a completely smokeless cooking performance. The grill will filter the smoke and dispose of it through the smoke outlet.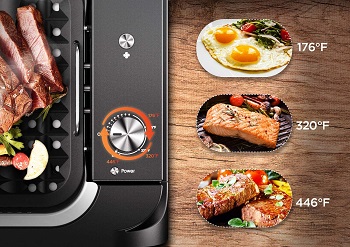 Overheat Protection
The important thing about this indoor grill griddle combo is that it provides overheat protection. The included temperature needle is specially designed to automatically stop the heating process if the temperature of the grill becomes too high.
Short Description:
powerful 1000 Watt heating element
three different temperature settings
grill and griddle cooking plates
specially designed airflow technology
high-quality 3200rpm smoke extraction fan
overheat protection temperature needle
the completely removable bottom drip tray
Best Smokeless Small Electric Grill Indoor Model
BBday 10In1 Indoor Grill
Digital Control Panel
This small electric grill indoor model features a user-friendly digital control panel with touch controls. It is located on the front side of the unit to ensure that you can easily change the settings whenever you want or need.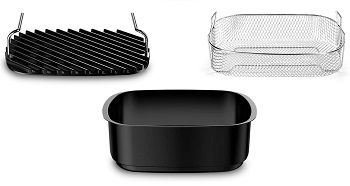 Multipurpose Use
Because of its highly practical design, you will be able to use this grill for different purposes. You can use it to roast your food, grill, bake, air fry, dehydrate, etc. It will provide amazing cooking results no matter which setting you choose.
Cyclonic Heating Technology
As opposed to the rest of these models that use direct heat from the heating tubes, this indoor grill with free air fryer uses cyclonic heating technology that fully surrounds the food inside the unit. Thanks to this feature your food will be perfectly cooked on the inside and crispy on the outside.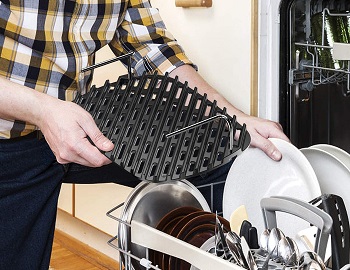 Smokeless Performance
Since this grill comes with a closing lid it will keep all the delicious flavors and smoke particles inside the unit. This feature makes it an amazing choice even for the smallest kitchens and apartments.
Short Description:
digital control panel with touch controls
specially designed for multipurpose use
cyclonic heating technology
completely smokeless cooking performance
durable stainless steel housing
Best BBQ Small Indoor Grill
Hamilton Beach 25361 Indoor Grill
Searing Heat
This small indoor grill provides you with a high searing heat that will lock in all the delicious juices and flavors inside your food. If you want to change it, you can simply turn the small temperature knob and adjust the temperature according to your likings.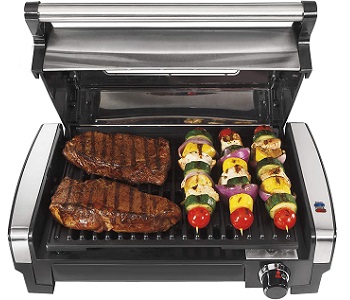 See-Through Window
Another convenient feature of this smokeless barbecue grill is its see-through window that is located on the top of the grill's lid. It will allow you to keep an eye on the cooking process without opening the lid and losing all the delicious flavors inside it.
Large Drip Tray
The extra-large drip tray that comes with this grill is precisely placed beneath the cooking surface to ensure that it catches all the excess fat that drips away from your food. Once you are done using the grill simply dispose of the accumulated fat and clean up the drip tray.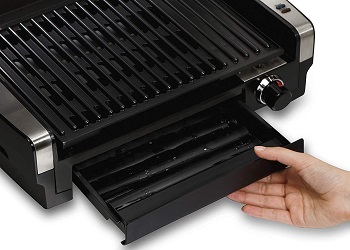 Quick Cleanup
You won't have any trouble cleaning up this grill. The grill hood, cooking plate, and drip tray are completely removable and even safe to clean inside a dishwasher. Thanks to this feature you won't have to waste your time cleaning the grill manually.
Short Description:
provides high searing heat
highly practical transparent window
comes with an extra-large drip tray
requires very little maintenance
Best Countertop Small Electric Grill Indoor Model
MaxiMatic EGL-3450GD Indoor Grill
Countertop Design
Just like the rest of the models, I reviewed in this post, this mini indoor grill also features a highly practical countertop design. It is also very easy to use. Everything you need to do is plug it into a power source, set the desired cooking temperature, and let the unit reach the set temperature.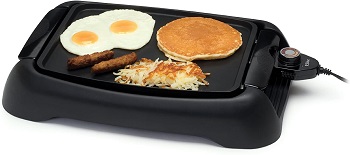 Non-Stick Coat
The entire cooking surface of this countertop electric grill is fully coated with a non-stick layer that keeps your food from sticking to the cooking plate. It also makes the cleanup process much easier. You will only need a soft kitchen towel to collect the leftovers from the plate.
Wide Temperature Range
Another great thing about this grill is that it features a wide temperature range between 195 and 445 degrees Fahrenheit. Thanks to this feature you will be able to get perfect cooking results whether you're cooking pancakes or searing steaks.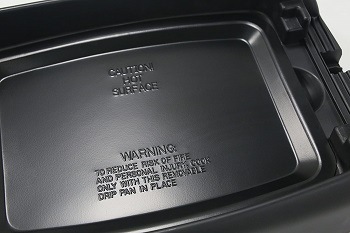 Built-In Grease Hole
The cooking plate also has a built-in grease hole that is designed to direct all the excess grease straight into the drip tray that is located beneath the cooking surface. Make sure that the fat cools down completely before you dispose of the accumulated fat to avoid the possibility of accidental heat-burns.
Short Description:
simple countertop design
fully coated non-stick cooking surface
adjustable thermostat for precise results
wide temperature range between 195 and 445°F
cool-touch handles and heat resistant base
Best With Removable Plates Mini Indoor Grill
Cuisinart GR-300WSP1 Grill
Large Cooking Area
Even though this indoor tabletop grill comes in a somewhat smaller size, it will still provide you with a large open cooking surface of 240 square inches. Thanks to this feature you will be able to cook a larger amount of food at the same time. Everything you need to do is open it up to 180-degrees.

Independent Controls
Once you open up the grill, you will be able to adjust temperature settings for each cooking zone independently. This will allow you to cook pancakes and eggs on one plate and sear steaks and burgers on high heat on the other plate.
Digital Display
The small user-friendly digital display will inform you about the current cooking temperature inside the grill. It also features a countdown timer that keeps a precise track of the cooking process and lets you know when your food will be done.

Adjustable Top Cover
The top cover of this small electric grill indoors features a fully adjustable design. Thanks to this feature you will be able to use this grill to make delicious top melts. It also locks in to ensure that you can easily find the perfect storage space for the grill.
Short Description:
digital display with temperature and time readings
completely adjustable 60-minute countdown timer
removable and reversible grill/griddle cooking plates
independent temperature controls for each cooking zone
height-adjustable top cover for multiple cooking options
highly durable brushed stainless steel housing
Best Portable Small Indoor Grill
George Foreman GRP4842P Indoor Grill
3In1 Design
This small indoor grill features a highly functional 3in1 multipurpose designs. You will be able to use it as a grill, panini press, or as a waffle maker. Everything you need to do is switch the cooking plates that come included with the grill.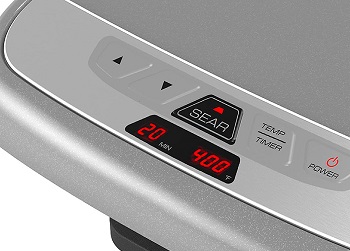 Simple Control Panel
Another great thing about this grill is that it comes with a simple control panel that allows you to set the desired cooking option, temperature, and time. To adjust these features simply press the "up" and "down" control buttons unit you reach desired setting.
Ceramic Coat
Both sets of cooking plates feature an advanced ceramic non-stick coat that simplifies both the cooking and the cleaning process. It is entirely made out of PFOA and PTFE-free materials that make it completely safe to use.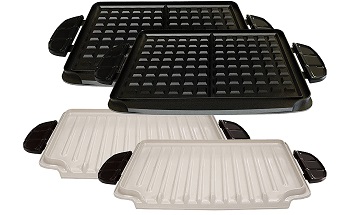 Easy To Transport
Since this grill also features a simple electric design, it is a perfect choice if you want to have a portable electric BBQ. You will be able to use it even in environments where charcoal and gas grills are forbidden due to safety hazards.
Short Description:
two sets of interchangeable cooking plates
simple control panel with small digital display
advanced multi-layer ceramic non-stick coat
completely PFOA and PTFE-free
adjustable angle tilt for different options
What To Consider About The Best Small Indoor Grills?
Small electric grills are specially designed to ensure that they can be used even in the smallest environments. They offer many amazing features but there are some you should pay additional attention to.
Construction Quality – If you want to have an electric grill that provides high quality and amazing durability, a stainless steel indoor grill is the way to go. It will provide high resistance to exterior damages, and as a result, have a much longer life span.
Cooking Capacity – Depending on the design of the small grill, you can easily find models that provide both small and large cooking capacity. The models that have a 180-degree adjustable top cover will allow you to easily create a much larger cooking surface.
User-Friendly Controls – Always make sure that the mini indoor grill you decide to buy comes with user-friendly controls that provide you with complete control over the cooking process. A wide temperature range will allow you to set the perfect cooking temperature while the adjustable timer will allow you to set the precise cooking time.
Non-Stick Properties – Non-stick indoor grills will provide you with much healthier and fat-free meals. However, you need to be careful to choose a grill that is coated with both PFOA and PTFE-free materials. That's why ceramic coated grills are a great choice.
Safety Features – There are some safety features you can look for in a grill. These include cool-touch handles, heatproof base, overheat protection, etc. If you need additional reassurance that the grill is perfectly safe to use you can even find models that come with safety certificates.