You're interested in Japanese toasters that come with minimalistic attire but amazing efficiency?
Great, then you're in the right place!
Today, we are bringing you 6 models designed and made in Japan. They are minimalistic but beautiful, and they provide a great toasting operation and experience. To ease up your search, we are talking about all their components. Read this post to find your new favorite toaster!
The Rundown
5 Best Japanese Toasters
Best Of Best Japanese Toaster
Muji MJ-PT6A Toaster
Impeccable Simplicity
The toaster comes in a simple but cute design. It looks like a little cube and it comes in all-white attire. Even the slots are in light silver color which almost equalizes with the white body. The design lines of this toaster are smooth and clean, while its workmanship is just impeccable.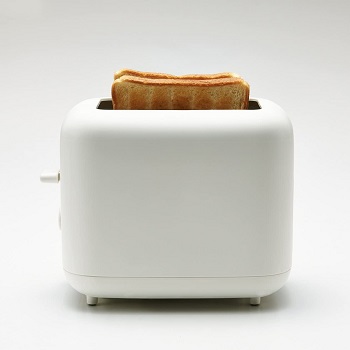 Suitable For Limited Spaces & Traveling
The dimensions of this Japanese bread toaster are 9.4 x 6.7 x 10.9 inches, while it weighs 2.7 pounds. This is a perfect compact toaster that is suitable for limited spaces such as smaller apartments, dorm rooms, motor homes, RVs, boats, and more. The toaster is also suitable for traveling.
Constructed Of Plastic
Of course, in order to withstand all the conditions, not only in your home but on the road as well, the toaster is constructed of great and strong materials. The body of this model is made of high-quality plastic, while the slots are, naturally, made of metal which is resistant to heat and high temperatures.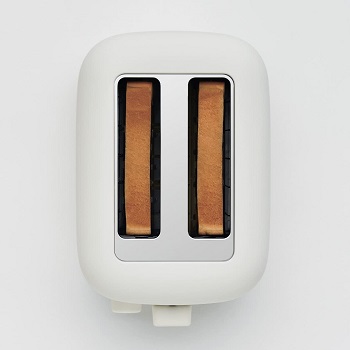 900 W For Imppecable Performance
The toaster's efficiency is impeccable thanks to its power of 900 W (low wattage is also great for caravans and camping). The toaster offers a classic toasting operation, but it perfectly toasts every desired ingredient. Thanks to its 2 slots, those ingredients can be bread, bagels, buns, and more.
6 Levels Of Crispiness
This Japanese toaster has 6 shade settings. That means that you can choose between 6 different levels of browning and crispiness. These levels are controlled by a simple knob. The toaster has a well-designed and quite high-lift lever with a pop-up system to ensure the safe removal of the hot toast.
Short Description:
simple but impeccable workmanship in white
compact in size so perfect fit for limited spaces
the body is entirely made of plastic, slots are made of metal
comes with 900 W to ensure impeccable toasting operation
2 slots are suitable for toasting bread, bagels, buns
6 shade settings and high-lift lever
Best Long-Slot Japanese Toaster
Twinbird D404W Toaster
Minimalistic Design In White
The toaster comes in a really minimalistic attire. Its body is in white color while its control settings are in light grey. The only pop of color comes from a polished silver slot. Thanks to its simplicity, the toaster fits any kitchen style, from minimalistic and modern to vintage.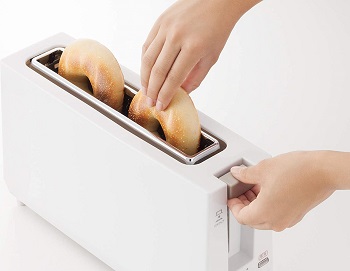 High-Quality Plastic Body
Of course, like any other Japanese bread toaster, this too is designed to last. Due to that, it is constructed of high-quality plastic. This material is great since it doesn't rust or break. The slots of this toaster are made of sturdy metal. Both plastic and metal are food-safe.
Slim Model For Narrow Space
The toaster comes in the dimensions of 4.33 x 14.57 x 8.27 inches, while its weight is 3.09 pounds. Due to that, this is a slim toaster that takes only a narrow space on your countertop. Also, despite its longer body, the toaster is suitable for traveling since it is slim and lightweight. This model comes with 950 W of power.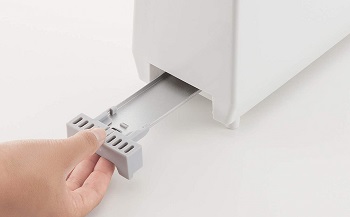 One Long & Wide Slot
The Japanese toaster has only one long and wide slot but it is suitable for toasting 2 thick slices of bread or 2 donuts, bagels, and more. With this model, you can also toast one larger slice. The toaster has 2 standard working modes and a cancel button in case you want to stop the toasting process before it is finished.
6 Levels Of Customization
Don't worry, this model offers toast customization too. It has 6 different levels of browning and crispiness so you can easily adjust the toaster to make toast according to your preferences. The toast pops up once it is done but use a lift lever in case you toast smaller slices. Also, this model comes with a crumb tray.
Short Description:
minimalistic design in white color with grey details
body made of plastic, slots made of metal
comes as a slim model suitable for narrow space and with 950 W
one slot suitable for 2 slices of bread, bagels, donuts
2 standard working modes, cancel function, 6 browning levels
a pop-up system with lift lever
Best Commercial Japanese Toaster
Taishi Conveyor Toaster
Classic Professional Design
The toaster comes in professional attire. It looks like a classic industrial model thanks to its impeccable workmanship and sleek design lines. The toaster comes in silver color with black and red details around its control settings. It has well-designed bottom feet in black.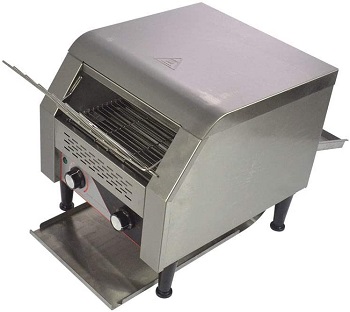 Commercial Durability
The commercial toasters need to come with a strong and durable construction so their material of the making is their key component. Due to that, this Japanese toaster is made of stainless steel, the best and strongest metal material on the market. Steel doesn't rust or break and it contributes to the toaster's great and commercial durability.
Good Big Size
The dimensions of this Japanese bread toaster are 21.7 x 17.7 x 17.7 inches, while its weight is 35.2 pounds. The toaster, of course, needs space for both using and storing but it presents a good-size model suitable for every professional kitchen, restaurant, sandwich bar, and more.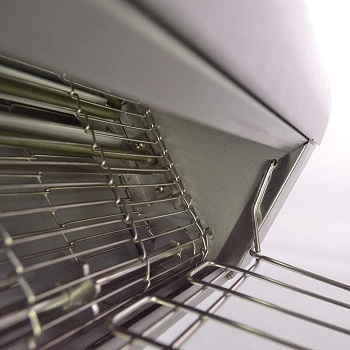 Adjustable Settings For Customization
In order to provide good toast customization, this industrial toaster comes with 7 different speed levels (also known as browning settings). Thanks to that, you can make toast according to your customers' and guests' preferences, from lightly toasted bread to medium and dark tones.
Safe And Stable
The toaster is designed to quickly and simply make great quantities of toast with perfect crispiness. Of course, it comes with good safety components too. It has a stable and safe steel construction, as well as 4 well-designed and height-adjustable feet which guarantee stability while toasting.
Short Description:
professional and industrial design in silver
constructed of high-quality and durable stainless steel
bigger in size but suitable for use in professional kitchens
7 speed levels (browning settings) for toast customization
4 adjustable feet ensure stability
Best Pop-Up Japanese Toaster
Iris Ohyama IPT-850-W Toaster
White & Silver Attire
The toaster looks quite elegant and modern. It comes with a body in 2 colors. Its two sides are in white, while its top section, front, and backside are in brushed silver. The toaster surely is minimalistic but it looks good and impressive. Due to its simplicity, it fits any kitchen style just perfectly.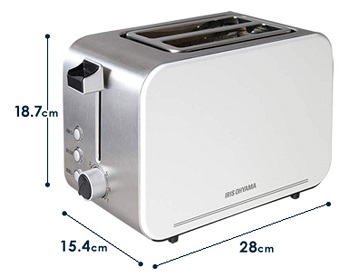 Small Space-Saving Model
The toaster comes in quite a small size. Its dimensions are 11 x 6 x 7.36 inches, while its weight is 3.08 pounds. This is a great space-saving toaster suitable for places with limited space. Due to that, it fits apartments, smaller kitchens, motor homes, RVs, dorm rooms, and more.
2 Metal Materials
Of course, this Japanese bread toaster is made of strong materials in order to provide great durability. Its 2 colored sides are made of chrome, while the rest of it (slots, front and backside) are made of sturdy metal. Both materials don't rust and they are resistant to heat and high temperatures.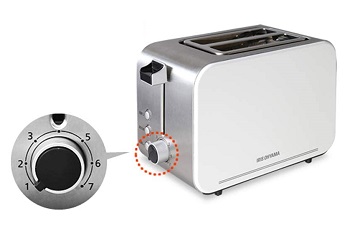 Low Power Of 850 W
In order to ensure amazing toasting performance, as well as a great toasting experience, the toaster comes with a power of 850 W. This is a low wattage toaster suitable not only for home use but for caravan and camping use as well. The toaster is designed to provide good and classic toasting operation.
Settings & Functions
This Japanese toaster has 2 basic modes of working and a cancel function. Besides that, it also has 7 shade settings in order to provide customization of the toast and its crispiness. The toaster's slots are wide enough to accommodate different types of bread, bagels, and buns.
Short Description:
modern and elegant design in white and silver
space-saving model suitable for limited spaces
made of metal materials in order to ensure good durability
low but suitable power of 850 W
basic settings and functions
suitable for toasting a variety of ingredients
Best Stovetop Japanese Toaster
Yoshikawa SJ2408 Toaster
Handheld Model With Good Workmanship
This is a classic handheld toaster. It comes with two coated handles and 2 pans, one is made for holding bread while the other one squeezes it in order to provide good toasting performance. The toaster comes in black color while the silver can only be found on the handles. The toaster's workmanship is good.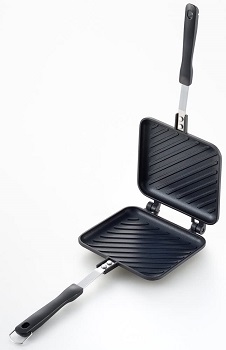 Made Of Aluminum Alloy
The Japanese stovetop toaster is made to withstand heat and high temperatures. It is entirely made of aluminum alloy. This is a high-quality and strong material that is suitable for toasters and besides that, it ensures the toaster's durability and long life.
Indoor & Outdoor Use
Thanks to its medium size, this Japanese toaster is suitable for both indoor and outdoor use. Its weight is 13.4 ounces so it is lightweight too. Due to these specifications, the toaster is portable and great for life on the road, camping, barbecuing, or just making a snack for your kids after school.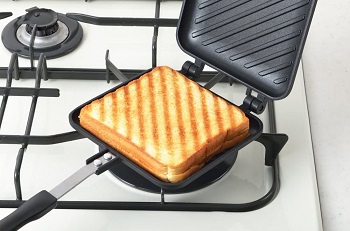 Requires A Gas Stove Or A Campfire
Since this is a manual toaster (it isn't an electric one and it requires a bit of your input for working and toasting), it needs a gas stove or a campfire to work. But thanks to that, you can use it basically wherever you are, just make sure you have a portable gas stove or you are capable of making a campfire (only when the conditions are safe).
Suitable For Bread, Bagels & Sandwiches
This portable toaster is well-designed and if fits bigger slices of bread and buns. It is also suitable for toasting a sandwich. Once you place your desired ingredient into a pan, close it with two handles and place this Japanese bread toaster above the stove or a campfire. Make sure to rotate it a couple of times. The toast will be done in a matter of minutes.
Short Description:
a classic handheld model in black
constructed of sturdy aluminum alloy
medium in size so suitable for both indoor and outdoor use
needs a gas stove or a campfire to work
suitable for toasting bread, sandwiches, and more
portable and suitable for life on the road and camping
What To Consider About Japanese Toasters
The Japanese brand toasters come with minimalistic and simple designs, but with great quality and efficiency. If you're wondering which technical specifications and components these models must have, read these guidelines and ease up your search!
Basic Info – these toasters are really minimalistic but their workmanship is quite impeccable. They are designed to offer a classic toasting operation so all the works go into their efficiency and technical components. Most of them are medium or smaller in size (besides commercial models) so they are suitable for places with limited space. Also, thanks to their simplicity, the Japanese bread toasters fit any kitchen style.
Pricey Models – however, these models may have minimalistic attires, but their efficiency certainly costs. While handheld models go for a bit affordable prices ($27.88), the classic and commercial toasters go from $77.14 to $358.00. The Japanese toasters are expensive but as it is already said, they are designed to be efficient.
US Suitability – of course, you need to check the toasters' voltage because most of these models are made for the Japanese market but they can be adjusted to the US. Since the voltage is higher in the US (around 240 V), and most toasters made by Japanese brand come with around 100 V, you need a transformer to adjust the voltage power.
Electric Or Manual – the electric toasters are great because they are easy to use and they have great components for customization of the toast. They also come with low wattage so they are suitable for home use, as well as for camping, RVs, and caravans. The manual models are great for both outdoor and indoor use but they require your input for toasting. Choose a model that fits your lifestyle and needs.
Power For Good Toasting Process – electric toasters need good power in order to be efficient. Due to that, choose an expensive toaster that comes with power from 850 W to 950 W. This power range is the best for great toasting operations.
To Wrap It Up
The Japanese toaster that surely stands out is the Iris Ohyama IPT-850-W toaster. This model comes with a modern and elegant design, and it has 850 W of power in order to ensure great toasting performance and experience. Due to its low wattage, it suitable for home use, as well as for camping trips and caravans. The toaster has basic workings modes and browning settings, and it costs $80.73. If you're looking for Italian models, read this post about Italian toasters. If you're interested in luxury models, check out this post about high-end toasters.