Are you interested in buying a Taiyaki machine?
Then this post might help you find the perfect one!
Listed below, you will find my reviews of the six best models that provide many beneficial features. Check them out, compare their designs and prices, and choose the one that accommodates your needs the most.
The Rundown
Best 6 Taiyaki Machines – Fish Waffle Makers
Best Of Best Fish Waffle Maker
ALDKitchen Fish Shaped Waffle Machine
High-Quality Construction
This fish waffle maker features highly durable construction. It is made out of high-quality 201-grade stainless steel material that is highly resistant to all sorts of exterior damages. It has an additional handle that will make the lid much easier to open and it will prevent any possibility of heat burns.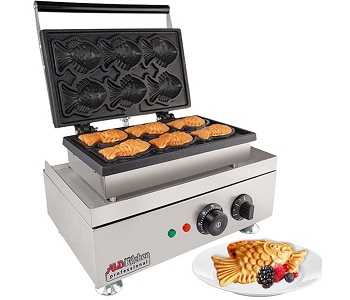 Thoughtful Design
Another amazing thing about this unit is that its baking pan is completely separated from the bottom of the machine. Thanks to this feature the heating plates won't transmit the heat to other internal elements of the waffle maker.
Fully Coated Plates
The cooking plates of this stainless steel waffle maker are fully coated with a non-stick layer that ensures a very simple removal of cooked waffles. Also, this feature makes the cooking plates very easy to clean. Simply wait for the plates to cool down and wipe them up with a clean towel.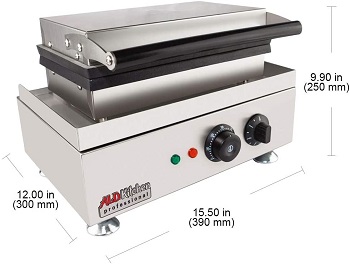 Pull-Out Drip Tray
You don't have to worry that you might create an additional mess if you add too much waffle batter. The entire surface of the cooking plates is surrounded by a simple pull-out drip tray that collects all the excess batter that drips away from the unit.
Short Description:
offers highly durable construction
high-quality 201-grade stainless steel material
fully coated Teflon non-stick plates
makes 6 fish waffles at once
temperature and time control
a simple pull-out drip tray
built-in power and ready light indicators
Best Commercial Taiyaki Machine
HYDDNice Taiyaki Waffle Maker
Commercial Design
Just like the previous model, I reviewed in this post, this Taiyaki machine is also the perfect choice for commercial use. It is also made out of highly durable stainless steel material that is resistant to scratches, spill stains, dents, and even rust and corrosion.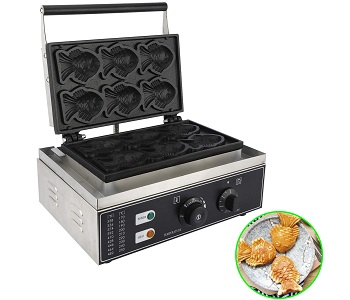 Temperature And Time Controls
The best thing about this commercial waffle maker is that it provides you with both temperature and time controls. That means that you will be able to adjust its performance according to your needs. Simply turn the temperature knob and wait for the unit to reach the set cooking temperature.
Indicator Lights
The built-in indicator lights are specially designed to let you know when the unit is ready to use. Once you plug the waffle maker into the power source, the power indicator light will light up letting you know that it is on. The red indicator will let you know when the unit reaches the set cooking temperature.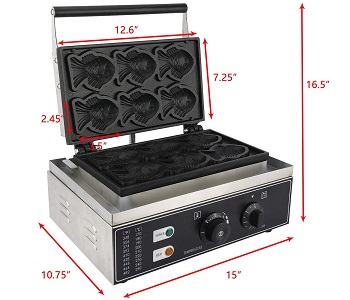 Cooling Vents
You never have to worry that this commercial Taiyaki maker might start to overheat. It has specially designed cooling vents on both left and right sides of the unit that ensure that the heat is evenly dissipated throughout the cooking plates.
Short Description:
highly durable stainless steel construction
temperature control up to 480°F
heat-resistant handle for safe use
adjustable timer up to five minutes
power and heat indicator lights
built-in cooling vents on both sides of the unit
Best Stovetop Taiyaki Maker
Blawicat Waffle Pan
Easy To Use
This Taiyaki waffle maker is very easy to use. Everything you need to do is heat both cooking plates evenly and fill the two cooking molds. Once you do that. simply close the top plate down and lock the two handles together.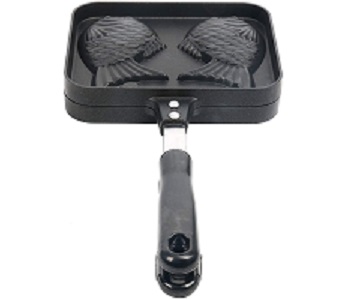 Stovetop Design
Unlike the previous two models, this waffle maker features a stovetop design. That means that you will need to control the amount of heat that is distributed between the two cooking plates. You need to flip the cooking plates over a few times to get the most perfectly cooked waffles.
Comfortable Handles
The two handles are made out of stainless steel material that is coated in a plastic shell. Thanks to this feature you will be able to have a firm grip on both handles and you won't have to worry about getting an accidental heat burn.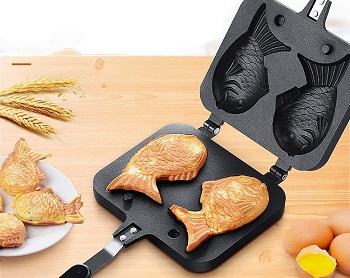 Stovetop Compatibility
Note that this stovetop waffle iron is compatible with all fuel gas stoves. However, it is not meant to be used over induction cookers. You can use it at home or take it on your camping trips and use it over a portable gas stove.
Short Description:
made out of aluminum alloy
fully coated non-stick interior
two plastic-coated stainless steel handles
compatible with all kinds of fuel gas stoves
not designed for use over induction cookers
Best Cast Iron Taiyaki Waffle Maker
Pearl Metal Cast Iron Taiyaki Pan
Cast Iron Material
This is the only fish waffle maker on this list that is made out of cast iron which is one of the hardest and strongest materials that are used in making kitchen appliances. This is an amazing feature because it means that you will get your money's worth and be able to enjoy its long life span.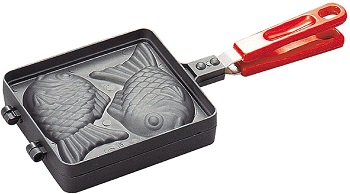 Non-Stick Surface
Like all of these models, this cast iron waffle maker also has fully coated non-stick cooking plates. Thanks to this feature this unit will be very easy to clean. Everything you need to use is a soft kitchen cloth. Never use harsh cleaning wire because you will scratch and damage the cooking surface.
Short Handles
Since this unit comes in a somewhat smaller size it also has a bit shorter handles. They are fully covered with a heat resistant layer to ensure that you can easily flip the cooking plates when needed.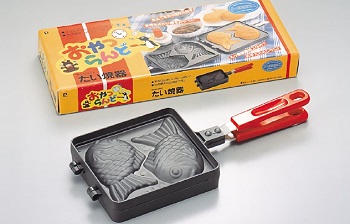 Maintenance Tips
There are some things you can do to ensure that this waffle maker doesn't lose its non-stick properties. First of all, you need to be careful not to damage the coat during the cleaning process. Also, you can coat it every once in a while with a thin layer of cooking oil you usually use.
Short Description:
features a somewhat smaller design
made out of cast iron material
fully coated non-stick cooking surface
requires very little maintenance
Best Open Mouth Fish Waffle Maker
Mophorn Taiyaki Maker
Durable Exterior
The amazing thing about this simple electric waffle iron is that it features a highly durable exterior housing. It consists of an inner rustless layer, a middle reinforced layer, and a thickened outer layer that ensures that nothing damages the unit.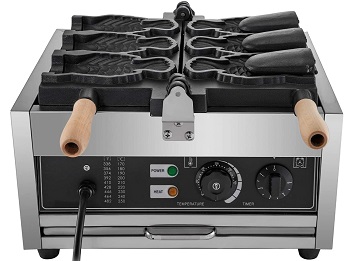 Open-Mouth Fish Design
As opposed to other models in this post, this one is specially designed to make open-mouth fish waffles. This is what makes it such a great choice for food bars and waffle carts. It will leave you with just the right amount of space to ensure that you can add a few scoops of ice-cream.
User-Friendly Controls
This Taiyaki machine comes with some user-friendly controls that will help you adjust its performance according to your needs. It has a time and temperature control knob that allows you to set the perfect browning level.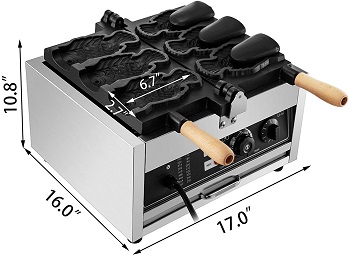 Residue Collecting Drawer
Another great thing about this open-mouth fish waffle maker is that it has a residue collecting drawer on the bottom of the unit. It is designed to collect all the extra oil and the excess batter that might drip away from the cooking plates. The drawer has an ergonomic handle to ensure that you can easily pull it out when needed.
Short Description:
strong stainless steel housing
makes three open mouth fish waffles
user-friendly temperature and time controls
two heat resistant wood handles
highly practical residue collecting drawer
Best Mini Taiyaki Machine
StarBlue 3In1 Taiyaki Maker
Small Size
This Taiyaki waffle maker comes in a somewhat smaller size but it offers pretty much the same features as other models on this list. It has fully coated non-stick cooking plates, features a simple locking mechanism, has ready and power indicator lights, non-slip bottom feet, etc.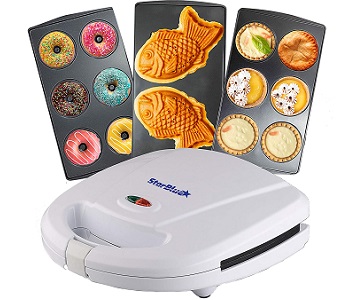 Interchangeable Plates
All of the included cooking plates are completely removable and interchangeable. They are designed to make two fish-shaped waffles, six mini pies, and six mini donuts. It is the perfect choice for everyone who wants a small appliance that will help them cook a versatile breakfast.
Detachable Design
This mini Taiyaki makers cooking plates are very easy to assemble and to completely detach. Simply push the small button that is located just above the cooking plate, take it out, and replace it with the desired one. This feature also makes the plates much easier to clean.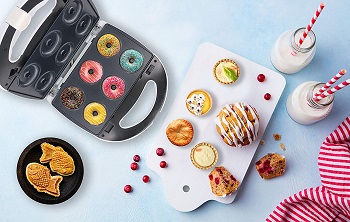 Easy To Store And Transport
Because of its size and simple handle design, this multiple mini waffle maker will be very easy to store and to transport around. You can even take it on your camping trips and use the waffle maker anytime you want. The only thing you need to have is a power source.
Short Description:
features somewhat smaller size
three sets of interchangeable plate designs
completely removable cooking plates
ready and power indicator lights
easy to store and transport
non-slip bottom feet for additional stability
What To Consider About Best Taiyaki machines?
These Taiyaki machines are specially designed to help you make the most perfect fish-shaped waffles. They offer some pretty great features but there are some things you need to pay attention to when deciding which one you want to buy.
Size And Capacity – The first thing you need to know is how big of a waffle maker you want to buy. As opposed to smaller models, large waffle makers will allow you to cook multiple waffles at once. They are a great choice if you need a unit for professional use.
Intended Use – Another thing you need to consider is what you want to use the waffle maker for. If you need a professional waffle maker, stainless steel units are the best way to go. The most common plastic or stovetop ones are much better for home use than for professional environments.
Non-Stick Properties – To avoid troubles with cooking performance, make sure that you buy a waffle maker that has fully coated non-stick cooking plates. However, non-stick coats usually contain Teflon components so make sure that you look for a model that is entirely PFOA and PTFE-free.
Temperature & Time Controls – If you want the ability to control the temperature level and the cooking time, choose a model that offers these simple controls. They will ensure a much more convenient use and simpler performance.
Electric Or Stovetop – There are a lot of different waffle irons available for sale. The main difference is usually whether they fit in the stovetop or electric category. No matter which one you choose to buy you should check that it offers all of these listed features.