Are you interested in learning more about the best electric salamanders?
Then you are in the right place!
Listed below, you can find my reviews of the best four models that are currently available on the market. I also added a short guide about their functions and features to ensure that you can find the perfect model.
The Rundown
Best 4 Electric Salamander Broiler Grills
Best Of Best Electric Salamander
Adcraft SAL 17-Inch Salamander
Vertical Movement
The best thing about this electric salamander is that it has an upper stainless steel housing that provides vertical movement from 8 to 2. 75 inches. Thanks to this feature you will be able to adjust the height of the heating element based on the thickness of your ingredients.
Polished Reflectors
The polished reflectors that are precisely placed above the heating element are specially designed to radiate the heat towards the cooking surface. This feature ensures that your ingredients will get a good heat coverage all around.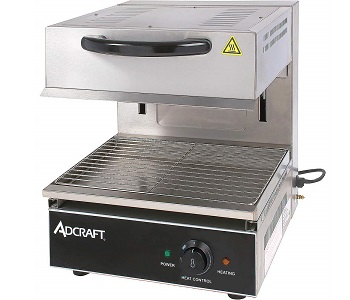 Heat Control
Another great thing about this countertop electric grill is that it provides precise heat controls. The small rotating heat control knob is located on the bottom right side of the unit to ensure that you can always easily reach it and re-adjust the settings.
Bottom Drip Tray
The bottom drip tray is also made out of high-quality stainless steel material and it's placed precisely below the cooking surface. That means that all the excess fat from the food will automatically drip into the tray and provide much healthier cooking results.
Short Description:
heavy-duty stainless steel construction
vertical movement from 8 to 2. 75 inches
polished reflectors radiate heat
simple heat control rotating knob
stainless steel bottom drip tray
power and hearing indicator lights
rubber feet for additional stability
Best Commercial Electric Salamander
Omcan 39581 Restaurant Salamander
Commercial Design
Just like the rest of these models, this electric salamander is also made out of high-quality stainless steel material. This is what makes it such a great choice for commercial use because it is designed to withstand the demands of busy kitchen anvironments.
Simple Controls
Another great thing about this unit is that it provides very simple temperature control. To adjust the desired temperature level, everything you need to do is turn the rotating knob that is located next to the indicator lights and wait for the heating element to heat up.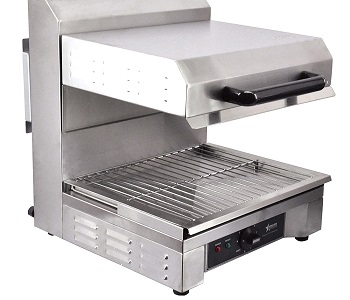 Cooling Vents
This stainless steel indoor grill comes with specially designed cooling vents that are located on both sides of the unit. They will dissipate the heat, maintain the set temperature, and prevent the unit from overheating.
Safety Features
The bottom feet are specially designed to provide the unit with additional stability. Thanks to this feature you can be sure that it will stand firm on your countertops. The additional cool-touch handle is designed to minimize the possibility of any accidental heat burns.
Short Description:
high-quality stainless steel construction
a simple temperature control knob
built-in cooling vents prevent overheating
cool-touch handle and non-slip feet
Best Large Electric Salamander
Electric Lift-up Salamander
Large Capacity
This electric salamander provides you with a somewhat larger cooking capacity than the rest of these models. Thanks to this feature you will be able to cook multiple servings at once. This feature makes it a great choice bot for professional and domestic use.
Dual Temperature Controls
The thing that separates this grill from the rest of the models is that it provides dual temperature controls. This means that you will be able to precisely adjust the temperature of each cooking zone according to your likings.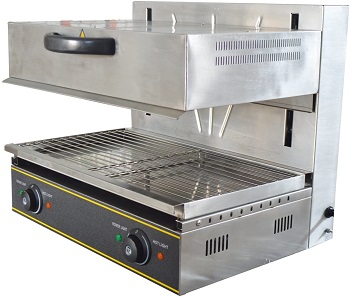 Adjustable Chutes
Another great thing about this indoor tabletop grill is that it comes with fully adjustable chutes. You can easily lower them down or lift them back up depending on how close you want your food to be close to the heating element.
Easy To Clean
You won' have any trouble cleaning up this grill. It is entirely made out of highly durable stainless steel material that won't start to rust or corrode over time. Additionally, the grilling net and the drip tray are completely removable to ensure that you can easily take them out and clean inside your sink.
Short Description:
provides large cooking capacity
simple control panel with light indicators
dual temperature controls for precise heat
fully adjustable up/down chutes
requires very little maintenance
Best Home Electric Salamander
Vbenlem Countertop Salamander
Countertop Design
This is another electric salamander that features a simple countertop design. Thanks to this feature you won't have any trouble finding the perfect spot for it inside your home. It is also made out of stainless steel material that will provide it with amazing quality and durability.
Heating Tubes
The best thing about this home indoor grill is that it comes with U-shaped heating tubes that ensure very fast heating performance and produce fewer oil fumes. They will heat up the entire cooking surface evenly to ensure that you get the perfect results all around.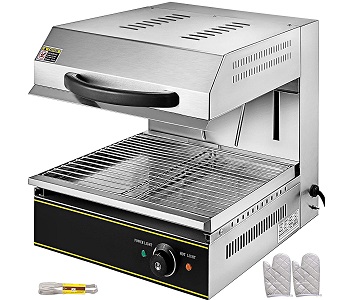 Wide Temperature Range
Thanks to its wide temperature range, this grill will allow you to choose and set the perfect cooking temperature between 122 and 572 degrees Fahrenheit. This will allow you to cook versatile meals and always achieve the best results.
Multiple Air Vents
Another amazing thing about this model is that it features multiple air vents that are located all around the unit. They are designed to dissipate the excess heat from the unit and prevent the grill from overheating.
Short Description:
highly practical countertop design
high-quality stainless steel construction
precisely placed U-shaped heating tubes
wide temperature range between 122 and 572°F
power and hot light indicators
comes with multiple air vents
What To Consider About The Best Electric Salamanders?
This type of electric grill can be a great addition to every professional and domestic kitchen. Here are a few guidelines that will help you understand what they are and how exactly they work.
Practical Appliance – Salamanders are simple standalone appliances that can be placed on the kitchen countertops or even above range. They provide high heat capabilities that exceed the cooking performance of professional ovens which makes them an amazing choice for both commercial and domestic use.
Open Design – All of these models feature front open design thanks to which you can easily slide the cooking racks and the drip tray in and out of the unit. They also provide simple temperature controls that allow you to adjust and re-adjust the cooking temperature.
Versitile Use – The great thing about these grills is that they are made for versitile use. You can use them to grill meat, crisp the top of different dishes, melt the cheese, toast sandwiches, for low cooking or broiling. You can even use them to keep the cooked food warm for a longer period.
Powerful Performance – You can be sure that a salamander will provide a powerful cooking performance. It uses infrared ceramic broilers to provide high cooking heat. The best thing is that every model provides vertical adjustments to ensure that you can control how close your food is to the heating element.
Simple Maintenance – All detachable parts of an electric salamander are very easy to remove and clean. Everything you need is hot water and some mild dish soap. Since all parts are made out of durable stainless steel material you can even soak them overnight if they have hard stains.