Have you been looking for a deep waffle maker that will help you make the most delicious Belgian waffles?
Then this post might help you with your search!
The six models I reviewed below are specially designed to produce perfectly crisp and brown waffles on the outside while keeping the inside soft and fluffy. They also make extra deep waffle pockets to ensure you can enjoy all of your favorite toppings. Stay with me and find a model that fits all of your needs.
The Rundown
Best 6 Thick/Deep Dish Waffle Makers
Best Of Best Deep Waffle Maker
Cuisinart WAF-F20 Waffle Maker
High-Quality Design
This deep waffle maker features a high-quality design. It is made out of professional-grade stainless steel material, has coated non-stick cooking plates, and heat-resistant cool-touch handles to ensure that your safety isn't compromised during the cooking process.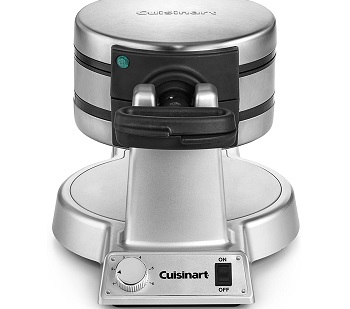 Double Capacity
The best thing about this waffle maker is that it comes with double-sided cooking plates that allow you to make two four-slice waffles at once. The rotating design makes it very easy to use. Everything you need to do is add your waffle batter to the top plates, rotate it up to 180-degrees, and repeat the process.
Powerful Performance
Because of its powerful 1400Watt heating element, you can be sure that this double waffle maker will provide you with amazing performance. It needs around five minutes to reach the cooking temperature you set, and about the same time to cook your waffles.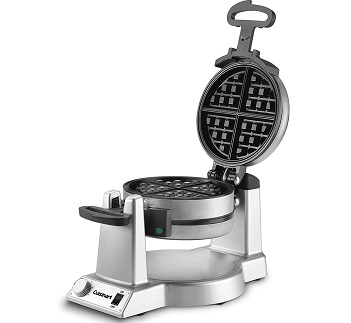 Light & Audible Indicators
The fully integrated light indicators that are located next to the cooking surface are specially designed to light up when your waffles are cooked and ready to be served. You will also hear audible beeps that sound when each waffle is done.
Short Description:
high-quality stainless steel exterior
provides double cooking capacity
1400Watt powerful heating performance
fully adjustable temperature/browning level
fully coated non-stick cooking plates
heat-resistant cool-touch handle
built-in light and audible indicators
Best Commercial Thick Waffle Maker
Sanguinesunny Waffle Maker
Commercial-Grade Construction
This thick waffle maker features high-quality commercial-grade stainless steel construction that provides high resistance to all kinds of exterior damages including scratches, corrosion, etc. This feature also ensures a much longer life-span of the appliance, meaning you will get your money's worth.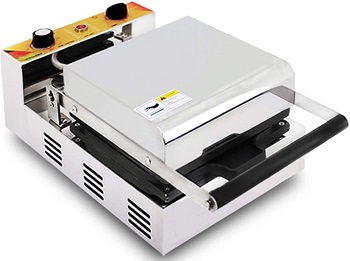 Intelligent Controls
Another amazing thing about this commercial waffle maker is that it provides you with intelligent controls that will allow you to precisely adjust the cooing temperature. That means that you can get both dark and crispy and light and fluffy waffles by simply turning the temperature knob.
Cooling Vents
You never have to worry that this waffle maker might start to overheat at any point. It comes with built-in cooling vents that are located on the sides of the unit. They maintain the set cooking temperature and prevent it from going higher than the set level.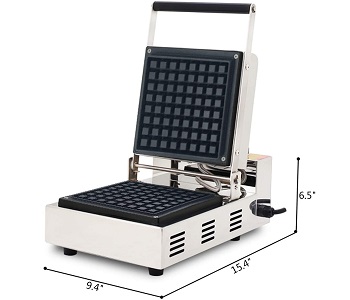 High Price
Since this unit is specially made for commercial use it does come at a higher cost, more precisely, around five hundred dollars. However, if the size isn't the most important feature you are looking for, you can find much more affordable models that offer even more features.
Short Description:
commercial-grade stainless steel construction
food grade Teflon non-stick cooking plates
intelligent controls for precise temperature adjustments
high heat conductivity and quick performance
cooling vents on the side prevent overheating
Best Professional Deep Waffle Maker
Waring Pro WMS200 Waffle Maker
Stainless Steel Housing
Just like the previous two models, I reviewed in this post, this deep waffle maker also features high-quality stainless steel housing. Thanks to this feature you won't have to waste your time on the cleaning process because stainless steel is very easy to maintain.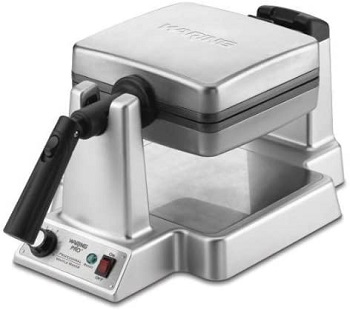 Rotary Feature
The amazing thing about this Waring Pro restaurant style thick Belgian waffle maker is that it provides you with an amazing rotary feature. That means that you will get a much better batter distribution between the two cooking plates and evenly cooked waffles with every single use.
Browning Control
The simple temperature control knob will allow you to set the perfect temperature cooking level depending on what kind of waffles you want. Everything you need to do is turn the rotating knob and set it between the six different temperature levels that it provides.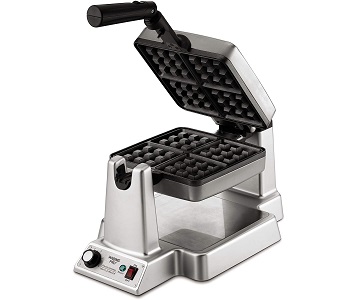 Folding Handle
The heat-resistant handle that comes with this professional waffle maker will keep the two plates together during the cooking process. The best thing is that you can fold it down to ensure that the unit takes up much less storage space than it usually would.
Short Description:
very durable stainless steel housing
specially designed rotary feature
precise browning/temperature controls
folding handle for simple storage
"power" and "ready" indicator lights
audible beep tone for cooked waffles
Best Flip Thick Waffle Maker
Hamilton Beach 26030 Waffle Maker
Simple Performance
Because of its simple flip design, this thick waffle maker is very easy and simple to use. Once you plug it in you need to give it a few minutes to heat up. After that, you can add the waffle batter, close the top lid down, wait for a minute, and flip it over to ensure that your batter gets evenly distributed.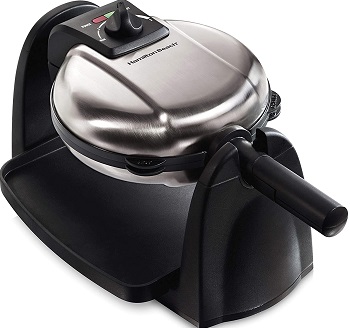 Light Indicators
Another great thing about this Hamilton Beach deep-dish waffle maker is that it comes with "power" and "ready" indicator lights. The "power" indicator will light up once you plug the unit into a power source, while the "ready" indicator will let you know when the unit reached the set cooking temperature.
Removable Plates
The cooking plates of this flip waffle maker are completely coated with a non-stick layer to ensure that nothing sticks to the cooking surface. It also ensures a very simple removal of the cooked waffles. Note that you should never use sharp tools to remove waffles because you might accidentally damage the coat.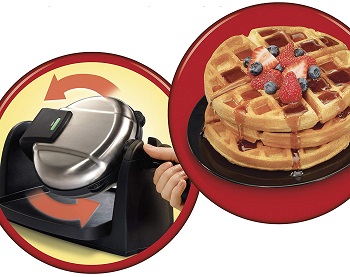 Low Maintenance
Since the cooking plates and the drip tray are completely removable, they will be very easy to clean. The best thing is that you can even clean them inside a dishwasher. Once clean, make sure that you thoroughly dry them up to ensure they are ready for the next use.
Short Description:
flipping action for perfect cooking results
fully adjustable rotating temperature knob
"power" and "ready" light indicators
removable and dishwasher-safe cooking plates
bottom drip tray catches all the drippings
Best Belgian Deep Waffle Maker
Calphalon Intellicrisp Waffle Maker
User-Friendly Control Panel
This thick Belgian waffle maker comes with a user-friendly control panel that features a built-in LCD screen display and a browning control knob. Thanks to this feature you will be able to control whether you want crispy and dark waffles or light and fluffy ones.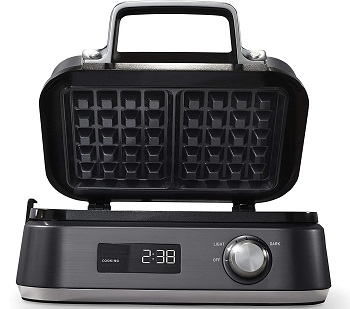 Ceramic Coat
Another amazing thing about this waffle maker is that it features fully coated ceramic cooking plates that provide up to 20% higher heat conduction. They also have up to eleven times more durable coat than other non-stick cooking plates.
Digital Display
The built-in LCD screen display is specially designed to let you know the current status of the unit. Thanks to this feature you will know whether the waffle maker is in the preheating mode, ready to cook mode or cooking mode.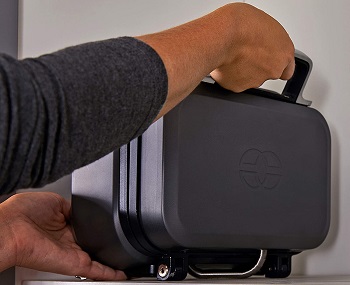 Countdown Timer
The display also features a countdown timer that keeps a precise track of the cooking process and displays the remaining cooking time the unit needs to provide the perfect results. Thanks to this feature you don't have to stand next to this ceramic waffle maker while it cokes your waffles.
Short Description:
user-friendly control panel with browning control
built-in LCD screen display with a countdown timer
fully coated ceramic cooking plates
up to 11x more durable non-stick coat
provides up to 20% higher heat conduction
lock together for a convenient vertical storage
Best Mini Thick Waffle Maker
JSJYP Deep Waffle Maker
Small Size
This deep waffle maker comes in a somewhat smaller size than the rest of these models. This is what makes it a great choice for everyone who has a somewhat smaller kitchen. It is also the perfect size if you need a portable unit you can take on your trips.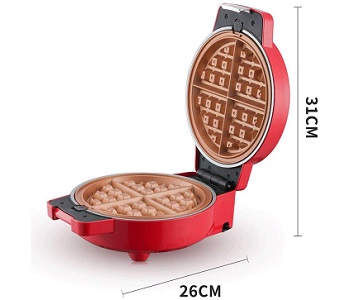 Durable Housing
Another great thing about this red waffle maker is that it features a high-strength durable housing that is highly resistant to heat that the cooking plates dispense. Thanks to this feature you never have to worry that the housing might deform due to long-term use.
Water Based Coat
The cooking plates are entirely coated with an oil-free non-stick coat that is perfectly safe, healthy, environment friendly, and non-toxic. It makes the removal of the cooked waffles a breeze and ensures that you don't have to spend too much time on the cleaning process.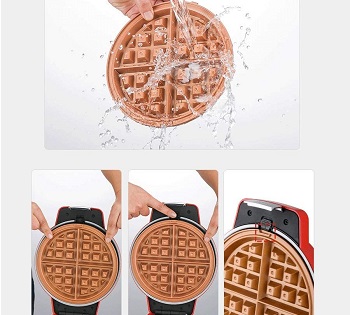 Removable Plates
Cooking plates are also completely removable. To detach them or reattach them to the unit, you need to use the small lever that is located above the cooking plates, It is designed to either release or hold the cooking plates inside their place.
Short Description:
comes in a somewhat smaller size
high-strength housing with high heat-resistance
water-based coat for simple cleanup
completely removable cooking plates
What To Consider About The Deep Waffle Makers?
Deep or thick waffle makers are specially designed to create extra deep-pocket waffles, more commonly known as Belgian-style waffles. All of the listed models provide many beneficial features, but there are specific ones you should pay attention to.
Size And Capacity – You can find both small and large waffle makers that can provide deep-pocket waffles. Larger ones do provide a higher capacity than the smaller models but they also come at a higher price so make sure that you choose the one depending on whether you need it for home or professional use.
Heating System – The next thing you need to consider is the heating system that the waffle maker comes with. The ones that have double-sided heating elements will provide much better heat distribution because they cover a larger portion of the cooking area.
Heat Conduction – Heat conduction of the waffle maker mostly depends on the material of its cooking plates. Some of the best heat conductive materials are copper, cast aluminum, cast iron, etc.
Durable Non-Stick Coat – It's very important that the extra deep waffle maker you choose to buy has fully coated cooking grids. Always check the quality and the durability of the coat because you don't want it to start to flake or peel over time. Non-Teflon waffle makers are the best way to go because they don't contain harmful chemicals that are usually used to create non-stick properties.
User-Friendly Features – Make sure that the model you decide to buy comes with plenty of user-friendly features. These may include temperature/browning control. completely removable cooking plates and drip tray, adjustable timer, digital display, etc.