Have you been looking for the best ceramic waffle maker?
This post might help you with your search!
Listed below, you can find my reviews of the six best models that are currently available for you to buy. Check them out, compare their designs and features, and find my advice on the features you need to pay attention to when buying a waffle maker.
The Rundown
6 Best Ceramic Waffle Makers & Irons
Best Of Best Ceramic Waffle Iron
Bella 14608 Waffle Maker
Rotating Design
This ceramic waffle maker features a highly practical rotating design. This is an amazing feature because it means that you will be able to distribute the waffle batter much more evenly between the two cooking plates. Once you add your batter simply wait a minute and flip the unit over and with or it to complete the cooking process.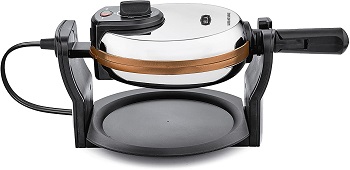 Temperature Control
Another great thing about this rotating waffle maker is that it provides you with simple temperature control. To adjust it to your likings simply turn the rotating temperature knob between the light, mid, and dark and wait for it to preheat to the set temperature.
Foldable Handle
The foldable handle will make finding the perfect storage space much easier because it will shorten the amount of space that the unit takes up. Also, the handle is made out of a heat-resistant material thanks to which you can easily flip the two plates without suffering a heat-burn.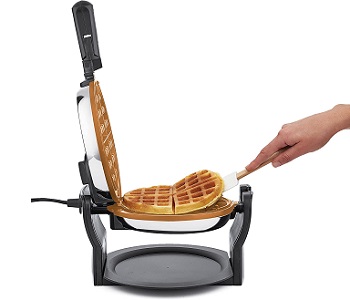 Bottom Drip Tray
Thanks to the bottom drip tray that comes with this Bella ceramic-titanium waffle maker you don't have to worry about creating any mess on your countertop surfaces. The best thing is that the drip tray is completely removable to ensure that you can easily clean it both manually and inside a dishwasher.
Short Description:
makes one four-slice Belgian-style waffle
high-quality stainless steel exterior
simple temperature control rotating knob
PFOA and PTFE-free non-stick coat
heat-resistant and foldable handle
"power" and "ready" indicator lights
a completely removable drip tray
Best Belgian Ceramic Waffle Maker
Oster CKSTWF1502-TECO Waffle Maker
Polished Chrome Housing
This ceramic waffle maker features a high-quality polished chrome housing that provides protection against rust and corrosion. However, chrome isn't as strong as stainless steel and you can cause damage to it. If you accidentally scratch the exterior, it will lose its protective properties.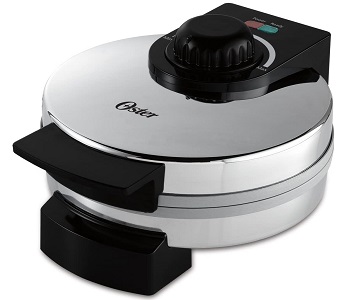 Belgian-Style Waffles
Like most of these models, this one is also made to cook the most perfect Belgian-style waffles. This means that the unit has deep cooking grids that will create extra-deep pockets in your waffles and provide you with a lot of free space for your favorite toppings.
Durable Coat
Another amazing thing about this Belgian waffle maker is that it features an extremely durable non-stick coat that will last up to eight times longer than other non-stick coats. It will also heat up the plate up to 30% faster and ensure time-efficient performance.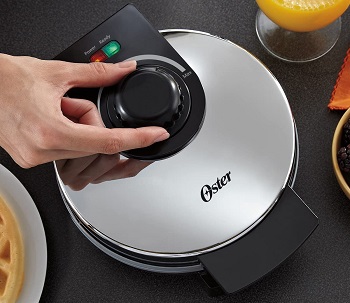 Adjustable Temperature
This Oster titanium infused DuraCeramic flip waffle maker also provides fully adjustable temperature control. That means that you will be able to choose whether you want light and fluffy waffles or the dark and crispy ones.
Short Description:
high-quality polished chrome exterior
cooks perfect Belgian-style waffles
highly durable and long-lasting non-stick coat
completely PFOA and PTFE-free
fully adjustable temperature control
very easy and quick to clean
Best With A Timer Ceramic Waffle Iron
Calphalon Intellicrisp Waffle Maker
Dark Stainless Steel Design
Unlike the other models, I reviewed in this post, this ceramic waffle maker features a dark stainless steel exterior. This is a great thing because it will provide the unit both with a modern look and amazing durability.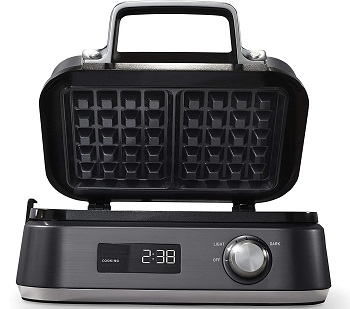 Even Temperature Distribution
Because of its ceramic coated cooking plates, you can be sure that this waffle maker will provide even heat distribution throughout the entire surface of both cooking plates. That means that you will get evenly cooked waffles with every single use.
Digital Display
The best thing about this unit is that it has a built-in digital display that shows you the current status of the unit. Thanks to this feature you will always know whether the unit is in the preheating, ready to cook, or cooking mode.  Additionally, the timer keeps precise track of the duration of the cooking process.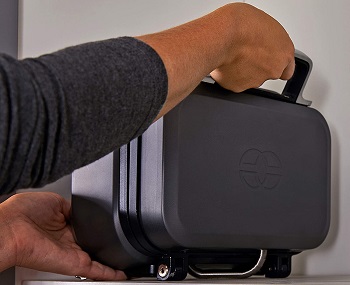 Shade Selector
This waffle maker with a timer features a shade selector too. You can easily adjust it between the light and the dark option depending on what kind of waffles you love the most. The selector is located on the right side of the display to ensure that you can easily access the controls.
Short Description:
dark stainless steel construction
provides even heat distribution
high-contrast LCD screen display
a simple rotating shade selector
lock tight for compact vertical storage
Best Vertical Ceramic Waffle Maker
Oster 2102601 Waffle Maker
Vertical Design
This is the only ceramic waffle maker on this list that features a vertical design. It also features fully coated cooking plates that ensure the simple removal of the cooked waffles from the unit. This feature also ensures a much shorter cleaning process.
Easy To Use
Even though this unit comes in a different shape it is still very easy to use. It has a simple pouring funnel that will help you pour the batter directly between the two cooking plates. Once you are done using it, simply unlock the plates and clean them to ensure that the waffle maker is ready for the next use.
Powerful Performance
You can be sure that this vertical waffle maker will provide you with a very powerful and time-efficient cooking performance. The "ready to cook" indicator light will let you know when the unit reached its cooking temperature and is ready to use. The "ready to eat" indicator will let you know when your waffles are done.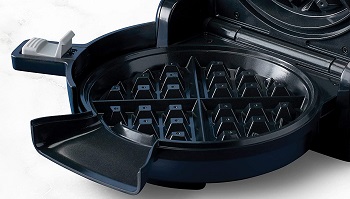 Measuring Cup
Alongside this Oster DuraCeramic belgian waffle maker, you will also get a measuring cup that is specially designed to ensure that you add just the right amount of waffle batter to the pouring funnel. That means that you never have to worry that the unit might overflow during the cooking process.
Short Description:
a highly practical vertical design
specially designed pouring funnel
fully coated non-stick cooking plates
provides very powerful cooking performance
"ready to cook" and "ready to eat" indicator lights
a measuring cup comes included in the package
Best Flip Ceramic Waffle Iron
Presto 03510 Waffle Maker
Simple Flip Operation
This ceramic waffle maker features a very simple flip design. Once the cooking plates reach the cooking temperature, add your waffle batter and close the top lid down. After about a minute simply flip the plates over and leave the unit that way until your waffles are done.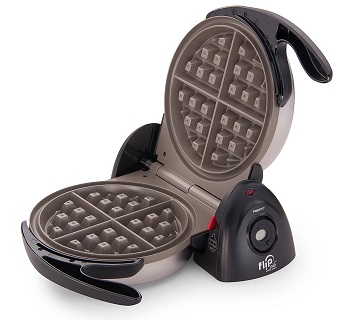 Extra Deep Grids
Thanks to its extra deep cooking grids, this Presto 03510 ceramic flipside Belgian waffle maker will provide you with thick, Belgian waffles. They will have a perfectly crisp exterior and the most delicious and fluffy inside.
Dual Function Base
Another great thing about this unit is that it features a dual-function base. It makes the rotating process much simpler and it also makes the unit much easier to store. It will perfectly fit inside the kitchen cabinets leaving enough storage space for other kitchen appliances.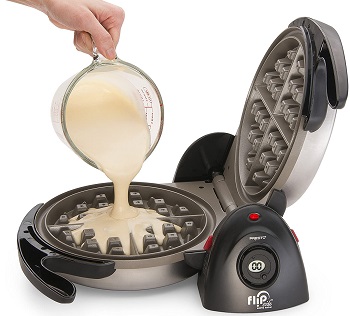 Countdown Timer
The small built-in digital display that is located on the side of this flip waffle maker features a countdown timer that shows you the remaining cooking time. The timer will signal once the time runs out to ensure that you remove the cooked waffles once they are cooked.
Short Description:
professional-style simple flip design
features extra deep cooking grids
digital display with countdown timer
highly practical dual function base
requires very little storage space
Best Heart-Shaped Ceramic Waffle Maker
Euro Cuisine WM520 Waffle Maker
Durable Chrome Exterior
This is another ceramic waffle maker that features a durable chrome exterior that provides the unit with a highly modern look. Note that the chrome isn't as durable as stainless steel is, so be careful not to accidentally damage the unit's housing.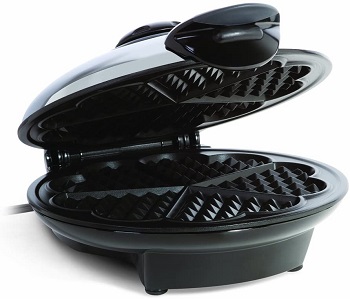 Heart-Shaped Waffles
Another great thing about this unit is that it is designed to make five-slice heart-shaped waffles. It is the perfect choice for everyone who wants's to express their love through cooking the most delicious waffles for breakfast.
Food-Grade Coat
This heart-shaped waffle maker also features an extremely durable and high-quality food-grade non-stick coat that will prevent your waffles from sticking to the cooking grids. The coat doesn't contain any harmful chemicals that include PFOA-s and PTFE-s.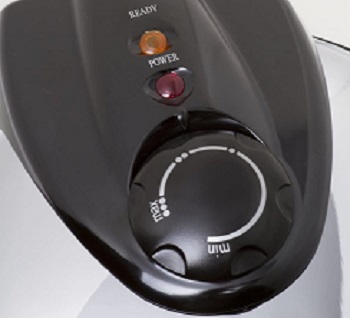 Quick Cleanup
The non-stick coat also ensures a very quick cleaning process. Everything you need to have to clean it properly is a soft kitchen towel. Don't use different cleaning tools because you might accidentally damage the coat causing it to lose its properties.
Short Description:
beautiful and durable chrome housing
makes five-slice heart-shaped waffles
food grade durable non-stick coat
completely PFOA and PTFE-free
What To Consider About The Ceramic Waffle Makers & Irons?
These models are a great choice because ceramic material is completely healthy and it provides great heat conductivity. They also provide many amazing features. Here are some you need to pay additional attention to.
Waffle Maker Vs. Waffle Iron – Even though both terms are often used to describe the same product there is an important difference between ceramic waffle irons and waffle makers. Waffle makers are actually electric waffle makers that feature a simple plug-in design. On the other hand, waffle irons are actually stovetop waffle irons that work on different stovetops or open fire.
Unit's Design – You can find many versitile waffle makers on the market. These include vertical models, stainless steel ones, or even models that come in a specific shape. Depending on where you want to use the waffle maker and what for, choose whichever one you like the most.
Quality Of The Coat – Another thing you need to consider is the quality of the coat that the waffle maker has. Non-Teflon waffle makers are the best choice because they don't contain any harmful chemicals that may be used in creating the non-stick properties.
Simple Controls – Always look for the models that come with simple controls that allow you to adjust the temperature and the duration of the cooking process. That way you will have complete control over the cooking results you get.
Additional Features – There are some additional features you can look for in this type of waffle maker. These may include a digital display, drip tray, built-in light indicators, and even safety certificates that ensure that the unit is perfectly safe to use.